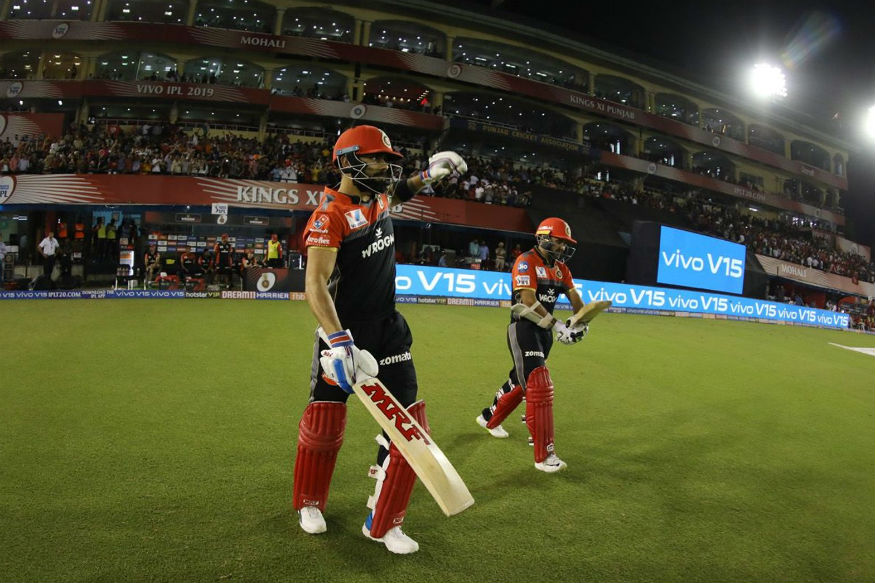 Virat Kohli couldn't hide his happiness as Royal Challengers Bangalore, after a string of six losses on the bounce, finally registered their first win of IPL 2019 when they defeated Kings XI Punjab by eight wickets on Saturday (April 13).
Kohli admitted that just the taste of victory after the initial torrid time in the tournament felt wonderful.
"Great feeling to just get across the line. We have been unlucky in a couple of games. I won't say we've been unlucky in all the games, but we should have closed out a few games before this. Yes it just feels really good to finally cross the line," said Kohli at the post-match presentation ceremony.
Despite Chris Gayle's 99 not out, the Bangalore bowlers restricted Punjab to 173/4 on a flat Mohali surface. The hosts made a strong start to their innings but the spinners led by Yuzvendra Chahal and Moeen Ali kept a lid on the scoring rate in the middle overs while the pacers too did the job in the death overs.
Kohli was effusive in praise of his bowlers and asserted that to restrict the opposition to 173 on a surface where 190 looked par was an outstanding achievement.
"I think after so many setbacks, the guys had desire. That's something we spoke about. On the field today, the bowlers, the way they came back, the way they kept taking wickets in the middle overs was crucial to us. We thought 190 might be par and to restrict them to 170-odd was a great effort.
"To pick up four wickets in eight overs in the middle for 60 runs is an outstanding effort. We knew Chris was going to bat deep. So there were many opportunities to get dot balls and we knew if we bowled decently to him in the end then they won't be able to get to 190 and that's exactly what happened.
"We thought they might go early, because they might need the extra runs. That just put us back into the game. To restrict them to 15-20 runs lesser than what they wanted to post was great. In the end, that proved to be the difference."
The 174-run chase was then setup by Kohli and AB de Villiers who strung an 85-run stand for the second wicket to lay a solid foundation. While Kohli scored 67 in 53 balls, de Villiers slammed 59* in just 38 deliveries which included five fours and two sixes. The latter was named Man of the Match for his efforts.
"Waited for a long time for this, so we're very happy. It's a very small step in the right direction, but a very big step in the right direction nonetheless," said de Villiers.
"I've got too much respect for the game to be upset about that, to get ahead of myself, to get too hard on myself. It needs one knock to get back in that confidence zone, and hopefully I can maintain that now."
Having retired from international cricket last year, de Villiers now only plays franchise cricket all over the world. But without a lot of game time under his belt, the South African has sometimes looked a bit scratchy especially when starting his innings. However, de Villiers said that not playing International cricket has helped him keep focus for these kinds of tournaments.
"That's exactly the reason I've decided not to play international cricket - to be as sharp as I can in the other forms of cricket around the world," he reiterated. "Can't keep playing 10-11 months a year and keep being sharp after 15 years of my career. Get to work with the university guys, the local guys, which gives me the motivation to be an example for them."
R Ashwin, the Punjab captain, said that the partnership between Kohli and de Villiers was the difference in the end. In addition, Punjab also dropped a few chances and in general looked a bit ragged on the field, which Ashwin admitted were the main causes of the defeat.
"We tried, we definitely tried with the leg-spinner and then I also went in and attacked them but they were pretty smart to just knock it around and not take too many chances," said Ashwin of the Kohli- de Villiers partnership. "Thought we let ourselves a bit down in the field, we dropped catches, we let a lot of balls go through. When all these small things add up, it makes a big difference in the end.
"To be completely honest, the dew helped the batsmen, it didn't grip as much as it did in the first half. It was really dry in the first half, and obviously with the dew, it just gets a bit of sheen on it and gets better to bat in the second half."
There was also a peculiar incident when Punjab, needing to defend six runs in the final over, employed Sarfaraz Khan, who has never turned his arm in IPL ever, to bowl the last over despite Sam Curran having an over left. The Punjab captain said that the thought process behind it was to get a leg-spinner to bowl at de Villiers and Marcus Stoinis and see if he could get some purchase.
"Look, I mean there were only six runs to go and the ball was sliding nicely and with AB and Stoinis, I thought my best chance was to try a leggie in there. It's not like Sam will not defend it, but I thought the leggie had a better chance to go after AB and Stoinis, that was pretty much it," said Ashwin.