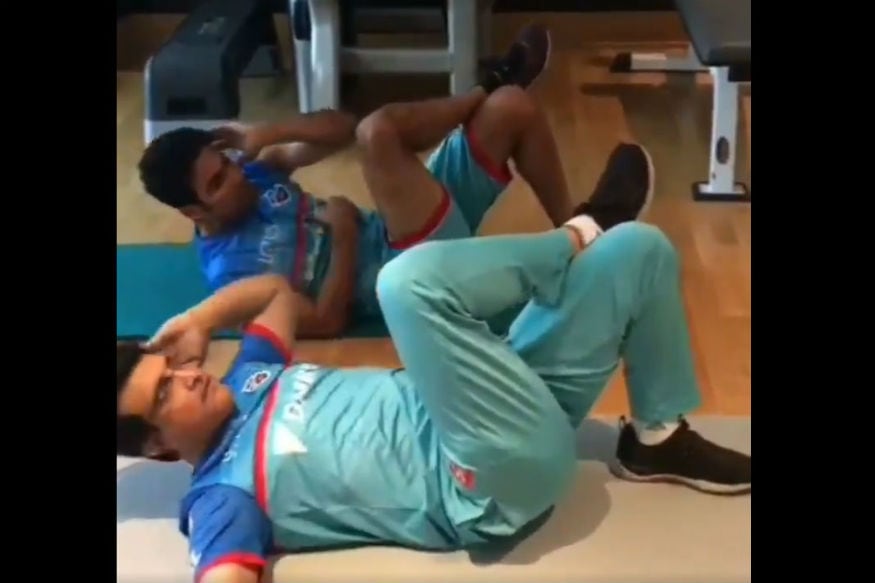 The mood within the Delhi Capitals camp is certainly upbeat after their third successive victory in this season's IPL, as they overcame Sunrisers Hyderabad on Sunday night.

And that was evident from the dance moves that Shikhar Dhawan and Ishant Sharma – both from Delhi – displayed on a popular Punjabi number, with the duo seemingly partying late into the night.

In a video posted on the official Delhi Capitals twitter account, Dhawan and Sharma can be seen getting their groove on and clearly enjoying each other's company.




MOOD! 🕺


Dilliwalon, enjoying the win? 😁#ThisIsNewDelhi #DelhiCapitals #SRHvDC pic.twitter.com/8GfWztcCOS

— Delhi Capitals (@DelhiCapitals) April 14, 2019

But it was still all work and no play for the men behind the scenes, as team advisor Sourav Ganguly and assistant coach Mohammad Kaif worked on their abs in the gym. Kaif, who posted a video of him working out with "gym instructor" Ganguly, was one of the fittest players during his time playing for the Indian cricket team, and it's good to see that he is still particular about remaining fit.


EPIC time with my new gym instructor, the great man - Dada @SGanguly99 ! #GangulyGym pic.twitter.com/pXO1wgk4yg — Mohammad Kaif (@MohammadKaif) April 15, 2019




The capitals have put themselves in a good position to advance to the playoffs of the IPL as they currently sit in second position behind Chennai Super Kings.​

First Published: April 15, 2019, 2:14 PM IST