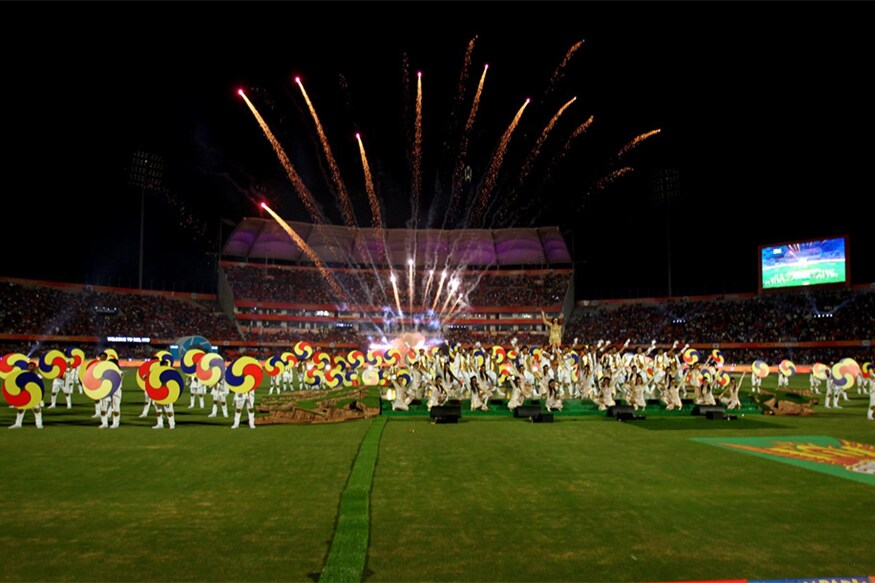 Had Sachin Tendulkar, Sourav Ganguly and Rahul Dravid realised the significance of the tournament, would they still have opted out of the 2007 World T20? Dravid, for one, did not take the format too seriously. Appointed Indian captain on the 2006-07 tour in the same country, he had sat out of the only T20 International on the tour, allowing Virender Sehwag to become the first to lead India in that format.
Did anyone in the global cricket fraternity, realise the enormity of the moment when Ravi Shastri's voice celebrating Sreesanth's catch boomed across television sets across India? One cannot help but wonder over eleven years down the line.
But one can hardly blame them. The previous generation of Indians had taken their time to warm up to One-Day international cricket. India had hosted only six ODIs till Kapil Dev held the Prudential Cup aloft on the Lord's balcony, three of them against Sri Lanka, the newest team in the fray.
Things had changed with that World Cup win, just like they did as the Indians celebrated and Misbah-ul-Haq slumped in dismay 34 years later.
Months after that moment, there came a tournament of grandeur hitherto unknown in cricket. Though, to be fair, ICL came first, mirroring Kerry Packer's SuperTests from almost three decades ago. They acquired the likes of Chris Cairns, Shane Bond, Lance Klusener, Nathan Astle, Jason Gillespie, and nearly full-fledged teams of Pakistan and Bangladesh.
But they failed to attract the high-profile Indian cricketers, which meant that despite its city-based teams, a cohort of international stars, prominent stars performing at innings breaks, never took off in India. The fans wanted to see their own stars.
A bigger blow came when BCCI announced their league, this time with the Indian big guns. The cricketers, Indian or otherwise, could play officially, without fear of being banned by their respective boards.
Of course, BCCI denied IPL being a response to ICL. Lalit Modi, IPL Convenor and BCCI Vice-President, insisted that BCCI had been working on the concept "for two years".
And that was how it all started, with eight teams.
Despite the controversies, the constant complaints about how it has pushed the traditional format to the background, the Indian Premier League, with its cheerleaders and "Maximums" and strategic timeouts and an exclusive window in the ICC FTP, has gone from India to South Africa to The Gulf and back, from DLF to Pepsi to Vivo, and from strength to strength.
Prelude
The rules were simple. Eight city-based franchises, a salary cap of USD 5 million – this obviously increased over time – per franchise, and a maximum of four overseas players per match per team.
Six of the teams named one star from each of their cities as "icon players", cricketers who would earn 15% more than the most expensive acquisition by that franchise: Tendulkar, Ganguly, Dravid, Sehwag, Yuvraj, and Laxman. Four of them were not even part of the World T20.
Laxman declined the offer, allowing Deccan Chargers to save on budget. Rajasthan Royals and Chennai Super Kings then made the first two acquisitions at the auctions. These were important picks, for these men, Shane Warne and MS Dhoni, would lead their respective sides to the final.
India had won the Under-19 World Cup that year, which led to 16 teenagers being part of a draft. Manish Pandey went to Mumbai, Ravindra Jadeja to Rajasthan, and more importantly, Virat Kohli to Bangalore. Kohli remains the only cricketer to have played all eleven – now twelve – seasons for the same franchise.
2008: Icon players, one slap, and two Shane W's
Kolkata's Brendon McCullum started the tournament with a whirlwind 73-ball 158, then a record in T20 cricket. A week after the he was awarded the Orange Cap, a rolling in-tournament award for the leading run-scorer. Shortly after this, a Purple Cap was announced for the leading wicket-taker.
The edition had its share of controversies. The most infamous of these happened in Mohali, when Harbhajan Singh of Mumbai slapped Sreesanth of Punjab after the match, resulting in the latter breaking down in front of television cameras. Harbhajan was banned for the rest of the tournament.
Rajasthan's approach during the auctions convinced many that they were the weakest. They did not have a coach (Warne doubled up as coach). Neither did they have high-profile names barring Warne, Graeme Smith and Shane Watson.
But they got one thing better than the others: they realised the importance of roles and specialists in T20 cricket.
In Yusuf Pathan, they found a full-fledged slogger who bowled a bit. Pathan hit 25 sixes in the tournament. They got another unlikely pair of hitters in Jadeja – who barely bowled – and Kamran Akmal. And Swapnil Asnodkar, the nearly unheard-of Goa opener, was given a free hand at the top.
In Munaf Patel and Siddharth Trivedi they found two economical bowlers. And Sohail Tanvir, all arms and legs in his awkward action, won the Purple Cap. Then there was Watson, who, with 472 runs (strike rate 152) and 17 wickets (economy 7.07), was named Player of the Tournament.
But towering above everyone was Warne, whose bold experiments, strategic skills, composure, and astute leadership – apart from 19 wickets and crucial cameos – helped Rajasthan triumph.
Fittingly, he was at the non-striker's end when Tanvir hit the winning stroke off Lakshmipathy Balaji off the last ball of the tournament.
2009: Rainbow Nation and Fake IPL Player
Deccan Chargers had finished last in 2008. Bangalore, last. Both teams turned the tables around next season, Chargers lifting the trophy and Bangalore coming second.
This being the year of general elections, the Indian government announced that they would not be able to provide IPL with extra security. This was a concern, more so because the Sri Lankan team had survived a terrorist attack in Lahore that March. The tournament was eventually moved to South Africa, though the timings – 4 PM and 8 PM – remained the same.
There were some notable shuffles. Bangalore sacked Dravid as captain, replacing him with Kevin Pietersen, and later Pietersen with Anil Kumble, a decision that changed their fortunes. Similarly, Chargers had a new captain-coach combination in Gilchrist and Darren Lehmann.
Not all changes worked. Kolkata coach John Buchanan introduced a multiple-captain strategy, replacing Ganguly with McCullum at the start of the tournament. They finished last.
The day the tournament started, a blog surfaced under the pseudonym of Fake IPL Player, attaining virality in no time. The blog dealt with imaginary yet surprisingly convincing anecdotes, with special stress on the Kolkata camp. A year later, one Anupam Mukherji of Bengaluru owned up as the blogger.
Deccan Chargers and Bangalore clashed in the last match of the league. Pandey slammed 114 not out in 73 balls – the first hundred by an Indian in the tournament.
Kumble himself had figures of 4-0-16-4 in the final, but Herschelle Gibbs batted through the innings to take Chargers to 143/6. At one point, Bangalore needed 45 in 34 balls with 6 wickets in hand, but they lost track thereafter.
2010: Fall of Modi, rise of Chennai
IPL returned to India in 2010 – and became the first cricket tournament to be broadcast live on YouTube. The Playoffs were telecast live in 3D in over 120 screens across India. ICL players were part of the auctions after they accepted the BCCI's offer of amnesty.
Chennai won the first of their three titles this year. They found two young spinners – Shadab Jakati of Goa and a local boy called R Ashwin – to support Muttiah Muralitharan.
With Albie Morkel already there as the all-rounder, Chennai completed their bowling quintet with Doug Bollinger, who had arrived as replacement for the injured Jacob Oram. All five bowlers finished with over 10 wickets; and barring Morkel, everyone went for under eight an over. But Morkel more than made up with a batting strike rate of 151.
Mumbai, chasing 169 in the final, were strangled by the Chennai bowlers to a 22-run defeat. Tendulkar won the Orange Cap for his 618 runs at a strike rate of 133.
A day after the final, BCCI suspended Modi for "alleged acts of individual demeanours". The charges varied from rigging of franchise bids in 2010 to charging a facilitation fee for broadcasting rights to dubious bids for the Rajasthan and Punjab franchises to leaking classified BCCI information.
Modi fled to London.
2011: Revamps, Warriors, and Tuskers
2011 arrived with two new teams, Pune Warriors India and Indi Commandos Kerala, who later changed their name to Kochi Tuskers Kerala. Mumbai Razors had done the same three years ago, though that was on Tendulkar's insistence.
The teams were split into two groups of five, with every team playing teams from their group twice and the other group once. This meant that the number of matches became 74, too many for the comfort of some.
The tournament also lost some sheen, for it started less than a week after the World Cup final. The front pages were not too keen on letting IPL share space with the World Cup.
What was more, Indian fans also took time to warm up to their new teams after the first significant change of personnel in the tournament. Stars ended up playing for unfamiliar cities: Dravid for Rajasthan, Ganguly for Pune (after Ashish Nehra was ruled out with a finger injury), Laxman for Kochi, Gautam Gambhir for Kolkata, and so on.
Tuskers and Warriors finished eighth and ninth respectively. At the other end of the spectrum, Bangalore made a historic acquisition by signing up Chris Gayle as replacement for Dirk Nannes. Gayle slammed 608 runs with a strike rate of 183 to claim the Orange Cap. Of his teammates, Kohli finished second, with 557. Among bowlers, Sreenath Aravind's 21 wickets placed him at third spot.
And yet, there was no silverware for Bangalore, for this was a year when Dhoni could do no wrong. After topping the league, Bangalore lost to Chennai in both Qualifier 1 and the final. Ashwin claimed Gayle twice, for 8 and 0, and that was that.
Murali had gone to Kochi, but Chennai had found an excellent replacement in Dwayne Bravo, who would win the Purple Cap in 2013 and 2015 – a feat matched by only Bhuvneshwar Kumar.
Tuskers failed to pay the bank guarantee and were expelled from IPL later that year. No replacement was named for the next season.
2012: Gayle, Narine, and spot-fixing
Gayle improved on even his 2011 efforts, winning the Orange Cap for the second consecutive time, with 733 runs at 161. But even he could not lift Bangalore to the Playoffs.
With a line-up virtually unrecognisable from previous decade, Kolkata lifted their first ever trophy under Gambhir, their new captain, whose tally of runs was next to only Gayle's.
Kolkata had previously tried out Ajantha Mendis when batsmen around the world had found him difficult to read. This time they picked Sunil Narine in addition to Shakib Al Hasan. In subsequent years they would acquire Brad Hogg, Kuldeep Yadav, and Piyush Chawla to prepare a formidable spin unit.
Narine (24 wickets at 13.50, economy 5.47) pushed Kolkata to the second spot on the table. They then defeated Delhi and Chennai to clinch the title. Not even owner Shahrukh Khan's controversies – he received a five-year ban from entering Wankhede and was caught smoking on camera and – could dampen their spirits.
What did mar the edition, however, was an India Today sting implicated five cricketers for spot-fixing. TP Sudhindra was banned for life, Shalabh Srivastava for five years, and Mohnish Mishra, Amit Yadav, and Abhinav Bali (not a part of IPL) for a year each. Things would turn murkier the next season.
2013: Sunrisers, more of Gayle… and spot-fixing
Deccan Chargers, being unable to sustain the expenses, had announced an auction of the team. Sun TV Network won the bid and named the team Sunrisers Hyderabad.
This time Gayle missed out on the Orange Cap by 26 runs, but his unbeaten 175 off 66 balls against Pune remains the highest individual T20 score.
Mumbai had a stop-start first half before coming to their elements once Rohit Sharma replaced Ricky Ponting as captain. They improved as the season went on, with four batsmen topping 400 and four bowlers taking 16 or more wickets.
But their biggest star was Kieron Pollard, whom they had acquired three seasons ago but had not utilised properly. This time he scored 420 runs at 42 (strike rate 149), picked up 10 wickets, held 12 catches, and fielded brilliantly. He also top-scored in a low-scoring final with an unbeaten 32-ball 60.
However, all this happened after Delhi Police had arrested Rajasthan's Sreesanth, Ajit Chandila, and Ankeet Chavan for spot-fixing. This triggered a chain of events that resulted in the arrests of several bookies and Chennai Team Principal Gurunath Meiyappan, also son-in-law of BCCI President N Srinivasan.
Royals co-owner Raj Kundra was barred – temporarily, later for life – from taking part in "all cricketing activities". The Supreme Court of India asked Srinivasan to resign next March, labelling his continuation at the post as "nauseating".
Following the Lodha Panel inquiry, Chennai and Rajasthan – finalists of the first edition – were suspended from the IPL for 2016 and 2017.
And the fans received another blow when Pune, having failed to pay the entire franchise fee, had to opt out of the league.
2014: Gulf War and Glendeep Singh
It was election year again, which meant that IPL needed an alternate venue. They eventually converging on UAE, where the first 20 matches were played.
Mumbai had released Glenn Maxwell before the season. Punjab acquired him at the auction. He finished with 552 runs with a strike rate of 188 and was named MVP of the tournament. Glendeep Singh, they affectionately called him in Punjab.
Additionally, David Miller scored 446 at 149, and six of their bowlers claimed more than 10 wickets. Punjab also provided two incredible innings in the Playoffs. Sehwag smashed a 58-ball 122 in Qualifier 2. Suresh Raina (87 off 25) then led a furious counterattack as chasing 227. Chennai raced to 100/2 in 6 overs but were restricted to 202/7 in the end.
Wriddhiman Saha (115 not out in 65 balls) then became the first to score a hundred in an IPL final, but Kolkata, led by Pandey (94 in 50), crushed Punjab's dreams.
2015: Fan Parks, 235/1, and Mumbai return
Mumbai started the tournament dismally, losing their first 4 matches (and 5 out of the first 6). Aaron Finch and Corey Anderson were ruled out of the tournament. But they also found new heroes – in Lendl Simmons and Mitchell McClenaghan.
Simmons finished with 540 runs, just behind David Warner's tally of 562. Lasith Malinga's 24 wickets were next to only Bravo's 26. Rohit and Pollard both topped the 400-run mark, while McClenaghan and Harbhajan took 18 wickets apiece.
They won 9 matches in their last 10 attempts (including three wins over table-toppers Chennai) to regain the trophy. And their only defeat during this streak came when Kohli and AB de Villiers added an unbroken 215 for the second wicket – then a world record stand for any wicket – off just 101 balls.
BCCI also launched the "Fan Parks" – stadiums with giant screens that telecast the matches live – in fifteen cities to provide a "venue" feeling across the country. By 2018 the count had increased to thirty-six.
2016: Drought and Sunrise and Lions and Supergiants and Kohli
BCCI now had to find replacements for the Chennai and Rajasthan franchises for the next two seasons. They converged on Rising Pune Supergiants, the second team from the city, and the Rajkot-based Gujarat Lions.
Unfortunately, Maharashtra witnessed one of its worst droughts of the season, as a result of which all matches had to be moved out of Mumbai, Pune, and Nagpur.
Gujarat started wonderfully, winning six of their first seven matches. They even topped the points table on debut despite a mid-season slump, which included them being at the receiving end of another Kohli-AB onslaught. This time they broke their own world record, adding 219 in 96 balls.
Hyderabad lost their first two matches but made it to the Playoffs. But once there, they beat Kolkata by 22 runs, Gujarat by 4 wickets, and in the final, Bangalore by 8 runs.
This was arguably Bangalore's best shot at the title. Kohli smashed all sorts of IPL records with 973 runs while de Villiers came third. With ball, Yuzvendra Chahal finished second and Watson third.
But Hyderabad prevailed, thanks mostly to their opening stand of Warner and Shikhar Dhawan and the pace quintet of Bhuvneshwar, Nehra, Mustafizur Rahman, Moises Henriques, and Barinder Sran. "Fizz" was also the first – and remains the only, till date – overseas cricketer to win the Emerging Cricketer of the season.
2017: Multiple ceremonies and Maharashtra derby
BCCI experimented with an opening ceremony before the first match at every venue. But while these were high-profile affairs, they showed symptoms of a diminishing value of return of the concept.
Pune (who had dropped the "s" from the end of Supergiants) and Mumbai, the two strongest bowling units, finished at the top of the group. They clashed four times, of which Pune won the first three, including the Qualifier. Then came the final, at Wankhede – the tightest in the history of the tournament.
Krunal Pandya first lifted Mumbai from 79/7 to 129/8, but at 71/1 in the 12th over, it was Pune's match to lose. But Mumbai snuck in some tight overs, and Pune were left to chase 11 off the last over, to be bowled by Johnson.
Manoj Tiwary put the first ball away for four, but Johnson struck back with two wickets off the next two. Things came down to 4 off the last ball, and Washington Sundar was run out while attempting a third run that would have tied the match.
2018: New broadcasters and old champions
The eleventh edition of the tournament saw the first change of broadcasters, for a whopping USD 2.55 billion. The broadcasters even promised a Virtual Reality experience, where viewers would be able to select camera angles and commentators – though that was not implemented immediately.
Gujarat and Pune, who had done so well in their allotted two seasons, were disbanded as Chennai and Rajasthan returned to the fray. Both teams celebrated their return by making it to Playoffs.
Chennai Super Kings lift the trophy.
It was not easy for Rajasthan in the absence of captain Steven Smith, who, along with Warner, was shunned by IPL for the season in the aftermath of the Cape Town ball-tampering scandal. With three wins in their first nine matches, Ajinkya Rahane's men seemed to be in the doldrums before winning four in five to leapfrog to the top four.
Chennai had been at the receiving end of some ridicule on social media. Eleven cricketers in their squad – most of them key members – were tricenarians, four of them above 35, which earned them the tag of "Dad's Army".
But Chennai did magnificently. They were matched only by Hyderabad, who were separated only by a net run rate of 0.031. Then, chasing 140 in Qualifier 1, Chennai were reduced to 62/6, then 92/7, then 113/8, before they sneaked home in the last over. Faf du Plessis batted through the chase with an unbeaten 67.
There was, thus, little to choose between the teams when they met in the final. Sunrisers, led by Kane Williamson in the absence of Warner, put up 178/6. But then they ran into Watson, who, with an unbeaten 57-ball 117, chased down the target virtually on his own.
And Chennai matched Mumbai's record of three IPL titles.
(Abhishek Mukherjee is a cricket historian and statistician. He can be followed on Twitter @ovshake42.)