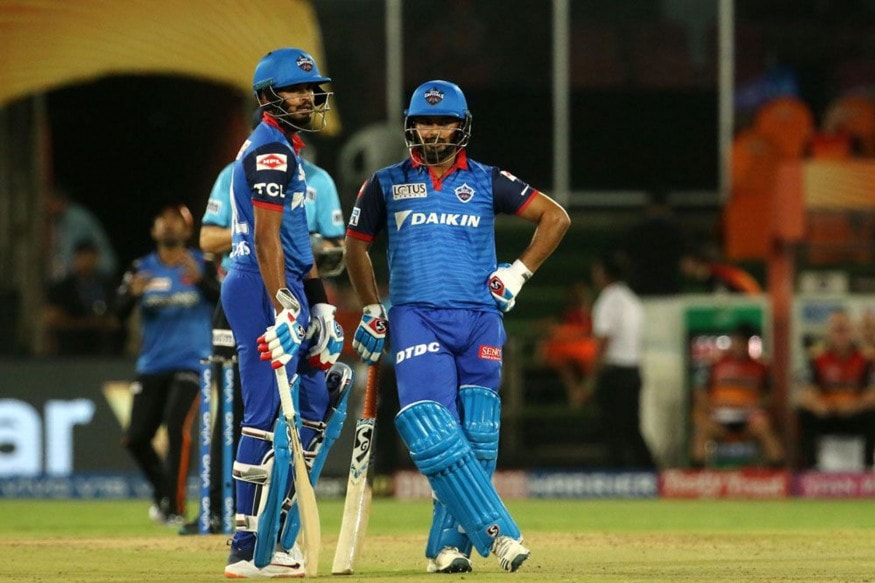 Although Rishabh Pant played yet another rash shot and was dismissed on 49 off 21 balls after getting his side Delhi Capitals to the brink of victory against Sunrisers Hyderabad in Vizag on Wednesday night, his captain Shreyas Iyer said that he does not bother too much about controlling Pant's natural instinct.
Delhi Capitals eventually trumped Sunrisers Hyderabad by two wickets when Keemo Paul hit a four off the penultimate ball of the innings.
"I personally feel you can't really control Pant. Even Prithvi, when you stop a batsman like Pant or Prithvi, it hampers their mind and their flow. It was good that both of them came good tonight," Iyer said in the post-match presentation.
"I can't control my emotions right now, because it felt like I have been sitting and watching for years. I can see the happiness on everyone's faces right now, and I am hoping for another good performance and victory against Chennai."
Iyer also praised the start that SRH got, and noted the contribution of Amit Mishra who was economical in his approach, helping DC to get a foothold in the game.
"The start that SRH got, and on this track, it was really good. But it was us who controlled the middle phase. Mishi pa (Amit Mishra) was exceptional as he conceded only 15 runs. Our other bowlers also did well to bowl economically."
Pant had walked in to bat when the scoreboard read 84/2 in the 11th over. He took some time to settle in, but picked and chose his moments, eventually targeting the 18th over by Basil Thampi on which he scored a massive 22 runs to shift the balance in Delhi's direction.
"If you are set, you have to finish the match for your team," said Pant after the match, ruing the fact that he could not stick around till the end of the innings.
"But next time, I will try and finish off the match for my team as I got very close tonight.
"I just try and have a positive approach, and while chasing in T20s, you have to have a big over. We practice every day with the same set of bowlers, and it's about seeing the ball, not the bowler. Today, I didn't feel that I was trying to hit the ball too hard, and focused more on timing the ball."
Young Prithvi Shaw's half-century at the top of the order was also crucial in getting Delhi off to the start they did, with him putting on a 66 run partnership with Shikhar Dhawan for the first wicket.
And Shaw (56 off 38 balls) dedicated his knock to the team for the belief that they have shown in him.
"All this is dedicated to my team as they have backed me quite well. I wasn't scoring runs in the last few games. All thanks to support staff, players and coaches for believing in me and giving me the opportunity as well," Shaw said.
"I was a bit nervous at the start but my coaching staff helped me. I believed in myself to get my form back and went in there and played my natural game. These kind of games I am always nervous.
"Rishabh batted beautifully. Whenever we needed him, he is always there for us. We haven't really planned for CSK right now, we will have fun tonight and leave the rest when we get to practice next. It is a big game against Chennai and we are going to prepare hard."
Finally, SRH skipper Kane Williamson spoke about how his side had been in close situations throughout the course of the tournament, but could not really capitalize when it mattered the most.
"We can reflect back on some games, we had similar matches last time around and we were on the right side of those, not this time though, we were on the underside of those totals. We are building well as a franchise and the development process will have to continue," Williamson said.
"It wasn't our best performance, a few things needed to be changed and it could have been a winning total. Warner and Bairstow were brilliant when they were here and they were prolific with the bat, we were without them for the last 2 or 3 games, but we still played very well despite missing them. It was just today, that we could not quite get across the line.
"Delhi played very well, they are a strong outfit and I think they deserved this win, I think they will go all the way."