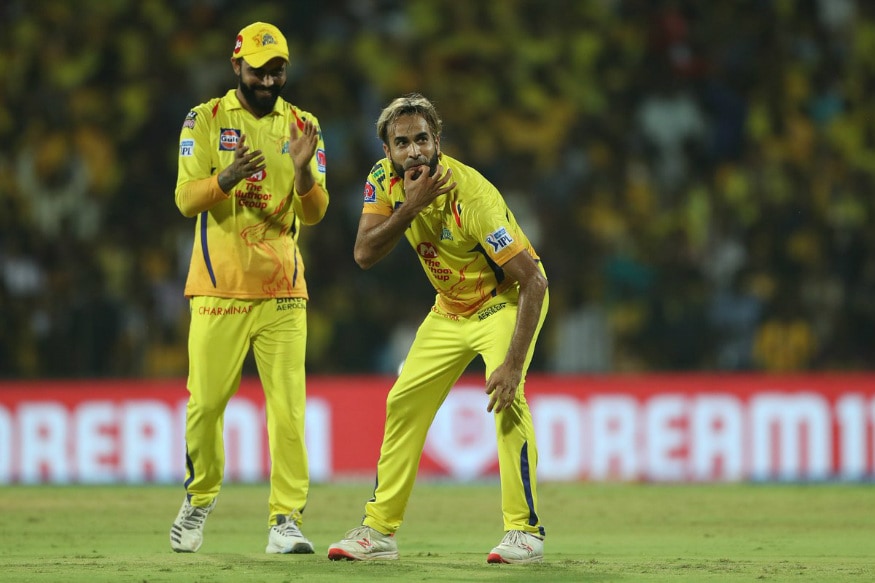 A beaming Mahendra Singh Dhoni was effusive in praise of his spinners Imran Tahir and Harbhajan Singh as the duo once again weaved their magic at MA Chidambaram Stadium on Tuesday (April 9). While Harbhajan went at only 3.75 runs per over returning 2/15, Tahir picked up 2/21 in his four overs to restrict Kolkata Knight Riders to 108/9.
"I think age is on their side and they are like wine; maturing with age," Dhoni said about Tahir and Harbhajan at the post-match presentation ceremony. "Bhajji (Harbhajan), whatever games he has got this year has done really well.
"Tahir is someone who always deceives the batsmen quite a few times. It is not only his leg-spinner and googlies,  he has also got a very good flipper which hurries onto the batsman. Overall, he is a complete package. He is one bowler who I can always fall back on. He is someone who if you tell him, 'ok this is the length to bowl on and this is the right pace', more often than not he executes that line and length."
Dinesh Karthik, the Kolkata captain, pointed out to the loss of wickets upfront as the main reason behind his team failure on the day. Kolkata lost four wickets for just 24 runs inside the powerplay and consolidating from such a position was always going to be a challenge for the team, said Karthik.
"You lose four wickets in the powerplay, you are behind the eight-ball. You are trying to consolidate and then probably go big towards the end. It didn't happen, we kept losing wickets," lamented Karthik.
"It is a bit tricky, these kind of games, because when you are batting you never know how much is a good score especially with the dew and everything at the back of your mind you are always trying to be ahead of the eight-ball, trying to score runs. But by the time the game finishes you are like, wow, you could have scored 20-30 more. It is kind of a catch-22 situation."
Despite the loss, Karthik was upbeat about his team's chances and was confident they will bounce back soon.
"The boys are really geared up and trying their best they can. We have been on the road for four games. It is not easy playing three games in five days," Karthik said. "We have won two. I think sometimes you shouldn't get too greedy as well.
"As a team we have worked hard, we have been on the road for the last two weeks so at the end of it I am happy. We just have to go back and regroup and do the best on the field as we can."
While the spinners were hard to score against, the surprise package of the day was paceman Deepak Chahar, who returned three early wickets. He broke Kolkata's back snaring key scalps of Chris Lynn, Robin Uthappa and Nitish Rana inside the powerplay returning impressive figures of 3/20. He was deservedly awarded Man of the Match for his efforts.
"I knew we are going to play a lot of games at Chennai. So, I worked on my slower ball and yorkers," said Chahar. "I spend a lot of time in the dressing room with MS while playing TT and I have got to learn a lot from him. With Bravo injured, I have got opportunity to bowl at the death."