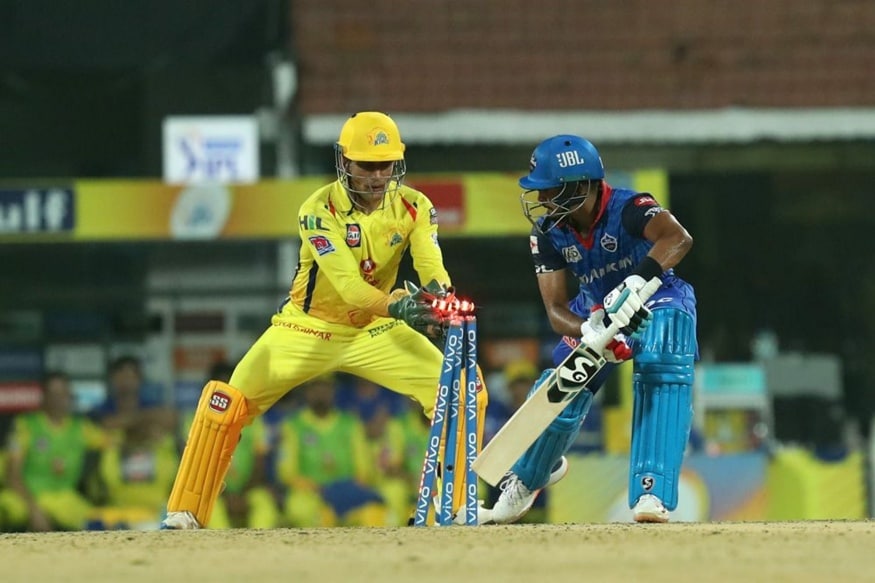 Chennai Super Kings emerged victorious in their final league game at home, registering a dominant 80-run victory against Delhi Capitals.
MSD is back #CSK is back

‍♂️ pic.twitter.com/ZSqtqz1pEh

— Aakash Chopra (@cricketaakash) May 1, 2019
That's an innings win in under 3 days in Test match terms.

— K Balakumar (@kbalakumar) May 1, 2019
Honestly, if ever a team's DNA consisted of one player it is @ChennaiIPL in the form of M S Dhoni. The man is simply brilliant. Those stumping were crazy good. And he is just their everything tactically and talisman with the bat. — ian bishop (@irbishi) May 1, 2019
This is CSK's sixth consecutive victory against Delhi at Chennai in IPL. #CSKvDC — Umang Pabari (@UPStatsman) May 1, 2019
Shane Watson did not do much to trouble the scoreboard, but Faf du Plessis and Suresh Raina stitched together a fifty-plus stand to get the innings going.
40/1 in 8 overs on that pitch is decent start. 140, a likely score from here on, good score but for that dew. In which case, everything else becomes moot.#CSKvDC #IPL2019

— Suneer (@suneerchowdhary) May 1, 2019
You might think these are not enough for #CSK but if there is no dew batting can become difficult. Chinna Thalai, Raina, looking like the player we have known in the #IPL

— Harsha Bhogle (@bhogleharsha) May 1, 2019
What a knock from Faf #CSKvsDC — Ajay (@ajaykumar08) May 1, 2019
MS Dhoni promoted himself and Ravindra Jadeja up the order and that definitely had an effect on the run-rate. And then the CSK skipper stepped up to take his side to an above-par 179.
I can't recall many better Jadeja batting performances than this in limited overs cricket. Rare occurrence. — Elite Alagappan (@IndianMourinho) May 1, 2019
This was no Unadkat or Yadav, this was Trent Boult in the final over that Dhoni took to the cleaners. #CSKvDC — Sanjay Manjrekar (@sanjaymanjrekar) May 1, 2019
Best finishers in Vivo IPL 2019 in order for me please, between Hardik Pandya, MS Dhoni and Dre Russ?????? No missing anyone I hope,,,,, — ian bishop (@irbishi) May 1, 2019
Dhoni - what would we do without you? — SA (@Aravind_SA) May 1, 2019
MSD does it again. First 12 balls - 13 runs & Last 10 balls - 31 runs. As Manjrekar said today on @cricketnext that even when he is dreaming, Dhoni dreams sensibly, within his limitations. Absolutely!#CSKvDC — Umang Pabari (@UPStatsman) May 1, 2019
Delhi Capitals got off to a good start but were pegged back by regular wickets. The spinners kept chipping in and a certain Dhoni showcased his skills behind the stumps. The visitors were never in the game during the run-chase and were bowled out easily by the home side.
Dhoni and the stumpings. A spinner's love story. — Harsha Bhogle (@bhogleharsha) May 1, 2019
unbelievable! https://t.co/11yakp9jta — Sam Billings (@sambillings) May 1, 2019
Along with the Dhoni stumping, excellent television work with that last angle from ground level to confirm stumping of Shreyas Iyer.#starsportsIndia #bccitv — Sanjay Manjrekar (@sanjaymanjrekar) May 1, 2019
Never mind who's scores how many runs or taken how many wickets, why would anybody look beyond @msdhoni as MOM? Brilliant knock, superb stumpings and astute captaincy to stymie Delhi's ambitions. Great show! — Cricketwallah (@cricketwallah) May 1, 2019
Dhoni and electrifying stumpings... Eternity ♥️ — Niharika Raina (@niharika_raina) May 1, 2019
"Are you watching closely?" MS Dhoni's stumping is the closest there is to real magic in cricket. #CSKvsDC #IPL2019 pic.twitter.com/eiVChZhuMF — Vinayakk (@vinayakkm) May 1, 2019
Journalists: What are your retirement plans? Dhoni: pic.twitter.com/BSXud4bkWA — Gabbbar (@GabbbarSingh) May 1, 2019