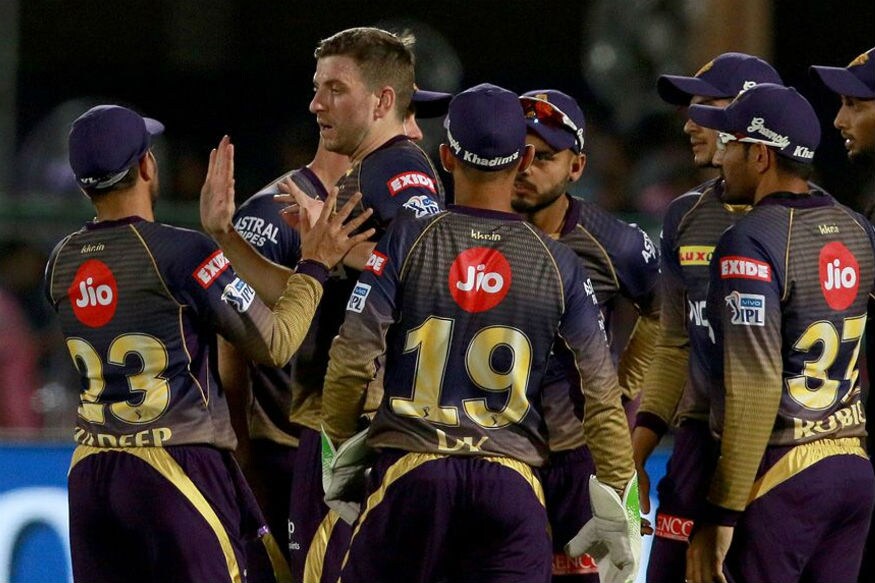 The Sawai Mansigh Stadium in Jaipur is considered a fortress for Rajasthan Royals in the IPL, with visiting teams often struggling to adjust to the conditions and pitch.
On Sunday (April 7), though, it was the visiting Kolkata Knight Riders who outwitted the hosts completely, making strategically better moves to end up winning by eight wickets. In the process, they might have set a template for other teams to follow while playing at the stadium.
The first, and one of the most decisive moves by KKR happened at the selection-level. They read the pitch to perfection when they picked Harry Gurney over Lockie Ferguson. Gurney is a left-arm pacer with plenty of variations as opposed to the outright pace of Ferguson, and was clearly the best option for the slow pitch. His 2 for 25 earned him the Man of the Match award.
Gurney's selection made life difficult for Rajasthan, who just didn't have the power-game to tackle the slow strangle. The only two Rajasthan batsmen who can consistently score quick are Englishmen Jos Buttler and Ben Stokes, with almost every other player being an 'anchor'.
The presence of three spinners in Piyush Chawla, Sunil Narine and Kuldeep Yadav, apart from the wily Gurney, ensured Rajasthan couldn't get going at any stage. They managed just 139 despite losing just three wickets, with the four slow bowlers combining for just 99 runs in 16 overs.
Smith ended unbeaten on a 59-ball 73*, which was a fairly decent effort given the nature of the track. The problem for Rajasthan, though, is that they have too many batsmen playing similar roles. Ajinkya Rahane's T20 strike-rate is around 118. Sanju Samson and Smith strike at around 125. Rahul Tripathi's strike-rate is around 130, boosted by his numbers as an opener.
It leaves too much to do for Buttler, and it doesn't help that they're reluctant to give Stokes more time in the middle. Both had tough games on Sunday, and Rajasthan just couldn't crawl back.
Rajasthan lost their captain Rahane in the second over, allowing Dinesh Karthik to choke the foreign batsmen with spin. Buttler and Smith struggled to get going against spin, with Chawla bowling three in the Power Play and Narine bowling one. Rajasthan managed just 28 runs in the first six overs, with even Buttler
scoring only 18 off 21.
Smith did what he could do best - nudging around for singles and running hard for doubles, but Rajasthan could get no momentum as Kolkata refused to give pace on the ball. In a smart move, Kolkata never bowled Andre Russell, who could have been one bowler that Smith and Buttler might have looked to target.
Buttler scored only 25 runs in his first 28 balls. Just when he seemed to get going, reverse-sweeping Kuldeep for a four and following it up with a six, he holed out to the deep handing Gurney his maiden IPL wicket.
Rajasthan were 77 for 2 in the 12th over then, but still opted for Tripathi over Stokes. Smith continued at around a run-a-ball, and although he did hit the odd boundary with clever strokeplay, he couldn't quite accelerate much as Kolkata just didn't give him pace. Tripathi managed just six off eight, and Stokes struggled in a 14-ball 7* as Rajasthan managed just 36 runs in the last five overs despite having eight wickets in hand.
Rahane the captain also missed the trick when he opened with the spin of K Gowtham to Narine. Ever since taking the role of an opener, Narine has been a murderer of spin bowling. Earlier this season, he smashed Kings XI Punjab's Varun Chakravarthy for 25 in an over. He did an encore to Gowtham, blasting four fours and a six in a 22-run over.
Rahane corrected the mistake soon and went with Jofra Archer and Dhawal Kulkarni, and was nearly rewarded with Narine's wicket if not for Tripathi dropping a sitter.
By then, though, it was too late. KKR smashed 65 runs in the Power Play, killing the chase right there.
Kolkata have a batting unit that can fire from top to bottom. Rajasthan's batting relies on 'true' pitches with consistent bounce. The Mansingh stadium has historically produced such tracks allowing them to play strokes, but the story has been different this season. They've now lost two of their three games in the venue, with batsmen unable to play their shots freely.
Kolkata were smart enough to realise that, and more teams could follow suit in the coming games.