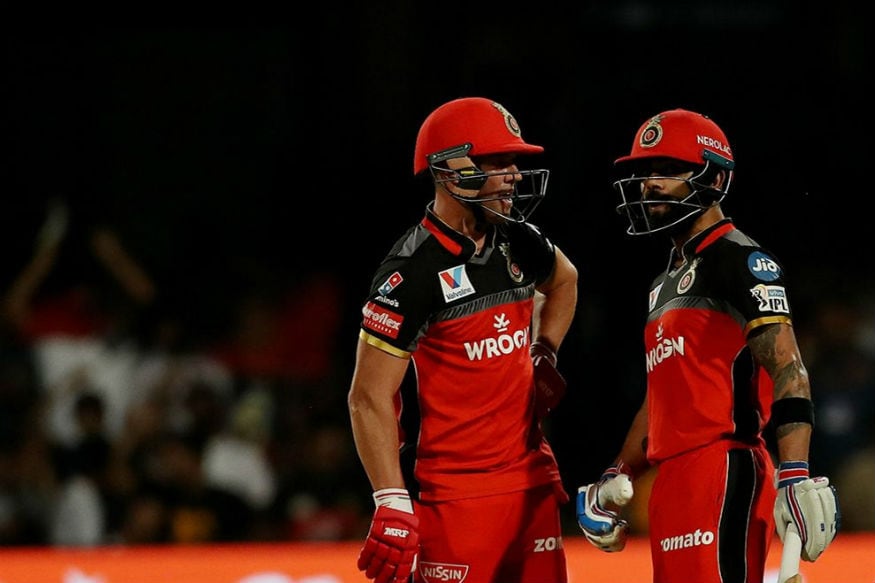 Although it did not change the dwindling fortunes of RCB, it was another exceptional batting display by two of the greatest batsmen of the millennium who have forged one of the sturdiest partnerships in IPL history.
Virat Kohli and AB de Villiers put together a masterclass but it was not enough as a rampaging Russell produced another blinder and took KKR to a sensational victory robbing RCB of their first win in the tournament.
But not before Bengaluru had witnessed a Kohli-AB classic.
Kohli had aggregated just 78 runs in 4 innings at an average of 19.5 and strike rate of 98.73 before the start of this match. AB had one good innings of 70 but had managed just 23 runs in the remaining three innings.
But as goes the old adage – 'Form is temporary, class is permanent'.
AB joined Kohli at 64 for 1 after 7.5 overs with the team strike rate at 136.17. By the time Kohli was dismissed, the score read 172 in 17.1 overs with a team strike rate of 167. The pair had added 108 runs in 56 deliveries at a strike rate of 192.86.
RCB posted a mammoth 205 for 3 in their allotted 20 overs.
It was the ninth century stand between AB and Kohli in the IPL – the joint-maximum by any pair in IPL history (along with Kohli-Chris Gayle).
They are followed by Shikhar Dhawan-David Warner (4), Dhawan-Kane Williamson (4) and Dwayne Smith-Brendon McCullum (3).
AB dominated the stand and added 61 runs in just 30 balls (strike rate of 203.33) while Kohli came back to form with a splendid contribution of 46 in just 26 deliveries (strike rate of 176.92) to the partnership.
In the 9 full overs they batted together, more than 6 went for 10-plus runs. They paced their partnership to perfection. The pair added 37 runs in the first 28 balls of the partnership at a rate of 132.14. In the other half of their stand (28 deliveries) they scored a whopping 71 at a strike rate of 253.57.
As many as 9 boundaries and 6 sixes were hit in the partnership.
Kohli ended with 84 off 49 deliveries and during the course of the match became the highest scorer in IPL history with 5110 runs in 160 innings at an average of 38.13 and strike rate of 130.62.
AB scored 63 in just 32 deliveries at a strike rate of 196.87.
Kohli (5110) and AB (3438) are the two-highest runs getters for RCB in IPL history.
The two highest stands in IPL history are credited to the pair of Kohli-AB.
They added 229 in just 96 deliveries against Gujarat Lions in Bengaluru in 2016 as RCB registered the second-highest score in IPL history (248/3).
They had added an unbeaten 215 in 101 deliveries against Mumbai Indians in Mumbai in 2015.
These are among the only 4 double-century partnerships in IPL history.
The pair have added two other 150-plus stands in the IPL. They added 157 against SRH in Bengaluru in 2016 and 155 against Rising Pune Supergiant in Pune, also in 2016.
No other pair in IPL history has as many 150-plus partnerships in IPL history (4).
And now that they have revived their appetite for run scoring as a combination, the beleaguered fans of RCB will be hoping that they can continue to do so. And deliver some long awaited victories.