IPL 2019, KXIP vs KKR Match in Mohali, Highlights: As It Happened
CONCLUDED
KXIP vs KKR Cricket Scorecard (T20)
Match 52 T20, Punjab Cricket Association IS Bindra Stadium, Mohali, 03 May, 2019
Kolkata Knight Riders beat Kings XI Punjab by 7 wickets
HIGHLIGHTS
FOUR, SIX, FOUR and there's the win! Karthik goes for the jugular in this over, first opening the face of his bat late to guide a yorker from Curran for four. He then pulls one for a low six before finishing the game with a four to fine leg. KKR chase the total with 2 overs to spare. That will do wonders for the NRR. But this loss all but spells the end of KXIP's campaign although they are still in it, mathematically.

Four and out! Russell creams one through the off side off Shami before going for a big shot that would have probably cleared most stadiums but finds Tye in the deep. KKR are 150-3.

SIX, SIX! Russell slams a low full toss for six over the leg side early on and ends the over with another after Mayank Agarwal drops a catch that then hits the boundary rope. Oops. KKR are 145-2 in 14 overs.

Six, six, four! And Gill gets his half-century. He takes on Ashwin early and deposits him first over long-on and then over deep backward square before cutting one fto bring up his 50. KKR are 128-2 after 13 overs.

OUT! Robbie goes for the big one off R Ashwin but he simply manages to find Mayank Agarwal at long-off. He played a decent hand but would have been desparate for a big score. KKR are 100-2 now.

Four, six, four! A misfield opens the floodgates and Robbie Uthappa gets going. Some poor fielding from KL Rahul at wide long-on results in the first boundary before Uthappa hits one straight down the ground and follows that up with a late cut for another four. KKR are 90-1 after 9 overs.

SIX, FOUR, WICKET! It's all happening. Lynn rode his luck a bit after Gill got a boundary and then took a single. He top edged one for six before inside edging one for a four. Third time is the charm for Andrew Tye and a top-edge is claimed by him. KKR are 62-1 after 6 overs.

Four, four and four! Lynn decides to take on young Arshdeep Singh and smashes him for three consescutive boundaries - two through long-off and one behind the wicket that was slightly mistimed. KKR are 35-0 after 4 overs.

FOUR SIX FOUR! Sam Curran completes a fine half-century, reaches 51 off just 23 deliveries. Goes after his countryman Harry Gurney and then a fist pump. Fantastic innings from the youngman. He helps Kings XI Punjab cross 180 also, they end at 183/6 after 20 overs.

WICKET! Another one bites the dust, Ravichandran Ashwin comes up the order to get a few runs. He gets an inside edge straight onto the stumps there. Punjab are now 151/6. Ashwin departs for a three ball duck.

WICKET! Mandeep Singh departs, Gurney gets the wicket here. Mandeep looking to force the matters and hit over the circle but gets the ball high on the bat there. Easy catch for Uthappa that and KXIP are 149/5

WICKET! Run out accounts for Mayank Agarwal here, that seems to happen often for him. Again trying to steal a double there but its an excellent throw from Rinku Singh. Narine almost makes a meal of it but luckily the ball deflects straight onto the stumps. KXIP are 112/4
23:46 (IST)
That is all from our side, do join us tomorrow for live coverage. Till then, goodbye and goodnight!
23:28 (IST)
FOUR, SIX, FOUR and there's the win! Karthik goes for the jugular in this over, first opening the face of his bat late to guide a yorker from Curran for four. He then pulls one for a low six before finishing the game with a four to fine leg. KKR chase the total with 2 overs to spare. That will do wonders for the NRR. But this loss all but spells the end of KXIP's campaign although they are still in it, mathematically.
23:20 (IST)
Gill and Karthik start the 17th over with 3 singles before Gill decides to take on Tye and smash a boundary through the deep mid-wicket boundary. The asking rate is run a ball now. KKR are 166-3.
23:13 (IST)
Six runs come off the 16th over and that's not a bad over for KKR. They need 27 in the remaining four overs but one gets the feeling that Karthik and Gill will look to score quick for the sake of the NRR.
23:06 (IST)
Four and out! Russell creams one through the off side off Shami before going for a big shot that would have probably cleared most stadiums but finds Tye in the deep. KKR are 150-3.
23:01 (IST)
SIX, SIX! Russell slams a low full toss for six over the leg side early on and ends the over with another after Mayank Agarwal drops a catch that then hits the boundary rope. Oops. KKR are 145-2 in 14 overs.
22:57 (IST)
Have been saying it for a while that this kid Shubman Gill has to open for KKR and finally they've got that right. Been batting beautifully one more time. Love the way he strikes the ball and is so composed and calm.
22:55 (IST)
Six, six, four! And Gill gets his half-century. He takes on Ashwin early and deposits him first over long-on and then over deep backward square before cutting one fto bring up his 50. KKR are 128-2 after 13 overs.
22:51 (IST)
The dismissal of Uthappa sees Andre Russell come in who starts off a little slow by his standards but smashes a four off Curran too. KKR are 110-2 after 12 overs and look favourites right now.
22:44 (IST)
OUT! Robbie goes for the big one off R Ashwin but he simply manages to find Mayank Agarwal at long-off. He played a decent hand but would have been desparate for a big score. KKR are 100-2 now.
22:42 (IST)
Sam Curran bowls the first over after the timeout and it's another good one for KKR as 8 come off it, including another well-timed boundary from Gill. At the halfway mark of the innings KKR are 98-1.
22:36 (IST)
Four, six, four! A misfield opens the floodgates and Robbie Uthappa gets going. Some poor fielding from KL Rahul at wide long-on results in the first boundary before Uthappa hits one straight down the ground and follows that up with a late cut for another four. KKR are 90-1 after 9 overs.
22:32 (IST)
R Ashwin comes in to bowl his second over and it is once again a good one as 4 come off it. Robbie has looked off sorts so far but Gill looks in command. KKR are 73-1 after 8 overs.
22:30 (IST)
KKR are in the driver's seat and once more the man who put them in this comfortable position is Chris Lynn. He's been brilliant with the bat for them all season.
22:29 (IST)
M Ashwin is brought on to bowl the first over after the powerplay and it's expectedly a quiet one. Robbie Uthappa is the new man out; he needs a big innings given the poor form he's endured this year. KKR are 68-1 after 7 overs.
22:25 (IST)
SIX, FOUR, WICKET! It's all happening. Lynn rode his luck a bit after Gill got a boundary and then took a single. He top edged one for six before inside edging one for a four. Third time is the charm for Andrew Tye and a top-edge is claimed by him. KKR are 62-1 after 6 overs.
22:20 (IST)
Four followed by a six! Ashwin brings himself into the attack but Lynn is in the mood and edges one for four before muscling one for six. The over is another good one for KKR as 12 come off it. They are 47-0 in 5 overs.
22:17 (IST)
Four, four and four! Lynn decides to take on young Arshdeep Singh and smashes him for three consescutive boundaries - two through long-off and one behind the wicket that was slightly mistimed. KKR are 35-0 after 4 overs.
22:12 (IST)
Not a bad over from Shami, despite Gill hitting him for a beautiful boundary on the fourth ball of the over. The youngster showed good timing there but KKR need to score at a slightly quicker rate. They are 20-0 after 3 overs.
22:05 (IST)
SIX! Monster hit from Chris Lynn here, comes down the track to Arshdeep and just pulls it away for a maximum over midwicket. Huge hit that and the sound that made showed it was travelling the distance! KKR are 13/0 after 2 overs
22:02 (IST)
Mohammad Shami starts the proceedings here, he concedes 3 runs in his first over. Gill and Lynn both looking to start steadily. KKR are 3/0 after the 1st over.
21:47 (IST)
How special was that innings from Sam Curran, Kings XI Punjab never looked like getting 180 after losing wickets in a flurry. Have a feeling that they will be happy with the score they have posted here.
21:43 (IST)
FOUR SIX FOUR! Sam Curran completes a fine half-century, reaches 51 off just 23 deliveries. Goes after his countryman Harry Gurney and then a fist pump. Fantastic innings from the youngman. He helps Kings XI Punjab cross 180 also, they end at 183/6 after 20 overs.
21:38 (IST)
Back to back boundaries here for Curran, he is playing a little gem here for Kings XI Punjab. Already batting on 33 off 18 balls, KXIP are 161/6 after 19 overs here.
21:34 (IST)
WICKET! Another one bites the dust, Ravichandran Ashwin comes up the order to get a few runs. He gets an inside edge straight onto the stumps there. Punjab are now 151/6. Ashwin departs for a three ball duck.
21:29 (IST)
WICKET! Mandeep Singh departs, Gurney gets the wicket here. Mandeep looking to force the matters and hit over the circle but gets the ball high on the bat there. Easy catch for Uthappa that and KXIP are 149/5
21:28 (IST)
DROPPED! Sam Curran is dropped by Rinku Singh, that was a really easy catch but the KKR player makes a meal of it. Curran then also gets a boundary, he picks 15 from the over. KXIP are 147/4 after 17 overs
21:22 (IST)
Great over that by Russell, concedes just 7 runs in the depth overs here despite giving away a boundary. KXIP move onto 132/4 here, they need to find the boundaries a bit more consistently here
21:16 (IST)
Kings XI Punjab might want to get somewhere near 180, anything less than that will be difficult to defend on the pitch. This pair is very important for Punjab here if they are to reach that target.
21:08 (IST)
WICKET! Run out accounts for Mayank Agarwal here, that seems to happen often for him. Again trying to steal a double there but its an excellent throw from Rinku Singh. Narine almost makes a meal of it but luckily the ball deflects straight onto the stumps. KXIP are 112/4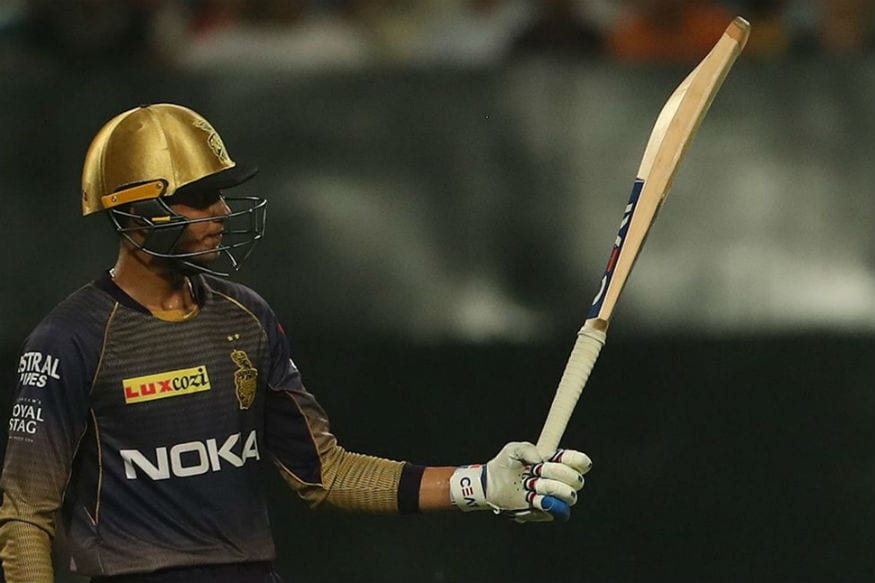 Follow all the live cricket score from IPL 2019 clash between Kings XI Punjab (KXIP) and Kolkata Knight Riders (KKR): FOUR, SIX, FOUR and there's the win! Karthik goes for the jugular in this over, first opening the face of his bat late to guide a yorker from Curran for four. He then pulls one for a low six before finishing the game with a four to fine leg. KKR chase the total with 2 overs to spare. That will do wonders for the NRR. But this loss all but spells the end of KXIP's campaign although they are still in it, mathematically.
KXIP vs KKR in IPL 2019 will be broadcast on Friday (May 3) from 8:00 PM onwards. KXIP vs KKR live streaming will be available on Hotstar and Jio TV. You can follow all the ball-by-ball updates and live commentary with analysis on our live blog.
PREVIEW: Buoyed by their big victory over Mumbai Indians, Kolkata Knight Riders will look to continue the winning momentum in yet another must-win Indian Premier League tie against Kings XI Punjab here on Friday. KKR snapped a six-game losing streak to record a 34-run victory over Mumbai at Eden Gardens last week to revive their chances of a playoffs berth. Placed sixth in the points table, KKR are one of the teams in the slugfest for two remaining spots. Chennai Super Kings and Delhi Capitals have already booked their place in the knockout stage.
KKR will take on Mumbai after facing Kings XI in another away game, their last league engagement. The Dinesh-Karthik led side will have to win the those fixtures in order to secure a playoff spot and not depend on any other team. But in Kings XI, they face another side eager to make the grade. R Ashwin's side are a rung below KKR at seventh and have lost their last three games.
They were washed away by a dominant Sunrisers Hyderabad in their last outing, largely due to David Warner's brilliance and Kings XI bowlers not putting up a good show collectively. It was a rare off day for Afghanistan spinner Mujeeb Ur Rahman as he went for 66 runs. KL Rahul has been the only in-form batsman for Kings XI with Chris Gayle blowing hot and cold.
For KKR, Chris Lynn and Shubman Gill scored half centuries in their last game and Andre Russell continued his blistering show with the bat after being promoted to No. 3 for the first time this season. KKR's misfiring bowling arsenal made amends too, with Harry Gurney, Russell and Sunil Narine getting two wickets each.
Kolkata Knight Riders: Dinesh Karthik (captain), Sunil Narine, Andre Russell, Carlos Brathwaite, Joe Denly, Lockie Ferguson, Chris Lynn, Robin Uthappa, Harry Gurnley, Kuldeep Yadav, Piyush Chawla, Nitish Rana, Sandeep Warrier, KC Cariappa, Shubman Gill, Rinku Singh, Shrikant Mundhe, Nikhil Naik, Anrich Nortje, Prithvi Raj, Prasidh Krishna.
Kings XI Punjab: Ravichandran Ashwin, Mayank Agarwal, Arshdeep Singh, Murugan Ashwin, Agnivesh Ayachi, Sam Curran, Chris Gayle, Harpreet Brar, Moises Henriques, Sarfaraz Khan, Mandeep Singh, David Miller, Mohammed Shami, Mujeeb Ur Rahman, Karun Nair, Darshan Nalkande, Nicholas Pooran, KL Rahul, Ankit Rajpoot, Simran Singh, Andrew Tye, Varun Chakravarthy, Hardus Viljoen