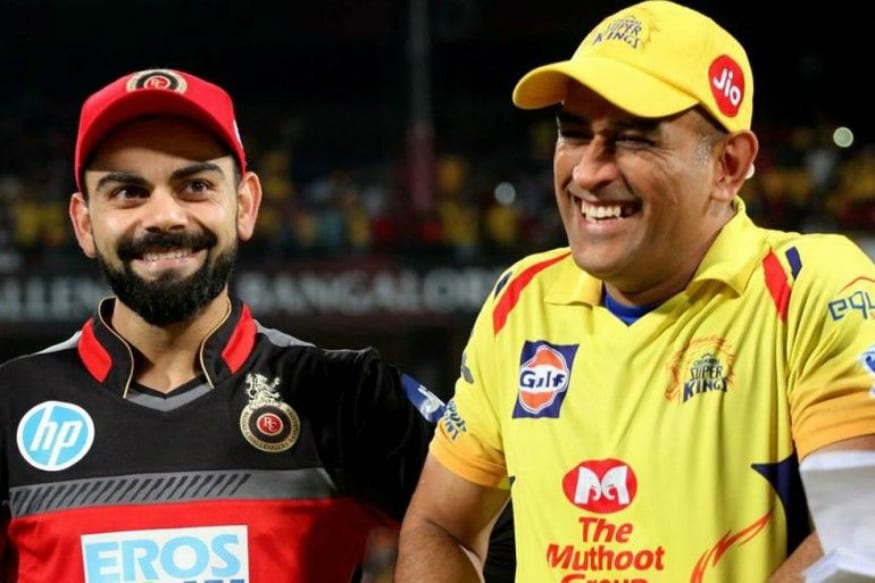 Royal Challengers Bangalore captain Virat Kohli said he didn't expect MS Dhoni to miss the last ball of the innings when Chennai Super Kings needed two runs off it. With 26 to get in the final over, Dhoni smoked 24 off the first five deliveries but failed to connect the last ball, and wicketkeeper Parthiv Patel then even denied them to steal a bye by getting a direct hit.
"A whole lot of emotion. We were outstanding with the ball until the 19th over mark. Defending 160 on that sort of pitch and the amount of dew we had was an outstanding effort," said Kohli after Bangalore clinched their third win of the season.
"On the last ball, that was the last thing I would've expected to happen. Feels good to win a game by a small margin. We've lost a couple by small margins. MS did what he does best and he gave us all a massive scare."
Kohli was highly impressed with Navdeep Saini who was fantastic under pressure, giving away just 24 runs in his four overs.
"Chahal and Saini showed a lot of composure playing against a side like CSK. Especially Saini, playing his first season, and Yuzi has been around for few years now. Saini's shown a lot of heart. He bowls with pace and understands his limitations. He's come along well for the team. Hope he keeps fit and keeps bowling fast which is his biggest strength."
Kohli also accepted that they should have sent in-form Moeen Ali up the order. The left-hander came out to bat at No. 6 and slammed 26 in 16 balls.
"Looking in hindsight, you could say Moeen could've come higher. The idea was to get their spinners out of the way. They wanted to attack Stoinis with spinners. Those things sometimes they come your way and sometimes they don't.
"In the first six overs, we thought the ball wasn't coming onto the bat that much. PP and AB started to rebuild. At the halfway mark we thought 175 would've been a very good total on this pitch. We thought we were 15 short. We thought their bowlers didn't make us play enough on the front foot."
Despite the win, Bangalore are still at the bottom of the table with six points to their name and Kohli's message to his team is pretty simple: "go out there and do your thing".
"We have said a lot of things in the nine games. But if you don't have confidence, none of those things matter. In the last couple of games we just said go out there and do your thing. In T20 cricket, you are going to be put under the pump. It's how well you bounce back that matters and tonight was an example of that."
Parthiv was named Man of the Match for his 37-ball 53 and an amazing run out under pressure to give Bangalore their first win over Chennai since 2014.
"We tried to play a few shots initially. But we realized it wasn't the usual 200 wicket. I was batting well, was talking to coaches. It was just a matter of choosing my shots after first six overs. Chose my bowlers to target. Last ball I knew there was only one chance. Was prepared from the third ball that this situation might come. Have been saying that we are a very good side, there's no doubt about it," said Parthiv.
Meanwhile, Yuzvendra Chahal, who took 1 for 24, said he wanted to keep every delivery on the stumps and was happy to offer singles to Dhoni and Ambati Rayudu.
"My idea was to bowl stump to stump line. I tried to bowl a few deliveries full and few back of length. I was happy with the batsmen (Rayudu and Dhoni) taking singles. I think there's only one guy who could have done this, that's Mahi bhai. But the way Umesh bowled the last ball, he backed himself, hats off to that. And then Parthiv kept his nerves and got the direct hit - the reason why we won the match. I am really enjoying my bowling, I like to bowl attacking deliveries."