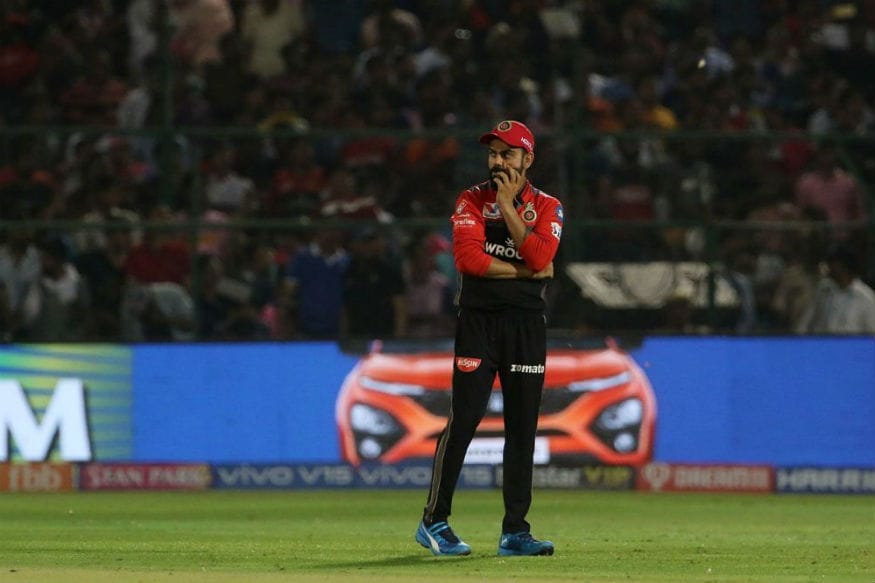 Royal Challengers Bangalore skipper Virat Kohli admitted that his team "made a lot of mistakes" after they were handed their fourth straight defeat by Rajasthan Royals. The 30-year-old also hinted that the management will make some changes in the playing XI in the coming matches.
"We made a lot of mistakes in the match (dropped catches). In a tournament like IPL when team hasn't got off to a great start, then bodies in the outfield can be a bit stiff. There can be a bit of nervousness. In four games, we would have wanted one or maybe two games to go our way," said Kohli at the post-match presentation ceremony.
"We were 15-20 runs short. Marcus and Moeen got us to a competitive score. With the dew factor, 15 runs more would have been more challenging. It wasn't easy to score in the end as the wicket became slower.
"We have 10 games to go, hopefully we can turn things around. We played well against Mumbai and in this game. This tournament is not that long, it is not going to go on for months and you have to think on your feet and have to think about the best combination going forward. Hopefully, we will get fresh guys in and they can give a match-winning performance."
Meanwhile, Rajasthan captain Ajinkya Rahane was relieved after his team earned their first victory of the season.
"Our thinking was, dew would come into effect. His (Shreyas Gopal) record against Virat and AB - we all know. Overall, it was a great team effort," he said.
"After 3-4 overs, we came to know that the wicket was slow. All the bowlers chipped in really well. That's what we wanted to do. We played good cricket in the last three matches. Today, it was about giving more than 100 percent. I think the way he (Tripathi) batted with Smith and Stokes, it was incredible."
Legspinner Shreyas Gopal was rightly named Man of the Match for his efforts. The 25-year-old outfoxed Kohli, AB de Villiers and Shimron Hetmyer with his wrong'uns to break the back of Bangalore's batting lineup.
"I still say I'm fortunate and lucky to get such big wickets. As a youngster, it's not going to come everyday and it's one of my biggest moments. I was more fortunate and our plans worked today," he gushed.
"We created a lot of pressure in the first 6 overs. They didn't get 65-70. They had to make runs off me, I had better chance of taking wickets. Just goes on gut feeling, nothing planned as such. It's good to have few different balls up your sleeve and be able to execute."