In many ways, the IPL story is also a CSK story.
The only years CSK didn't make the play-offs were years when they were banned from playing in the IPL. Their consistency in what is essentially a hit and miss format is just unbelievable.
I know, it seems a very simplistic conclusion to draw, but I believe, the one reason why CSK is so successful is - MS Dhoni. And yes, his relationship with the franchise.
Over the years, we have seen 'Captain Cool' lose his cool twice and both instances have been as leader of CSK. In the documentary, 'The Lion Roars' we see him choke with emotions and struggle to hold back tears when he is addressing a private gathering of the franchise on its comeback after the ban.
The second time was this season, when he walked out on to the field to challenge an umpiring decision. This was Dhoni, a man, who had kept a check on his emotions for many years while captaining his country to three world titles.
You hear Dhoni talk a lot about 'process'. It is not a cliche that he uses for convenience to get through interviews, he actually believes deeply in it.
While talking to him after a game, you sometimes sense that he is visibly unhappy with his team's performance. He mentions the word process many times, how this aspect has really infuriated him in that game. It's easy to lose sight of the fact, that this is after CSK have actually won!
Dhoni is not greatly fussed about the result as along as he is happy with the process - the controllable. Along with these (almost spiritual) qualities as captain, what CSK are really lucky to get is Dhoni's passion. CSK gets the best version of Mahendra Singh Dhoni.
When Dhoni had two years with the stop gap franchise Rising Pune Super Giants, it was easy to gauge that his heart was just not there.
Man to man, CSK is never the obviously the best team on paper. Last year, when they won, they had more weaknesses than any other team with a big chunk of the team made up of ageing players, well past their prime.
This year too, it's not much different.
Shane Watson, for instance, is a player in decline, but Dhoni kept backing him through his extended run of failures. Nothing succeeds like success as they say, even this illogical tactic, when any half decent player, if given numerous chances will eventually deliver was lauded as another Dhoni masterstroke. Dhoni has now earned the right to be called a captain who can do no wrong.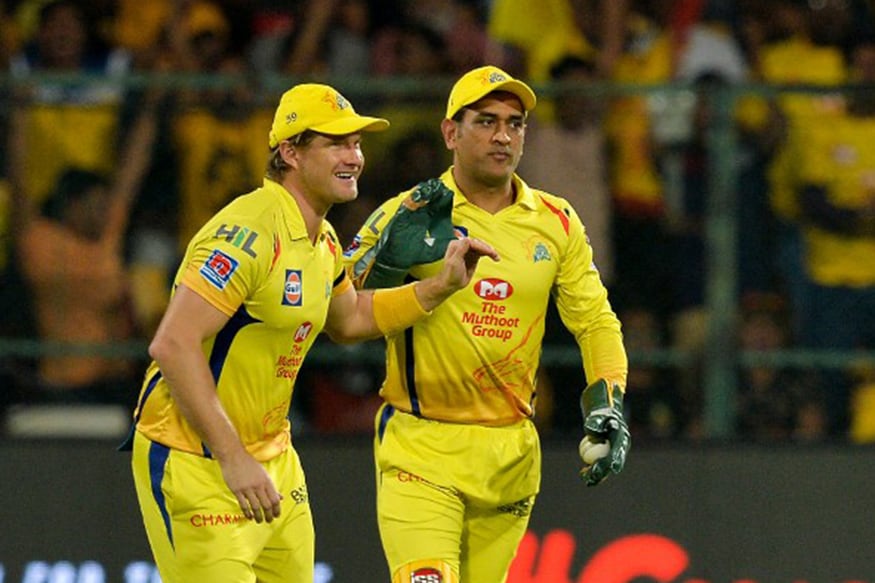 MS Dhoni and Shane Watson (Source: AFP)
Faf du Plessis too has been inconsistent this season. Suresh Raina is showing clear signs of going downhill and Ambati Rayudu's world has come crashing down on him after a sensational IPL last year.
Their bowling is a similar story. Deepak Chahar's success as a seam bowler has been literally handcrafted by Dhoni. If Chahar, or Ravindra Jadeja, play under a different Captain their performance is likely to nosedive, for there is nothing to suggest that they are exceptional T20 bowlers.
Jadeja's numbers when playing for Gujarat Lions are evidence of that. Dhoni decided to back Jadeja and got him playing for CSK after that it seemed like his success was now Dhoni's responsibility. Jadeja must hold eternal gratitude to Dhoni for reviving his almost dead white ball career.
Shardul Thakur is another example. By no stretch of the imagination is he an extraordinary T20 talent, but Dhoni makes him viable for CSK, as he does with a veteran like Harbhajan Singh.
Only Dwayne Bravo and Imran Tahir, you could say, would be as effective under a different umbrella.
If you do a hard count, CSK has just two players and may be Kedar Jadhav, who other franchises would be eager to bid for if available.
I mentioned three, but there is another, the fourth, the key batsman in the team, a real match winner and amazingly consistent too. Dhoni himself.
He basically covers up for players like Watson.
Dhoni, the batsman, as you would expect has evolved over the years. Remember the 2011 World Cup winning six? The trademark Dhoni lofted shot to a ball pitched on off stump and full.
If you watch all his sixes this season, very few would be off that full ball on off stump, for no one bowls to him there anymore. With time Dhoni has become adept at hitting sixes off balls that are wide outside the off, balls that are short into his ribs, he has also started flat batting short slow balls straight for sixes.
Dhoni the hitter is more versatile now, he has also started stepping out to spinners to hit in the air at the start of his innings, something that he rarely did earlier. Mind you, you see all these facets of his batting more in the IPL than at the international level.
Dhoni is a master at thinking on your feet and that's why does not believe in long team meetings before matches. He is also brilliant at pre-empting. He knows that after a good over from Harbhajan, in which he has conceded just four runs, there is a good chance he may go for plenty the next over, he has seen the potential signs in that over. So Harbhajan will not bowl again in the match.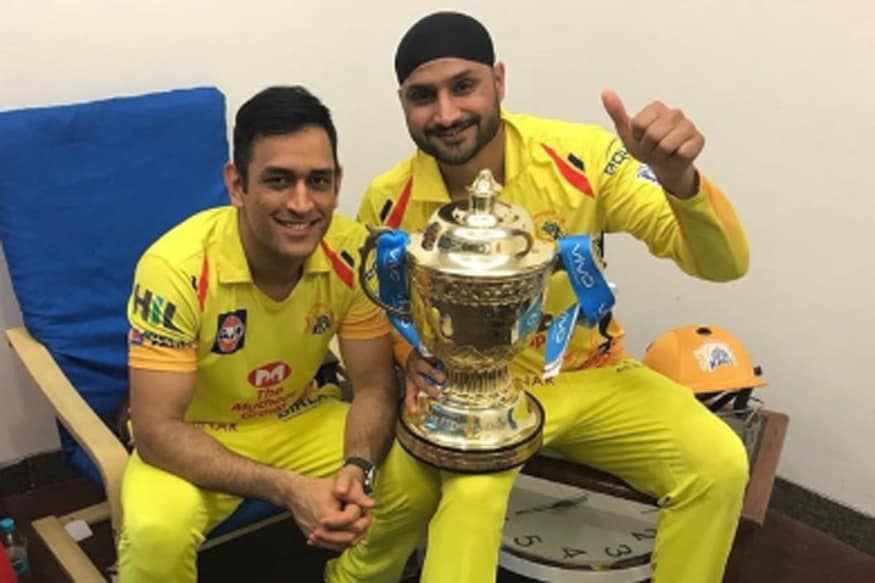 MS Dhoni and Harbhajan Singh. (Harbhajan/ Twitter Image)
Knowing the limitations of his players and using them accordingly is his greatest quality as CSK captain. I sometimes wonder whether he is more comfortable leading a bunch of average players than ten highly talented players.
Talking of limitations, when I asked him once what was the secret of his great success, he said - Knowing your limitations.
"Becoming a good cricketer and playing for India, I thought was a possible dream, it would have been impossible for me to reach the highest level in any other sport with the talent I had"
So even when he is dreaming, Dhoni dreams sensibly, within his limitations.
Perhaps that's why no one understands and handles limitations of others better than he does. And that, I guess, is the reason for his unlimited success.