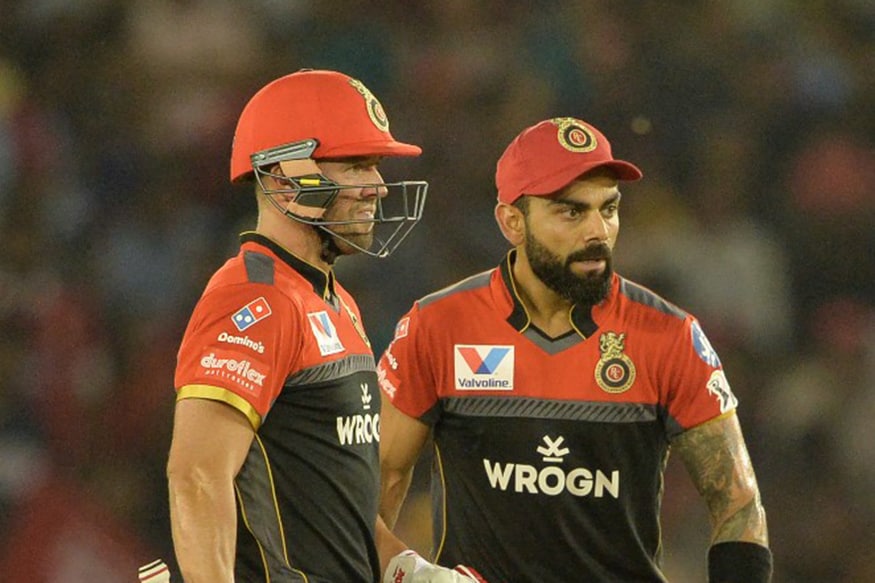 After a long wait, Royal Challengers Bangalore finally got off the mark in IPL 2019 thanks to fifties from Virat Kohli and AB de Villiers, as they beat Kings XI Punjab by eight wickets on Saturday (April 13).
Tenth time Virat Kohli and AB de Villiers have 50+ scores for RCB in same inns - #RCB won 7, lost 3#KXIPvRCB#IPL2019#IPL

— Mohandas Menon (@mohanstatsman) April 13, 2019
Never understood critics questioning @imVkohli's commitment to RCB. Results uncomplimentary but figures show him to be brilliant contributor

— Cricketwallah (@cricketwallah) April 13, 2019
Yeah, yeah. We've finally opened our account. 😉 #playBold #KXIPvRCB #VIVOIPL2019 — Royal Challengers (@RCBTweets) April 13, 2019
Earlier, Kings XI Punjab were off to a good start with Chris Gayle, in particular, taking a liking to Mohammad Siraj, hitting him for 24 runs in an over. Yuzvendra Chahal though brought his side back with a couple of wickets.
It's Chahal and Gayle reigning in the RCB vs ex-RCB match. What a ball that was from Chahal to dismiss Mayank!#KXIPvRCB #IPL2019

— Suvajit Mustafi (Rivu) (@RibsGully) April 13, 2019
Concedes a six against KL Rahul - gets him stumped on the next ball Concedes a six against Agarwal - gets him bowled on the next ball What a champion bowler, Yuzi Chahal! 👏🏼👏🏼#IPL2019 #KXIPvRCB — Nikhil 📝 (@IamNicck) April 13, 2019
Seeing Mohd Siraj getting smacked all over makes me think about the difference the presence of Washington Sundar would have made. #KXIPvRCB #IPL19 #VIVOIPL — S. Sudarshanan (@Sudarshanan7) April 13, 2019
Gayle though carried on his merry way and was unlucky to miss out on a hundred as he remained unbeaten for 99 taking Punjab to 173/4.
How brilliant was @henrygayle! His 99 was worth more than a century in the circumstances. RCB may feel happy they are not chasing 200. Have the wherewithal to overhaul 173, but do they have the confidence?

— Cricketwallah (@cricketwallah) April 13, 2019
Chris Gayle - the first player to score 100 fifty-plus scores in T20 cricket.#KXIPvRCB — Umang Pabari (@UPStatsman) April 13, 2019
Chris Gayle v RCB Bowlers Today

Umesh Yadav - 27 (14) - SR: 192.9

Navdeep Saini - 12 (13) - SR: 92.3

Mohd Siraj - 43 (16) - SR: 269.8

Yuzvendra Chahal - 11 (12) - SR: 91.7

Moeen Ali - 6 (9) - SR: 66.7

Umesh + Siraj - 70 (30)

Saini + Chahal + Moeen - 29 (34)#IPL2019 #KXIPvRCB

— The CricViz Analyst (@cricvizanalyst) April 13, 2019
In reply, Parthiv Patel once again played a cameo to help his side get off to a quick start.
Parthiv hits out & then gets out. Only player who isn't worried about the WC selection ahead #KXIPvRCB — Jalandar (@jalandar_) April 13, 2019
KXIP scored fastest 50 of the season against us & we did vice versa. Perfect RCB RCB clash.

— arfan. (@Im__Arfan) April 13, 2019
The wicket brought together AB de Villiers and Virat Kohli and the world was up watching them.
Messi and Ronaldo batting together 😅 #RCBvsKXIP #IPL2k19 — Temba Bavuma (@tbavuma10) April 13, 2019
why is kohli batting so impressively? his world cup selection is assured. #KXIPvRCB

— Gaurav Kalra (@gauravkalra75) April 13, 2019
Just noticed that 8 of the top 10 partnerships for @RCBTweets this season have involved #ViratKohli. If there ever was a definition for the word 'fulcrum' in a dictionary, I'm sure it would redirect to @imVkohli's entry!#MakeStatsGreatAgain #IPL2019 #VIVOIPL #KXIPvRCB #Kohli — Victor Tarapore (@VictorTarapore) April 13, 2019
Nicely done, Virat. See the team through tonight 🙌🏼

— Saurabh Malhotra (@MalhotraSaurabh) April 13, 2019
Virat Kohli though fell for 67 and Bangalore needed 46 more in 27 balls. Things got close with Punjab fielding showing nerves and de Villiers capitalised to take his side home.
"Fielding is irrelevant" gang should look at how Punjab has done in the last two games. — KASHISH (@crickashish217) April 13, 2019
With this win @RCBTweets are now title contenders once more. @IPL #IPL Go figure.

— Anand Vasu (@anandvasu) April 13, 2019
This win means a lot to @RCBTweets' supporters like me. And best two in the world, Kohli and de Villiers delivered. #KXIPvRCB #IPL2019 — Manoj Ghimire (@themanojgh) April 13, 2019