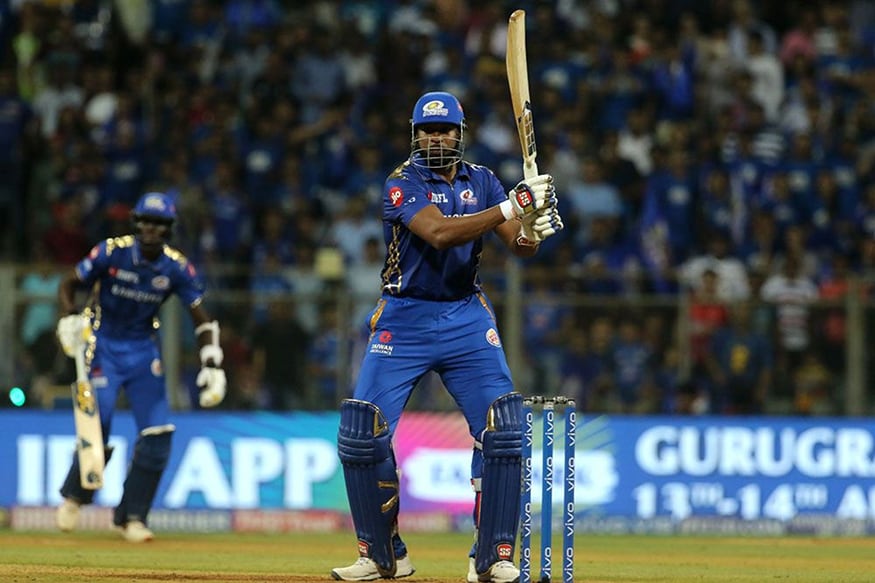 The Wankhede crowd witnessed a last-ball thriller as Mumbai Indians went on to win the game by three wickets against Kings XI Punjab.
Earlier, the visitors were off to a slow start before Chris Gayle decided to go bonkers on Jason Behrendorff. Meanwhile, KL Rahul at the other end also unleashed himself against the MI bowlers.
You could not have more of a contrast as an opening pair .. the power of Gayle and the touch and class of K L Rahul @IPL

— Nasser Hussain (@nassercricket) April 10, 2019
#MI under murderous assault from Gayle-Rahul. Not easy to stop runs on a feartherbed pitch, more so when have the capacity to clear the boundary so easily and frequently!

— Cricketwallah (@cricketwallah) April 10, 2019
#Gayle #Dhoni Same player. A masterclass in knowing your limitations and waiting for the one you are capable of destroying. — Elite Alagappan (@IndianMourinho) April 10, 2019
Delighted to announce my engagement to that KL Rahul flick for six over square leg. #MIvKXIP #IPL2019 — Ben Jones (@benjonescricket) April 10, 2019
After the fantastic start by KXIP, the MI bowlers staged a fightback. The likes of David Miller, Karun Nair and Sam Curran were dismissed cheaply. However KL Rahul's blistering knock of 100 off 64 balls powered the visitors to a total of 197/4.
will take a very special effort to deny rahul the man of the match hamper tonight #MIvKXIP

— Gaurav Kalra (@gauravkalra75) April 10, 2019
KL Rahul was supposed to give his statement to the BCCI ombudsman today.

This is quite a statement. 💯 #IPL2019

— Manya (@CSKian716) April 10, 2019
Rahul and Pandya and bringing up the #koffeewithkaran hashtag all over again.#IPL2019#MIvKXIP — Snehal Pradhan (@SnehalPradhan) April 10, 2019
Watching those last few balls, K L Rahul is getting payback for that Karan Johar interview with Pandya. — Joy Bhattacharjya (@joybhattacharj) April 10, 2019
Siddhesh Lad who waited four years to make his IPL debut began with a six and a boundary. He failed to prolong his stay at the crease though.
Fun fact: Siddhesh Lad has a tattoo on his arm which reads - 'A smooth sea never made a skilled sailor.'

"This is something related to my life. I have gone through a lot of ups & downs playing cricket. If you don't get those big waves coming ahead, you won't be so skilled." #MI

— jigar mehta (@jigsactin) April 10, 2019
Five years of wait and he smashes the first ball into the stands! Take a bow, Siddhesh Lad _/\_ #MIvKXIP #IPL2019

— Rohit Sankar (@imRohit_SN) April 10, 2019
Happy for Siddhesh Lad! Bombay's crisis man! #MIvsKXIP — Abhay Patade (@abhay_p) April 10, 2019
Skipper Kieron Pollard walked out to bat at No.4 and began his onslaught on the KXIP bowlers. While wickets kept tumbling for Mumbai, Pollard continued to display his valour.
Pollard has batted in the top four five times this year, with a scoring rate of 10.47rpo when he's done so. It'll take some chasing, this total, but he's a man capable of finding the rope. #MIvKXIP #IPL2019

— The Cricket Prof. (@CricProf) April 10, 2019
No IPL game is over if a West Indian is present on the pitch. #MIvKXIP — Sagar (@sagarcasm) April 10, 2019
Kieron Russell in the house! — Saurabh Malhotra (@MalhotraSaurabh) April 10, 2019
Just when it seemed Mumbai Indians were gaining momentum in the run chase, Mohammed Shami sent both Pandya brothers back to the pavilion.
Shami in form before WC 😍

— Amit Bhilwade (@ab619cricket) April 10, 2019
Shami's gone from bowling 1-2 hittable balls an over to second innings Shami to a leader of the white ball attack over the years.#IPL2019 #MIvKXIP

— Suneer (@suneerchowdhary) April 10, 2019
Mohammed Shami picks up his first 3-wicket haul in the IPL in his 50th match!! #IPL2019 #MIvKXIP — Sampath Bandarupalli (@SampathStats) April 10, 2019
The action continued till the last over. Pollard's exhilarating knock of 83 from 31 balls guided MI to a nail-biting victory.
A captain promoting himself at Wankhede in April. Only one way that match was going to end, eh?

What an innings from Pollard. Mind-blown. #IPL2019 #MIvKXIP

— Vinayakk (@vinayakkm) April 10, 2019
Alzarri Joseph... wicket off the first ball in IPL. Best bowling figures in 12 years of IPL. Winning runs off the last ball chasing 197, and 7 down. He's packed a season's worth of highlights in two games. #MIvKXIP #IPL2019 — Saurabh Somani (@saurabh_42) April 10, 2019
Amazing scenes. Mumbai Indians players marched towards the pitch and they are hugging each other and celebrating like they've won the tournament. @mipaltan

This is what it means to them. What a game of cricket. #MIvKXIP

— Madhav Sharma (@HashTagCricket) April 10, 2019