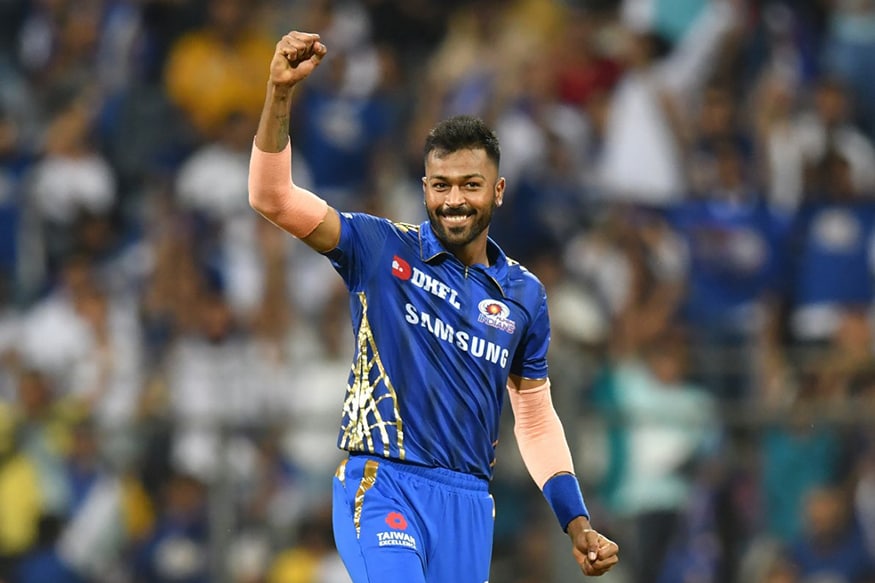 It was Hardik Pandya's day against Chennai Super Kings as he first gave Mumbai Indians the much-needed impetus with the bat, hitting 25 from 8 before returning to finish the job with the ball to give his side a vital 37-run win at the Wankhede Stadium.
Powerful all-round performance by #MI: spirited finish to the innings while batting, backed up by superbly controlled bowling and brillaint fielding. Need few more such days to ensure place in play-offs!

— Cricketwallah (@cricketwallah) April 3, 2019
Also, this will be @mipaltan 's 100TH VICTORY IN THE IPL! They will become the first team to this landmark! 100 - Mumbai Indians 93 - Chennai Super Kings 88 - Kolkata Knight Riders#MIvCSK #MIvsCSK #CSKvMI #MakeStatsGreatAgain #VIVOIPL #VIVOIPL2019 #IPL2019 #IPL — Victor Tarapore (@VictorTarapore) April 3, 2019
Sensational IPL debut for @JDorff5! @mipaltan should ideally not miss the services of Malinga with @Mitch_Savage being there. Hardik had a excellent game with both bat and ball.#IPL2019 #MIvCSK — Reema Malhotra (@ReemaMalhotra8) April 3, 2019
Earlier, Mumbai Indians lost their openers early as Chennai bowlers bowled disciplined line and length.
Jadeja getting turn and bounce at Wankhede to get Rohit out first ball. Could be his season.#IPL2019 #MIvCSK — Suneer (@suneerchowdhary) April 3, 2019
To make matters worse, Yuvraj Singh departed early as well, putting more pressure on the Mumbai middle order. There were calls to play Ishan Kishan.
Ishan Kishan not getting to play these games at this time of his career, is dreadful from Mumbai Indians. — Saurabh Malhotra (@MalhotraSaurabh) April 3, 2019
Parashakti Express gets rid off Yuvraj Singh! Terrific catch from Ambati Rayudu at long-off! #CSK #WhistlePodu #Yellove — CSK GauthaM (@GauthalVl) April 3, 2019
Yuvraj Singh c Rayudu b Imran Tahir 4 (6b 0x4 0x6) SR: 66.66 Does any1 really think, Ishan would have performed worse. We are all, what I call, "sentimental fools"! I'm sorry to say. Despite, I had been a huge fan of Yuvi for so long, ever since he made that huge splash in Kenya — Jose Puliampatta (@JosePuliampatta) April 3, 2019
Suryakumar Yadav brought up a vital fifty for himself and took Mumbai to 170/5 with the help of the Pandya brothers and Kieron Pollard. Hardik, in particular, had everyone talking, after he hit 25 in just 8 balls.
25* (8) Finally a good Rapid Fire for Hardik Pandya. — Trendulkar (@Trendulkar) April 3, 2019
Well played SKY @surya_14kumar — Diya. (@TheCricketGirll) April 3, 2019
SKY's slowdown has been so bizarre. Was on 24 having faced 12 balls, is right now batting on 45 having faced 35 balls. 21 runs added in 23 balls. — Clive (@vanillawallah) April 3, 2019
Bravo's bowling at the death overs is either superb or a complete horror show. Nothing in between #MIvCSK — Kanishkaa Balachandran (@kanishkaab) April 3, 2019
In the chase, Chennai, like Mumbai, lost their openers in quick time.
Rayudu in this Ipl : 28(42), 5(5), 1(8), 0(1) & all the four times he dismissed to a fast bowler. — Johns (@CricCrazyJohns) April 3, 2019
Suresh Raina then looked to take the attack to Mumbai Indians before Pollard took a stunner at the cover fence to send Twitter into a frenzy.
Incredible effort by Pollard to dismiss Raina who was just beginning to look threatening. Best catch of the season surely. Perhaps the best ever in the history of the IPL! Mumbai Indians on top! — Cricketwallah (@cricketwallah) April 3, 2019
Pollard & Mumbai Indians. In 2010, he couldn't finish the match for MI in the finals but helped MI to beat the same side in the finals on 2013 Ipl. pic.twitter.com/j2Xo3B4BvN — Johns (@CricCrazyJohns) April 3, 2019
What to say about that catch from Pollard? I have nothing to say. That was insane, spectacular, superb and unbelievable! Take a bow @KieronPollard55 #MIvCSK — Prasenjit Dey (@CricPrasen) April 3, 2019
Mandatory Pollard madness at the boundary line — Shubh AggarWall (@shubh_chintak) April 3, 2019
Whattey a catch. Tough luck Raina. — Prabhu (@Cricprabhu) April 3, 2019
Twitter couldn't stop praising Pollard's catch and you can read about it here. MS Dhoni tried to take the innings deep but it was Hardik's two wickets in an over, dismissing the CSK skipper just when he was looking to go big and Ravindra Jadeja that firmly put the hosts in control.
Much better length from Pandya tonight. He looks best when he is bending his back and hitting those hard lengths. One felt he bowled too full in the last game. — cricBC (@cricBC) April 3, 2019
Hardik Pandya can do no wrong tonight! #IPL2019 — Naeemah (@NaeemahBenjamin) April 3, 2019
Kedar Jadhav scored his fourth IPL fifty but it was all too much to do towards the end and Mumbai wrapped up an important win at home.
The lengths #MI bowlers bowled to Dhoni and Rohit's field placement to him. Admirable stuff. Ipl teams hardly do that. Rohit is a thinking captain. — Frank (@FranklinnnMJ) April 3, 2019
Outrageous catching by #MI ✅✅ #MIvsCSK — RK (@RK_sports) April 3, 2019
CSK have a fine team for a slower track that offers some assistance for spinners. The Wankhede not exactly a track suited to their style of play. They needed Watson to fire today #MIvCSK — Bharath Ramaraj (@Fancricket12) April 3, 2019
Mumbai Indians becomes first team to win 100 matches in Ipl history. pic.twitter.com/HLYdnKZ0is — Johns (@CricCrazyJohns) April 3, 2019
Congratulations Mumbai. So now the points table is getting closer with 4 teams with 4 points and two teams at 6. Early stages though. — Prabhu (@Cricprabhu) April 3, 2019