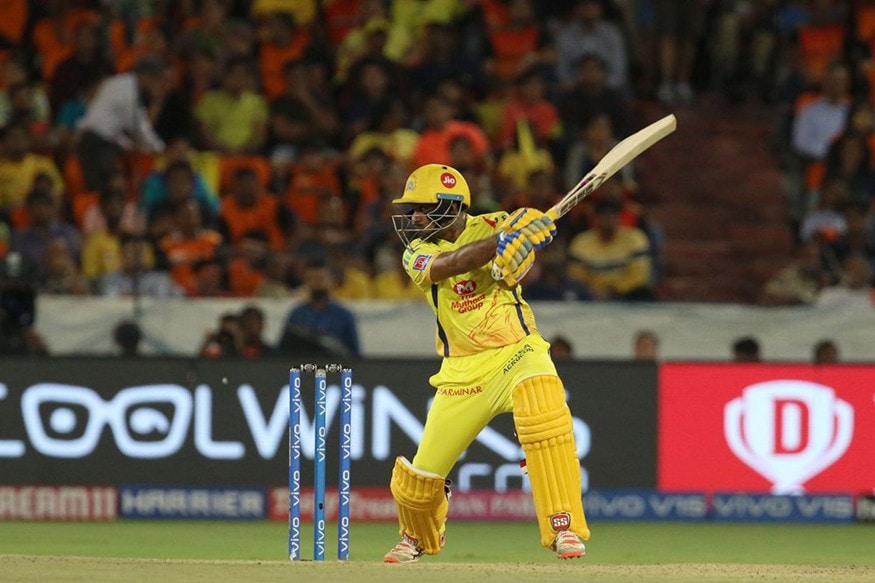 29 balls, 22 runs, 5 wickets - After their best start of the season (opening-wicket stand of 79 in 9.4 overs between Shane Watson and Faf du Plessis), CSK, in what was one of their worst collapses in IPL history, completely lost their way and were left reeling at 101 for 5 in 14.4 overs.
Ambati Rayudu and Ravindra Jadeja led a minor recovery but it was too slow with no momentum or impetus at the death. CSK could only post 132 for 5 in their allotted 20 overs. SRH overhauled the total with 6 wickets and 19 balls to spare.
Watson and Du Plessis had smashed 7 fours and 3 sixes as the duo gave CSK a great platform and a score in excess of 180 was on the cards.
But then came the 'great fall'!
Shahbaz Nadeem, the slow left-arm orthodox bowler, broke the threatening opening partnership, when he cleaned up Watson with a clever change of pace and length. The Australian exited for 31 off 29 deliveries. CSK lost their first wicket in the 10th over.
Vijay Shankar had Du Plessis caught behind by Jonny Bairstow for 45 off just 31 deliveries in the very next over.
Suresh Raina, captaining the side in the absence of MS Dhoni, hit a couple of boundaries before he was trapped leg before wicket by Rashid Khan off the first delivery of the 14th.
Khan bamboozled Kedar Jadhav with a googly and had his second victim of the over, again leg before wicket.
Khaleel Ahmed saw the back of Sam Billings in the very next over getting him caught at extra cover off a slower one which the batsman failed to read.
It was a huge collapse. CSK batsmen had fallen like ninepins!
Rayudu and Jadeja tried to resurrect the innings but were never allowed to build any momentum in their innings. They also never took any real initiative and were unable to get out of the hole. CSK struggled to 132 for 5.
So poor was the Rayudu-Jadeja partnership that it put together just 31 runs off 32 deliveries. There were just two boundaries in the death overs (both by Rayudu). While Rayudu remained unbeaten on 25 off 21 deliveries, Jadeja played a really strange and incompetent innings with 10 off 20 deliveries. The pair played as many as 12 dot deliveries in the last 5 overs, in other words 2 overs were not scored off in the last 5 overs – there was no aggression at the death and almost no intent.
CSK's total of 132 for 5 was their lowest first innings score against SRH in the IPL. Overall, it was the 11th lowest first innings score for CSK in the IPL.
It was also the lowest first innings score for CSK since 2015.
There were as many as 51 dot balls (8.5 overs) in the innings – such was the hapless batting display by CSK.
While CSK still top the points table (courtesy their bowling attack which has been outstanding), it is interesting to note that their batting, barring Dhoni and Du Plessis, has been much below par. Their top-order has struggled in this edition and it is thus not surprising to find that their top 4 not only have the worst batting average (26.03) but also the lowest strike rate (108.61) in the tournament so far.
Just for perspective, the strike rate of the top-4 of all the other 7 teams in this IPL is in the 130s – that is how much the CSK batsmen have struggled in this edition.
CSK missed Dhoni more than ever on Wednesday. He has been the pivot around which the CSK batting has revolved in the tournament. With 230 runs in just 6 innings he has been their highest scorer and scored his runs at a stunning average of 76.66. Du Plessis averages 43.25 and has been the only other CSK batsmen to have made any noteworthy contribution in the series.
Raina averages just 25.87 at a dismal strike rate of 117.61 in 9 innings while Rayudu has scored his 163 runs (in 9 innings) at an average of 23.28 and strike rate of 90.05. Jadhav has also been below-par scoring just 136 runs in 8 innings at an average of 22.66 and strike rate of 98.55. Watson has had a nightmare of a season with just 142 runs in 9 innings at an average of 15.77 and strike rate of 110.93.
It is quite startling that with such an ordinary effort with the bat in the tournament, CSK still sit pretty at the top of the table.
Their bowlers though have a different story to tell!