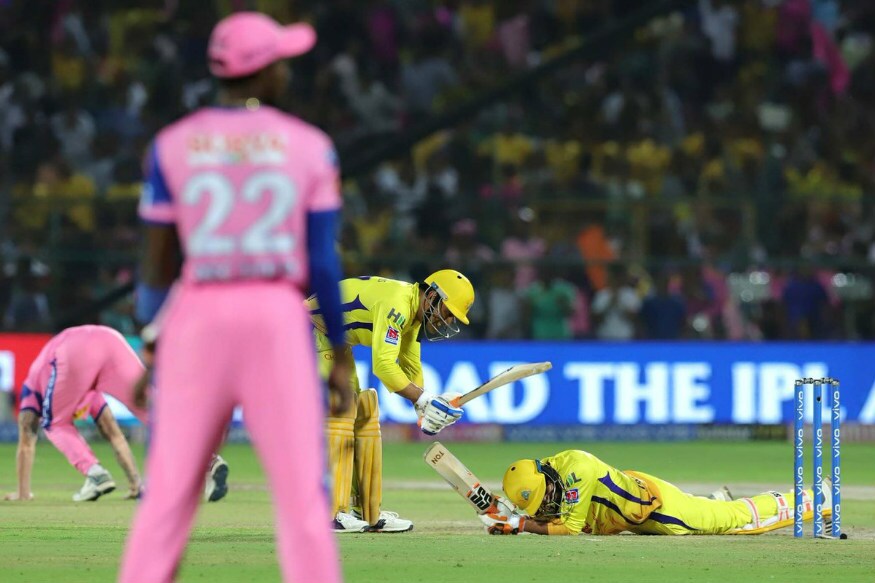 That a lot of players depend heavily and benefit from the advice of the seasoned veteran MS Dhoni in pressure situations is well known. Similarly teammate Ravindra Jadeja, whether it be with the ball or with the bat, has often been a beneficiary of Dhoni's ability to accurately read the opposition's mind.
On Thursday night, Jadeja once again made good use of the veteran's word of advice while they were on the home stretch of a very closely contested game against the Rajasthan Royals.
CSK needed 18 off the last over which was bowled by Ben Stokes, and Jadeja smashed him for a maximum in a Dhoni-esque manner when he put to good effect the famous helicopter shot off the first ball of the over.
"Dhoni told me that Stokes will bowl outside the off-stump and full and I was standing on the off stump prepared for that. But he bowled it a little wide and I had to connect that shot because I had no other choice. But I was sure that ball had hit the middle of the bat and luckily it worked out well," Jadeja told teammate Mitchell Santner in a chat for iplt20.com after the match.
Jadeja, earlier in the day,  also became the 13th bowler to take 100 wickets in the history of the IPL when he dismissed Australian Steve Smith.
"It feels great to have taken 100 wickets in the T20 format and I am very confident right now. I am enjoying both my bowling and batting and I am able to contributing to my team."
Once the microphones changed hands, Jadeja asked Santner about his heroic last ball six that helped took CSK over the line. The New Zealander said that Stokes' insistence on bowling slower deliveries after the controversial no-ball in the final over surprised him a little, but acknowledged Jadeja's advice helped seal the deal.
"You (Jadeja) told me to jump across and I did and that helped get the boys home. It is nice to be five wins from six games," Santner told Jadeja.