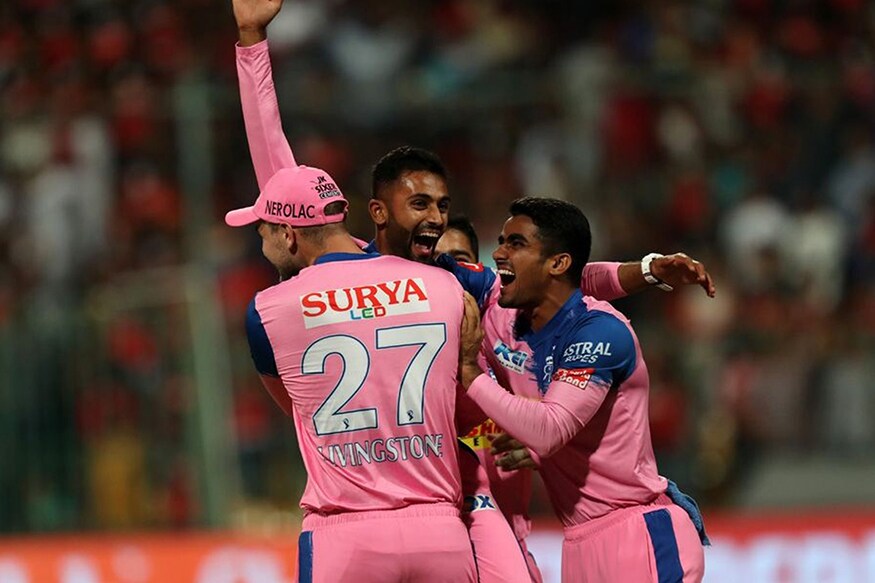 After a wait of over three hours, a five-over game was finally decided upon only to be called off later due to a shower in the second innings at the Chinnaswamy Stadium. With both sides gaining one point, Royal Challengers Bangalore have been knocked out of the tournament and Rajasthan Royals can still mathematically qualify for the playoffs.
Fielding first, Shreyas Gopal's hat-trick in the first innings was the highlight of the game. Kohli and de Villiers got off to a flier but the leg-spinner silenced the Chinnaswamy crowd in one over. RCB eventually scored 62/7 in their five overs.
Kohli, AB....Stoinis. That's one of the great hat-tricks, you'd have to say. #IPL2019 #RCBvRR

— Ben Jones (@benjonescricket) April 30, 2019
Give the batsmen ten wickets for a five-over game. Give bowlers one, max two overs. What happens next? One guy turns up and takes a hat-trick! #Scenes — Srinath (@srinathsripath) April 30, 2019
May 22 is still a few weeks away. The way Gopal's going...#IPL2019 #CWC19 #RCBvRR

— Suneer (@suneerchowdhary) April 30, 2019
Kohli, ABD and Stoinis. Can there be a better hat-trick for a bowler? #RCBvRR #ShreyasGopal — Amol Karhadkar (@karhacter) April 30, 2019
Shreyas Gopal has nerves of valerian steel .. Arya Stark would be proud of him.. Quite a hat-trick this #RCBvRR #GOT

— Jatin Sapru (@jatinsapru) April 30, 2019
Rajasthan Royals had managed to get a decent start, courtesy of Sanju Samson. But just as he was dismissed, the rain came down and the match was called off.
Hard luck Rajasthan — Cricketwallah (@cricketwallah) April 30, 2019
The Rain-Gods seem to be in no mood for any 'mathematical' nonsense in the points table. 1 point each!#RCBvRR

— North Stand Gang - Wankhede (@NorthStandGang) April 30, 2019
At the end of all that, it's abandoned. Well, well... — Harsha Bhogle (@bhogleharsha) April 30, 2019
After some one hour of drama match has been called off. Should have been called off a long back.

— Ujwal Kr Singh (@UjwalKS) April 30, 2019
While the game turned out to be a thriller, plenty were amazed that a game was possible in the first place.
Hit the nail on the head Harsha https://t.co/RB0QGXNI82 — Cricketwallah (@cricketwallah) April 30, 2019
This is why the @ipl is like no other. It's been dumping down for most of the night, the groundstaff brilliant but the crowd, the red army ALL still here at 11.25PM for a 5 over a side match. And boy are they loud! #RCBvRR

— Mel 'MJ' Jones (@meljones_33) April 30, 2019
And a five-over game after all that. Cricket doesn't make it easy on us sometimes. — Vinayakk (@vinayakkm) April 30, 2019
20 wickets available to expend in 10 overs ..#RCBvRR

— Gaurav Kalra (@gauravkalra75) April 30, 2019