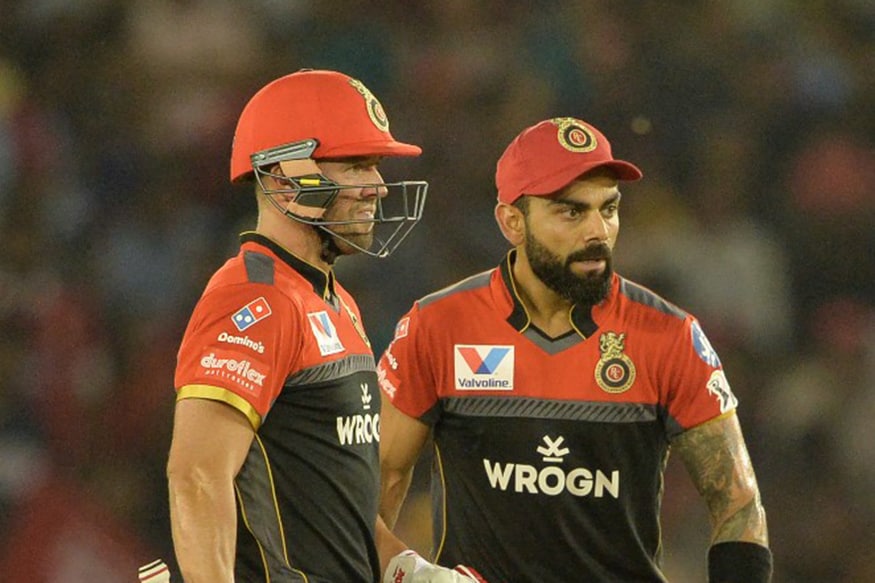 Virat Kohli holed out to mid-wicket off Axar Patel on Sunday and AB de Villiers soon followed suit against Sherfane Rutherford. It nearly signalled the end of Royal Challengers Bangalore's fight in the match against Delhi Capitals. Though Marcus Stoinis and Gurkeerat Singh Mann launched a late fight, it was never enough to keep them in the match.
This has been RCB's trouble this season. de Villiers and Virat Kohli had combined to make 814 of the 1735 runs RCB have scored this season. That is a whopping 46.92% of the total runs they have made in the entire season.
While this season was expected to shore up some of RCB's troubles, aside from Parthiv Patel, the contributions have been few and far between. Parthiv has 365 runs this season but none of the others from RCB have over 250 runs in this season.
Marcus Stoinis and Moeen Ali are the only others to have over 200 runs in this season for RCB. Virat Kohli has 423 runs in this season whereas AB de Villiers has 431 in one match less. The lower middle-order has contributed little and it has hurt RCB's chances as much as their woeful bowling attack.
In seven of the 11 matches this year before the game against Delhi Capitals, de Villiers and Kohli have combined to make over 40% of the runs as a pair. In six matches they have made a tally of 80 runs or more combined with it exceeding 100 in four of these matches.
On Sunday, the duo was dismissed by the 12th over of the run-chase and it dented their chances big. That they bat close to each other in the batting order could be another reason for this. But it is a double-edged sword. They work best when playing together but if they fall in short intervals like on Sunday, it pulls the team back because the others haven't stepped up.
In the first three matches, the duo made less than 25% of the runs combined. This resulted in losses at the start of the season but the numbers have taken a turn. In six of the last seven matches, they have contributed to other 40% of the runs and RCB have managed to win thrice.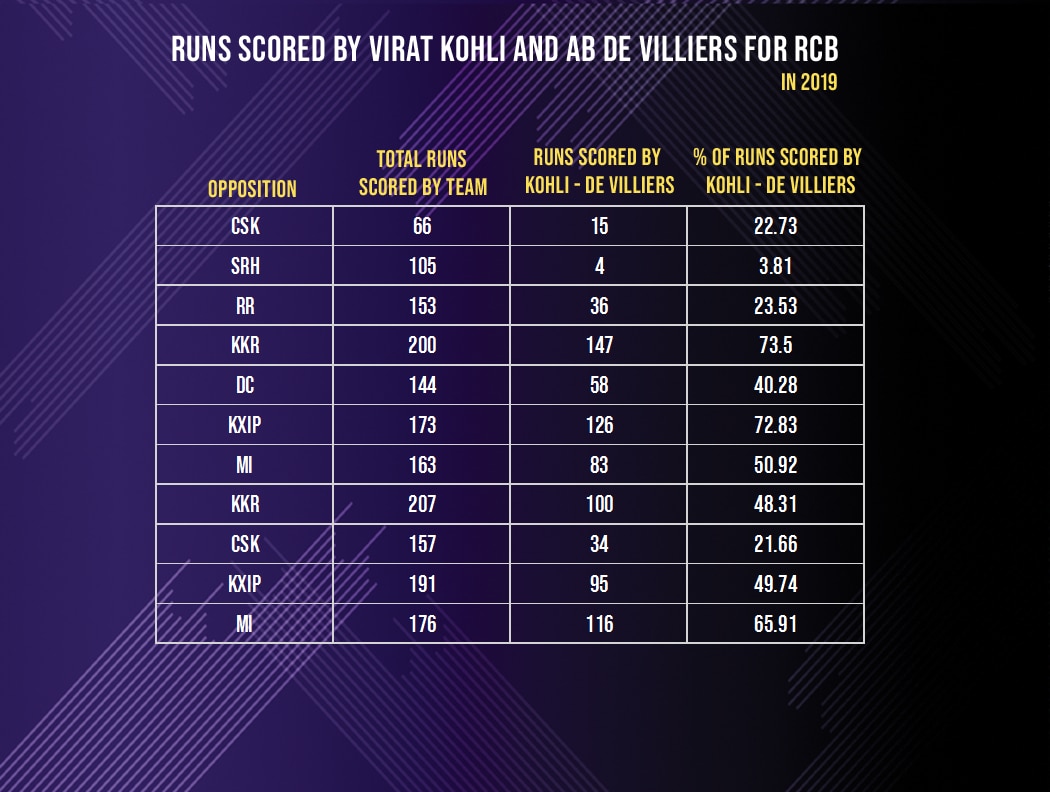 What this emphasizes is also the fact that they need the others to step their game up to win matches. Despite the two making significant contributions, they haven't won enough. It is perhaps time for them to rethink their strategy in terms of batting position for the two batsmen or resort to more reliable batsmen in the auction.
*Stats till RCB-KXIP encounter.