For just the second time in his IPL stint with Sunrisers Hyderabad, Manish Pandey walked in at No. 3. Incidentally, the first time was also against Chennai Super Kings last year but he had made a two-ball duck on that occasion.
Following that, he was immediately moved back down the order until Tuesday (April 24) when in Kane Williamson's absence he walked back into the starting XI and was used at No. 3.
Pandey was on fire against CSK, combining with Warner in a 115-run stand where the Australian made less runs than Pandey. On 60 off 34 balls at the point Warner was dismissed, Pandey perhaps slowed down a touch in the final few overs. His last 15 balls yielded just 23 runs but if anything, it is proof that Pandey should be used in a role similar to what Kolkata Knight Riders used him.
Of the seven teams - including the national team - that he has played T20 cricket for, Manish Pandey's average for Sunrisers Hyderabad is among his worst. In 22 matches, he has an average 26.31 and a strike rate less than 120 for Sunrisers.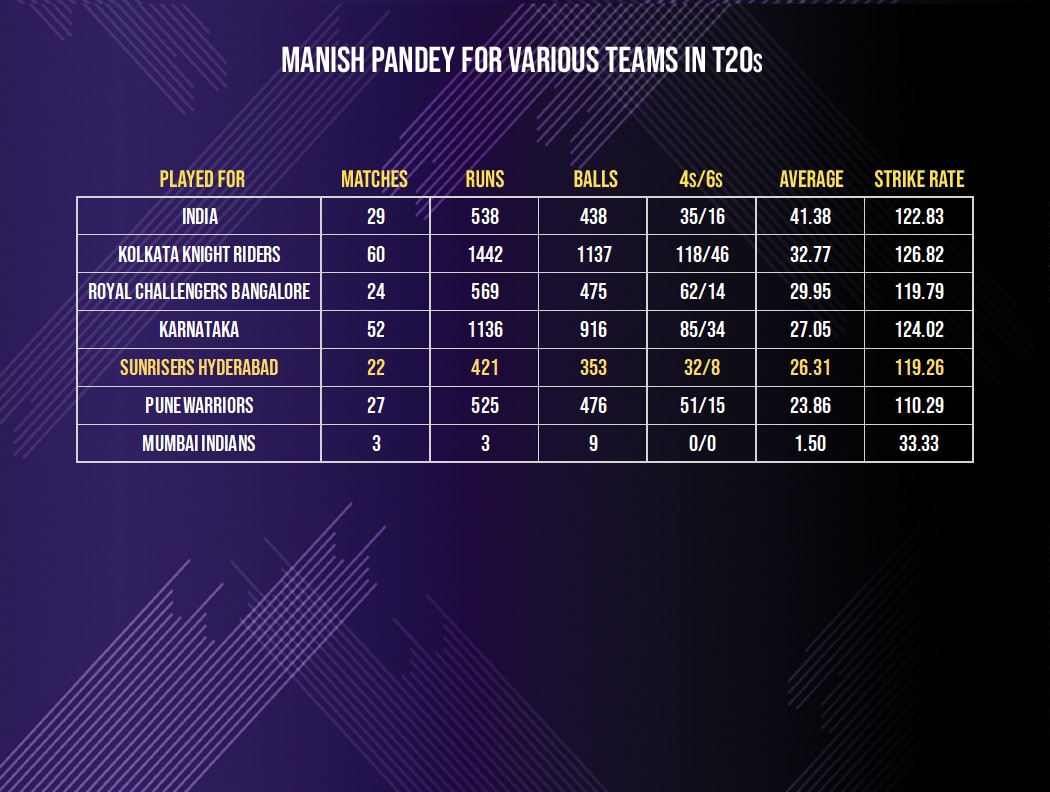 Contrast this to his record for Kolkata Knight Riders or Royal Challengers Bangalore earlier on and you see that his average has dropped. In this season, for instance, he was used in the final few overs mostly and came a cropper. His scores this season before this game read: 8, 1, DNB, 10, 16 and 19.
He had never crossed 20 on any of these occasions but with Warner and Bairstow firing at the top and him coming at 4 or 5, there was less time to make an impact. Pushing him to no 3 changed that and he immediately made a mark.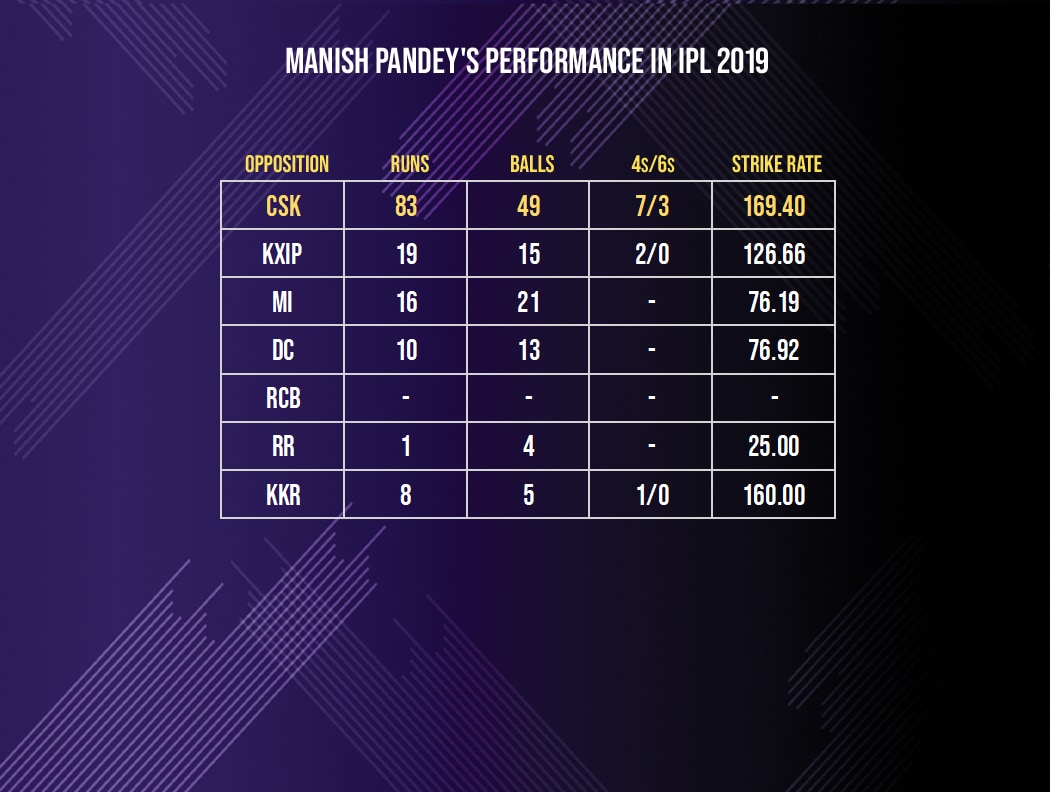 His 83 on Tuesday came off 49 balls - a strike rate of 169.40 - and he struck seven fours and three sixes in the process. The unbeaten knock has boosted his averages in the season to 34.25, a decent bump from the 25.81 he averaged last year in 15 matches.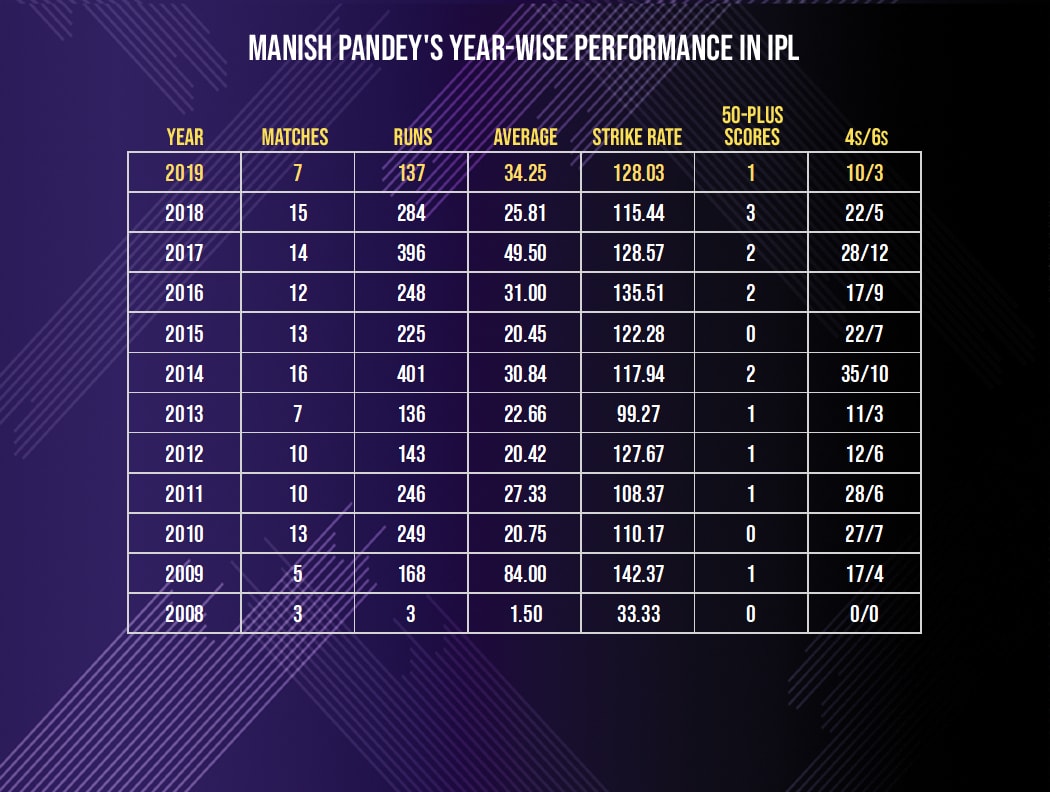 In his last season for Kolkata Knight Riders in 2017, Pandey had racked up 396 runs at an average of 49.50 and a strike rate close to 130. That might just be the kind of numbers SRH will hope to get from the middle-order batsman.
But for that to happen, they might want to use him like how they did on Tuesday - in the top order. He had come to the IPL on the back of a fine performance in the Syed Mushtaq Ali Trophy for Karnataka. In 12 matches, Pandey made 331 runs at an average of 66.20 - the second-best among batsmen with 300 or more runs - and a strike rate of 171.50. This included a fabulous ton and another half-century. With his knock against CSK, Pandey has staked his claim for a place in the top order.