Parthiv Patel is having one of his better seasons, and he extended that into the game on Wednesday against Kings XI Punjab. The confidence from his half-century - and the last ball run-out - in the previous match against Chennai Super Kings was telling in his strokeplay as he made 43 off 24 balls.
In a season where Kohli has blown hot and cold, Parthiv has been the one who has provided consistent starts. Even when RCB were changing their top order combinations repeatedly in the initial part of the season, there was one constant: Parthiv opening the batting.
That's because Parthiv is one of those batsmen who can hardly be used outside the Power Play. His role is to get the runs in the first six, and he has done that through the season.
Having played for six teams across 12 seasons, Parthiv is finally finding consistency in the last two years. He got only six games last year, scoring 153 runs at a strike-rate above 140.​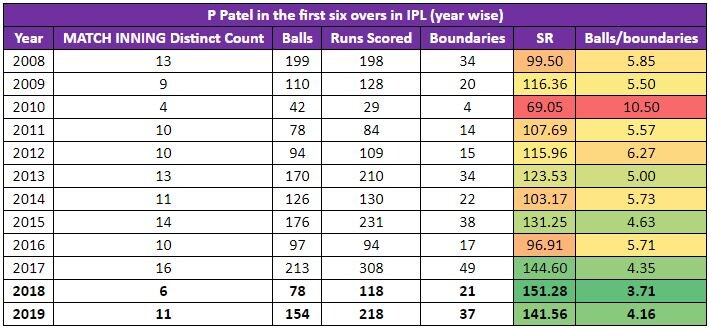 Parthiv has scored 326 runs in 11 innings at a strike-rate of 135.83, which is a big improvement from his overall IPL strike rate of 120.21. Only twice has he scored more runs in a season; 395 runs from 16 games in 2017 and 339 runs from 14 matches in 2015.
By the time the season ends, it could well be Parthiv's best ever.
The impressive feature about his batting this season - apart from the quick starts - has been his runs in tough conditions. The 29 on a sluggish Chepauk track where the team managed only 70 was the only double-digit score that innings. He then scored 67 on another turner in Jaipur, when his teammates were bamboozled by Shreyas Gopal. His 53 in the last match against CSK was a crucial knock too, given Kohli and AB de Villiers fell early.
Even more incredible than all the on-field numbers has been the off-field situation. Parthiv's father has been hospitalised after a brain haemorrhage, and the wicketkeeper-batsman had often had to travel to Ahmedabad between matches. He had even contemplated skipping the IPL before it started, but decided to play.
"When I am playing, nothing crosses my mind, but once a game is over, my heart is at home. The day begins with asking about my father's progress, keeping in touch with doctors, sometimes I have to take some important decisions. Once I'm involved in the match, any thought of home doesn't cross my mind but once the game is over and I'm back in the dressing room, I am constantly thinking about my father," Parthiv had told the Indian Express.
Parthiv played the Power Play enforcer role against Punjab too, making use of the pace on the ball. It began with him hitting Ankit Rajpoot for two fours, and culminated with three fours and a six off Mohammed Shami in the sixth over. Punjab were also monotonous in their strategy, as they bowled three overs each of Rajpoot and Shami, making life easy for Parthiv.
He fell to the spin of M Ashwin the first ball he faced after the Power Play, but he had done his job. RCB scored 70 runs in the first six, the second highest in the phase by any team this season.
De Villiers took over the baton, playing the situation to perfection. RCB went from 70 for 1 in 6 overs to 84 for 4 in 10, losing their middle order to the spinners.
Like he has done all through his career, de Villiers knew exactly how to handle the situation. He knocked it around for a while, scoring only 25 off his first 25 balls, stitching together a partnership with Marcus Stoinis.
At 15 overs, RCB had only 122 for 4. That's when the carnage began, as de Villiers did his thing. From a run-a-ball 25, he raced to 50 off 35 balls, and ended on 82* off 44. The last five overs produced 80 runs, with 64 coming in the last three.
Parthiv at the top, and de Villiers at the bottom. Both played their roles to perfection, making the difference in the end.