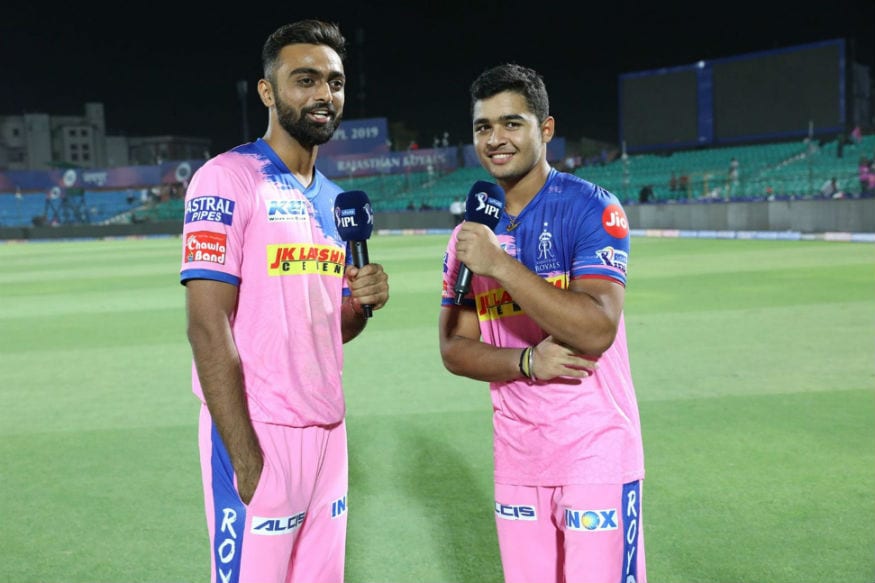 Seventeen-year old Riyan Parag, the youngest member of the Rajasthan Royals this season has described his feelings about playing against his idol MS Dhoni as "surreal".
Parag scored 43 off 29 balls batting at number five against Mumbai Indians in Rajasthan's win over them in Jaipur on Saturday, and played a key role in helping his team chase down the target of 162 runs.
And during a fun post-match interaction with teammate Jaydev Unadkat, Parag opened up on what it feels like being involved in the IPL, playing against his idols.
A picture of Parag when he was just a kid, standing next to Dhoni has been doing the rounds on social media lately, and Unadkat quizzed him about the story behind the photo. "I was six or seven years old at the time that picture was taken," Parag said.
"I've been idolising Dhoni since I was 6-7 years old and now bowling to him, setting the field against him, even batting while he was keeping behind, it's just surreal.
"Watching the IPL for the last five-six years and now being a part of it, being a part of Rajasthan Royals and contributing to my team. It feels surreal. I feel grateful to Rajasthan for picking me and grateful to god."
From Dhoni's fanboy to match winner: Riyan's beautiful IPL journey

From a viral picture with @msdhoni to his love for soft toys, @JUnadkat finds the innocent side of @ParagRiyan! By @Moulinparikh. @rajasthanroyals #RRvMI

Watch the full video - https://t.co/UAnhLj501L pic.twitter.com/xC43Wn5ToA

— IndianPremierLeague (@IPL) April 21, 2019
Royals captain Steve Smith, who took over the reigns of the side just hours before their home match against Mumbai Indians called Parag a "quick learner", after their 70-run partnership lay the foundation for their win.
"He is calm, cool and composed. In the previous matches, he had batted the same way. He works very hard, and is a big and strong young kid. He came out and played with that freedom, saw the ball and hit the ball. He did not worry about anything and just played the game."
Rajasthan's next game is against the Delhi Capitals on Monday at home, with every match for them critical from this point on if they are to harbour any hopes of making it to the playoffs.