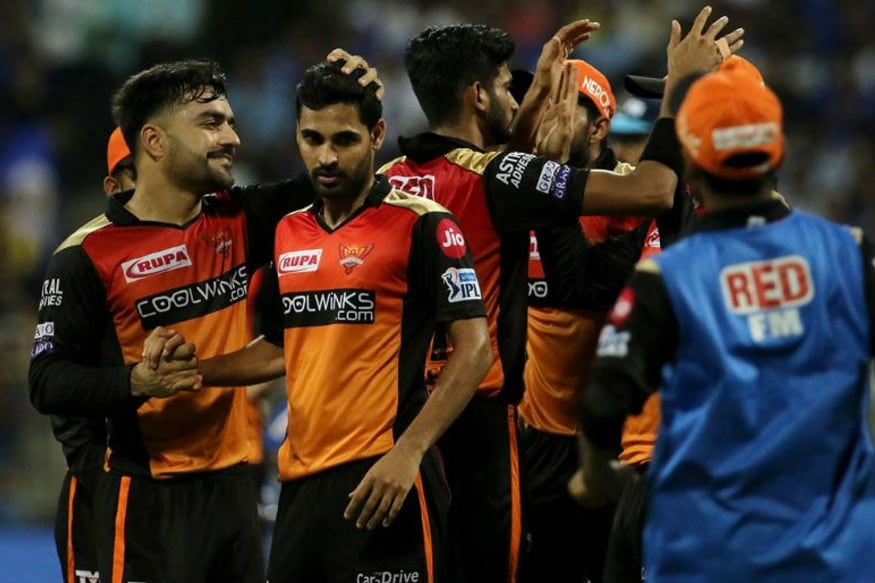 Mumbai Indians, on Thursday (May 2) became the third team to qualify for the IPL 2019 playoffs with a thrilling win over SRH at the Wankhede Stadium.

MI, tied with Delhi Capitals on 16 points, jumped to number 2 on the points table owing to a superior NRR.

With just 5 games remaining before the Qualifiers, four teams – Sunrisers Hyderabad, Kolkata Knight Riders, Kings XI Punjab and Rajasthan Royals – will compete for the 4th spot.

With Royal Challengers Bangalore out of the race, let us analyse the most probable playoff scenarios for the 7 remaining teams in IPL 2019:

Chennai Super Kings
(13 matches: 18 points)

A win for CSK against Kings XI in Chandigarh will take them to 20 points and they will enter the qualifiers remaining at the top of the points table.

However, if they lose and MI beat KKR, then MI will, in all likelihood finish at the top (with a better NRR) and CSK at number 2.

If they lose badly to Kings XI and DC deliver a thrashing to RR and MI beat KKR then there is a probability of them finishing at number 3 (they will have the worst NRR amongst the three teams, all tied on 18 points) and playing the Eliminator.

Mumbai Indians
(13 matches: 16 points)

MI have a home game remaining against KKR. A win will almost guarantee them a top-two finish. If they win and CSK loses to Kings XI, then MI will, in all likelihood, finish at the top (owing to a superior NRR).

Delhi Capitals
(13 matches: 16 points)

If DC beat RR at home and MI loses to KKR then DC can finish in the top 2. They can also top the group in such a scenario if they beat RR by a huge margin and CSK receive a thrashing from Kings XI.

The more likely outcome though seems to be a number 3 finish – DC beat RR and MI beat KKR and CSK lose to Kings XI – a three-way tie all at 18 points and DC being edged out from the top two positions due to a poor NRR.

If DC lose to RR they will in all likelihood finish at number 3.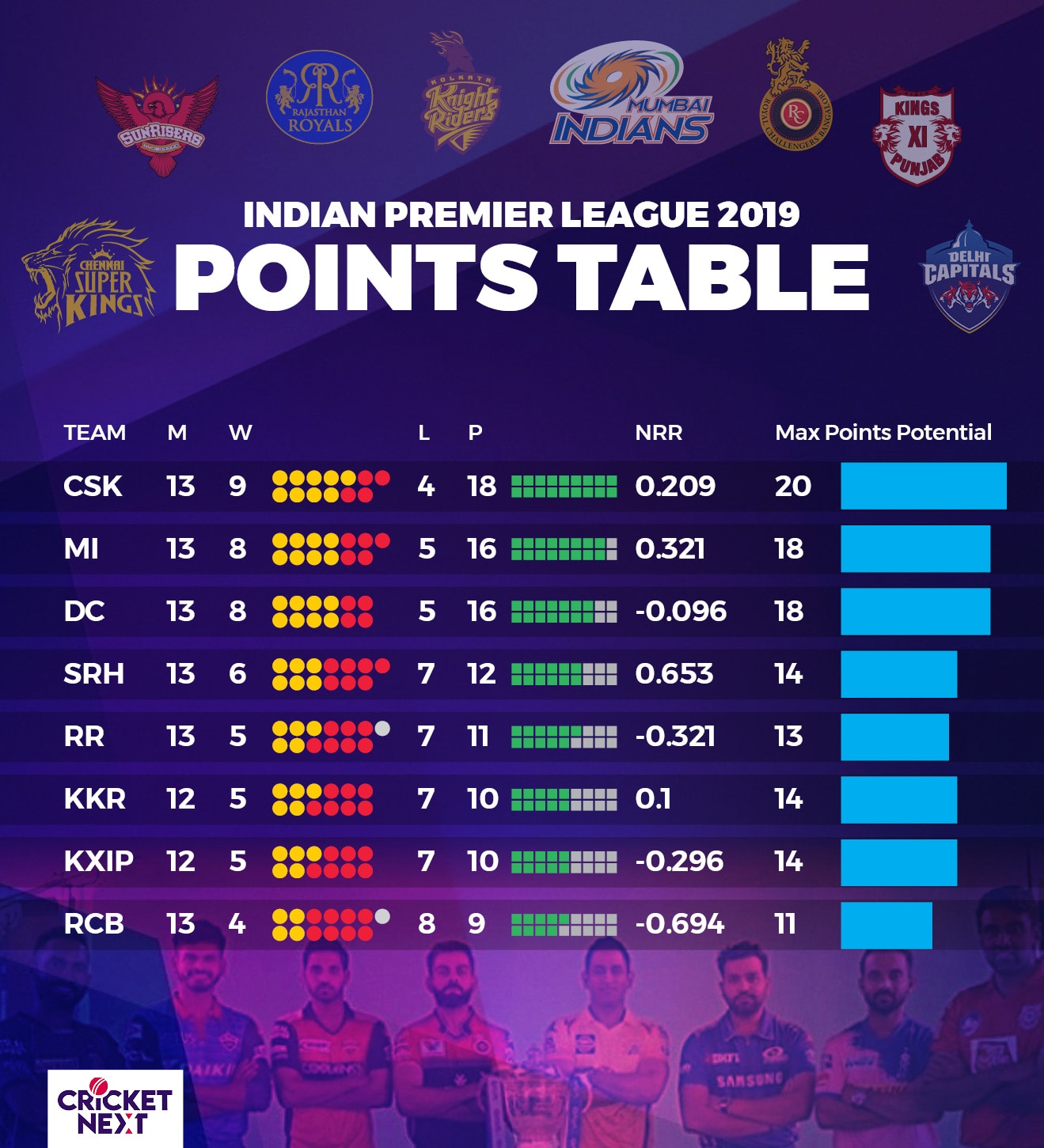 Sunrisers Hyderabad
(13 matches: 12 points)

SRH need to beat RCB in Bengaluru and then hope that the winner of the KKR vs Kings XI clash loses its last match. In such a case, SRH will go to number 4 with 14 points.

Even if one of KKR and Kings XI goes up to 14 points it is almost impossible for them to overtake SRH on NRR (the best of the lot with 0.653). Thus a win against RCB, in all probability seals the deal for SRH.

However the equation gets interesting if SRH lose to RCB. Then they would hope that DC beat RR and the winner of KKR and Kings XI loses its last match. In such a situation there could be a three-way tie between KKR, Kings XI and SRH (all at 12 points) for the number 4 spot. SRH should qualify on a superior NRR.

Rajasthan Royals
(13 matches: 11 points)

RR need to beat DC in an away game to remain in contention for a playoff berth. If they manage to do so, then RCB need to beat SRH and the winner of KKR vs Kings XI needs to lose its last match. Such a scenario will ensure that RR has 13 points, SRH 12 and KKR and Kings XI a maximum of 12.

If RR lose, they will be eliminated.

Kolkata Knight Riders
(12 matches: 10 points)

If KKR win both their away games – against MI and Kings XI, they will end with 14 points. If SRH loses to RCB it remains on 12. In such a scenario KKR qualify as the 4th team. This is the best possibility for KKR.

If KKR lose any one of the two remaining matches, then they would need DC to beat RR, RCB to beat SRH by a big margin and Kings XI to lose at least one of its remaining two matches. In such a scenario, there could be a three-way tie between KKR, Kings XI and SRH (12 points each) for the 4th position and KKR might scrape through on NRR though the probability of this happening is very low as SRH has an exceptional NRR currently.

Kings XI Punjab
(12 matches: 10 points)

The equation for Kings XI is almost exactly similar to KKR.

If Kings XI win their remaining two encounters – both at home – against KKR and CSK, they will end with 14 points. If SRH loses to RCB it remains on 12. In such a scenario Kings XI qualify as the 4th team.

If Kings XI lose one of the matches, then they would need DC to beat RR, SRH to lose to RCB by a huge margin and KKR to lose at least one of its matches (by a big margin). In a three-way tie between KKR, Kings XI and SRH (12 points each), Kings XI would then hope to go through on NRR. This scenario, however, has an extremely low probability as Kings XI not only has the lowest NRR amongst the three but it is also in the negative.

First Published: May 3, 2019, 1:38 PM IST