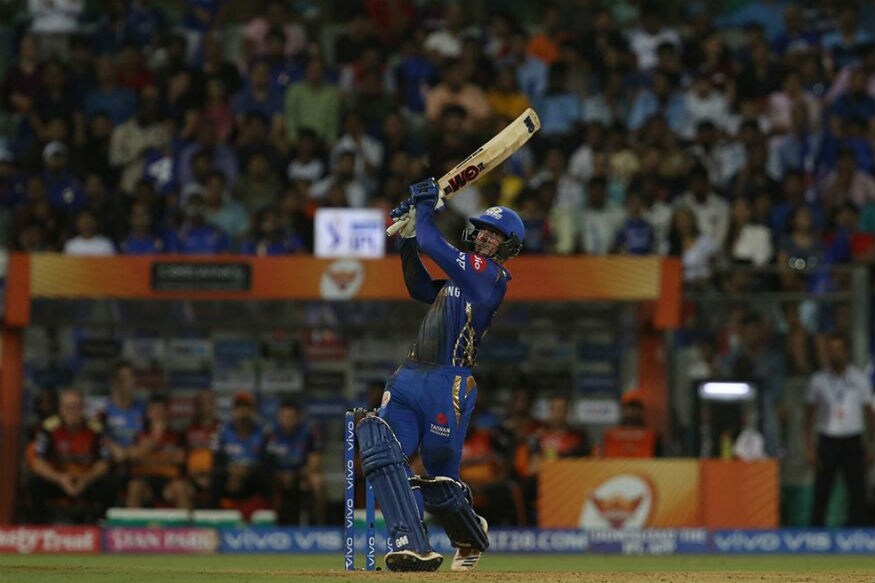 Mumbai Indians beat Sunrisers Hyderabad in a thrilling contest in Mumbai on Thursday (May 2) which culminated with a Super Over, thereby becoming the third team to make it to the playoffs of IPL 2019.

The biggest beneficiary of this euphoria of victory and qualification was Quinton De Kock – who despite being the top-scorer for MI and the second-highest scorer of the match – played a poor uncharacteristically sluggish innings opening the batting.

De Kock was very circumspect at the start of his innings and despite getting two boundaries off Bhuvneshwar Kumar, did not get any momentum up front. He played 8 consecutive dot balls within the powerplay and looked all at sea against the spin of Rashid Khan. The pressure of dot deliveries forced Rohit Sharma to up the ante only to be caught at mid-on.

De Kock had scored just 11 runs off 14 deliveries in the powerplay – this included 9 dot balls.

Nothing really changed in the next 4 overs as well and de Kock continued to bat at the same crawling pace. He hit just one boundary and was content in taking singles. There was no intent to push his scoring rate and accelerate. At the end of 10 overs of the MI innings, he had faced 28 deliveries and scored just 25 runs.

De Kock's struggle continued – he was unable to find the gaps or his timing. The boundaries were few and far between. He tottered to his fifty off 48 deliveries and carried his bat remaining unbeaten on 69 off as many as 58 deliveries. His strike rate of 118.96 was much below par and put added pressure on the other batsmen to push the impetus. It also meant that the likes of Hardik Pandya and Kieron Pollard had lesser number of deliveries to make an impact.




If we divide de Kock's innings into two equal halves, then he scored 26 runs off the first 29 deliveries he faced at a strike rate of 89.65 including 3 boundaries. Although, he stepped on the accelerator to an extent in the latter half of his innings and scored 43 off the next 29 with 3 fours and 2 sixes at a strike rate of 148.27, the damage had already been done.

Overall he faced as many as 19 dot balls – which means he did not score off almost a third of the deliveries he faced. He did not make up for this by getting the frequent boundaries and struggled to pierce the gaps and clear the ropes even in the death overs.

He had a particularly tough struggle against Rashid against whom he scored just 10 runs in 16 deliveries.

Although de Kock was content in playing the role of the anchor, his strike rate was poor and much below the standard norm.

In fact, no batsman, with the exception of David Warner (70 off 62 balls at 112.9 vs Kings XI on a sluggish Mohali wicket) has scored more runs in an innings than de Kock (in this innings) at a slower strike rate. This means that his scoring rate today was the second worst among 48 such innings this IPL!

It was his good fortune that the impressive show of some of the MI bowlers hid his under-par performance.

De Kock is the highest scorer for MI this season and the fifth-highest overall. He has a strike rate of 133.52 in this IPL thus far – pretty impressive for the role he plays in the team.

As they head into the playoffs, MI would hope that this de Kock performance was an aberration.

First Published: May 3, 2019, 7:37 AM IST