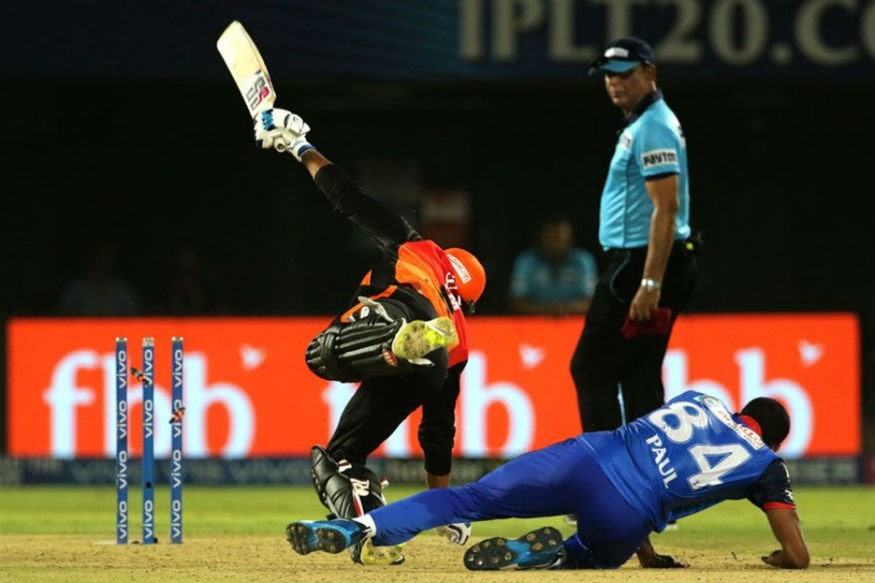 Sunrisers Hyderabad batsman Deepak Hooda was involved in a controversial run out in the final over of the first innings against Delhi Capitals in the IPL 2019 Eliminator in Visakhapatnam on Wednesday (May 8).
The incident happened on the penultimate delivery when Hooda failed to put any willow to Paul's wide delivery. Standing at the other end, Rashid Khan called for a bye and Hooda responded.
Delhi wicketkeeper Rishabh Pant threw the ball to the bowler but Paul couldn't get there and ended up colliding with Hooda on the middle of the pitch. The ball went past both the players and hit the stumps at the non-striker's end.
Umpire S Ravi then turned towards Delhi skipper Shreyas Iyer and consulted with him if he wanted to revoke the appeal. Iyer thought about doing the same but Pant came in running towards him and convinced him not to withdraw the appeal.
There have been quite a few incidents like this in the past where the spirit of the game has been questioned, but there was no deliberate contact from Paul and that probably led to Pant asking Iyer that the appeal should stand.
There is no on-paper rule about such collisions and it's up to the umpires to make sure that the obstruction isn't deliberate. In this scenario, it should have been the batsman running around the bowler and even if the collision wouldn't have happened, Paul would have still been short of his crease.