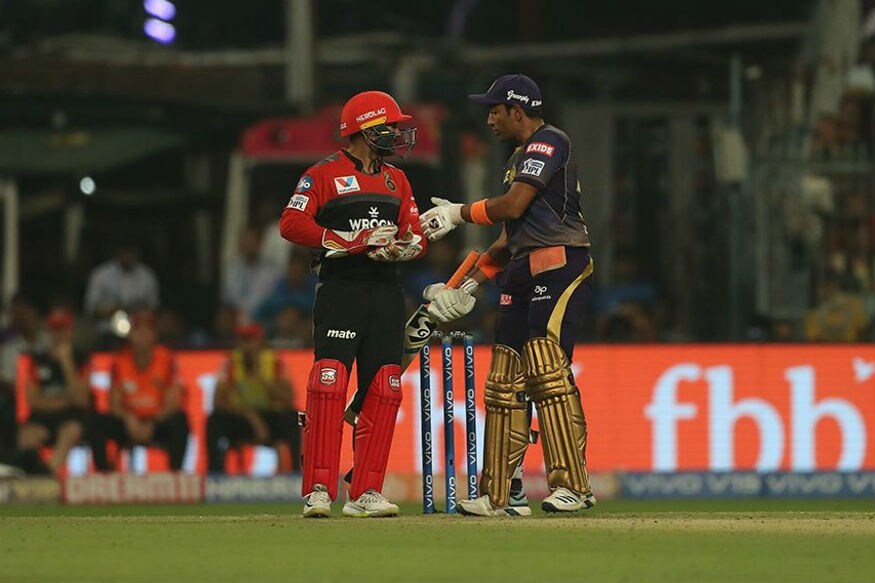 Set a target of 214, KKR needed the impetus at the start to make the maximum use of the powerplay. But what unfolded was, to put it mildly, bizarre!
Dale Steyn saw the back of Chris Lynn in the first over. Sunil Narine cracked four boundaries in his 18 but took 16 deliveries before being dismissed by Navdeep Saini. The problem was in the number of dot deliveries he faced – as many as 8 – and that too in the powerplay.
The score had moved to 24 for 2 in 3.5 overs when Robin Uthappa joined Shubman Gill at the crease. Surely the plan was to not only resurrect the innings and build a strong base but to do so at a decent run-rate to leave the likes of Nitish Rana, Andre Russell and Dinesh Karthik with a realistic chance to go after the target at the death.
But what followed was senseless and mind-boggling!
Gill, promoted to Number 3, showed no urgency even as the required run-rate soared to almost 12 runs per over. He played a total of 11 deliveries (before being dismissed) – again – all in the powerplay – and could muster all of 9 runs with just one boundary to show for his effort or should we say a lack of it! Sometimes there was no intent to get the boundary, on other occasions he mistimed his shots or could not pierce the field.
The mindset of the KKR chase was summed up by the approach of Number 5 -Nitish Rana – in the powerplay. He chose not to play and 'to leave' three deliveries within the initial 6 overs even as the asking-rate had climbed to above 12 an over – these were shocking tactics by the home team.
KKR had crawled to 37 for 3 in the powerplay. They had played out 22 dot deliveries in this phase of play, ie they could not score of 61.11% of the deliveries they faced in the powerplay - this, when chasing a target in excess of 200 was an absolutely dismal and shocking performance by the KKR top-order.
There was more to follow.
Rana and Uthappa had joined hands with the total at 33 for 3 after 5 overs. KKR required above 12 runs per over.
The pair had no choice but to go for it or perish. They decided to choose the latter.
Uthappa was happy to play himself in, He was content in pushing the ball for a single and play out a number of dot deliveries even as the required rate rose to above 15 an over – these were startling tactics.
There was no intent, no aggression and no desire to go after the bowling. The batting was not in sync with the reality of the match situation. It was horrendous to say the least. KKR were gifting the match to RCB on a platter.
It seemed they had already resigned to their fate and accepted defeat. There was no will to even try and that was the worst part of what was transpiring in the middle.
From 33 for 3 after 5 overs, the pair had taken KKR to 60 for 3 after 10. They had added just 27 in 5 overs at a run rate of 5.4. The required run-rate had shot from 12.06 to 15.40. Rana was batting on a run-a-ball 15 while Uthappa, uncharacteristically and most bizarrely, on 8 off 16 deliveries. He had played as many as 11 dot balls – which was shocking given the situation of the match.
The pair had played as many as 20 dot deliveries in these 5 overs which basically meant that they did not score of 66.67% of the deliveries they faced.
Uthappa was finally dismissed for a torturous 9 off 20 deliveries. It was his lowest strike rate innings for a minimum of 20 balls faced. The required rate was above 16.
It was his pathetic lack of will and intent and his partnership with Rana (46 in 41 deliveries) that cost KKR the match.
Rana did make amends later with a splendid unbeaten 85 off just 46 deliveries and almost pulled off a miraculous win in partnership (118 off 48) with Andre Russell (65 off 25 deliveries). But he left himself and Russell a bit much to do at the death.
They fell short by 10 runs.
Had Rana only displayed half the intent he showed at the death also in the initial part of his innings – and KKR may well have pulled off a remarkable and highly improbable win.
It was the shocking period of batting between the 5th and the 12th over when Rana and Uthappa had almost shut shop that cost KKR this match.