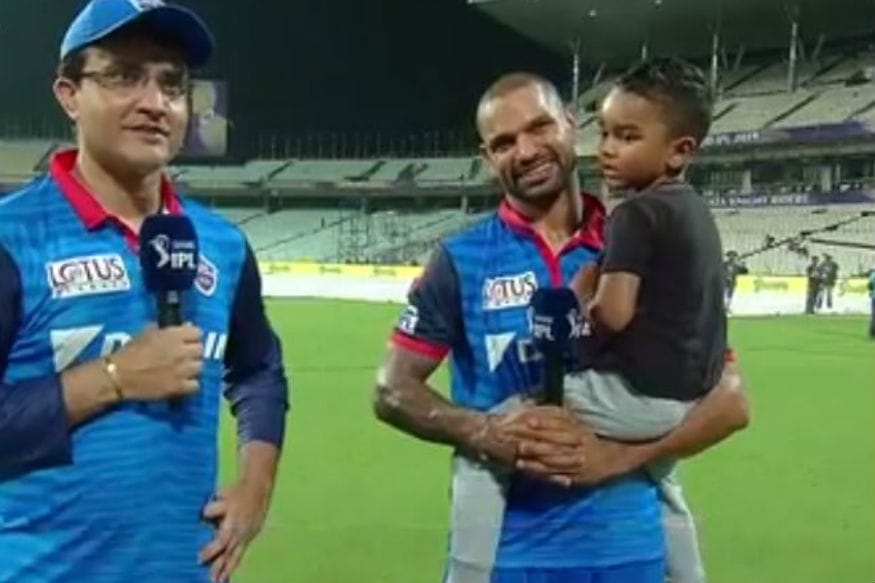 Former India captain and opening batsman Sourav Ganguly believes that Shikhar Dhawan is a very important part of the Delhi Capitals squad and was visibly happy with the southpaw's performance at the iconic Eden Gardens.
Ganguly, who has faced questions of conflict of interest as President of the Cricket Association of Bengal and advisor at Delhi Capitals, is delighted to have Dhawan in his dugout and not in the opposition.
In a video posted on the IPL website, Ganguly says that Dhawan is among the top three batsmen in ODI cricket and was understandably pleased with his unbeaten knock of 97 which took them upto fourth on the IPL table with four wins out of seven games.
"He just batted like Shikhar Dhawan today (Friday). I've said this before, the three best players in ODI cricket are Dhawan, Virat (Kohli) and Rohit (Sharma) and MS (Dhoni) is four. When he (Dhawan) gets in and gets set he is absolutely unstoppable," Ganguly said after the match.
"It's great to have him in the team and this is the business end of the tournament. He has been in teams that have won the IPL, with the Sunrisers. And hopefully he can turn it around for the Delhi Capitals."
Dhawan, who is currently the fifth highest run-getter in this edition of the IPL with 249 runs from seven games, has scored two half-centuries for Delhi.
"Having Dada and Ricky (Ponting) with the team given the experience they bring as former captains is really amazing. It is amazing the way they always back me and I hope to learn from them," Dhawan said.
Player of the match with his crucial knock on Friday, Dhawan is not disappointed about missing out on his maiden IPL century after Colin Ingram finished off proceedings in style. And Ganguly, standing by his side, said Dhawan's performance was bigger than the century as he saw his team through.
"He's 16 ODI tons in 120 matches which is a remarkable record and he'll get many more," Ganguly added.