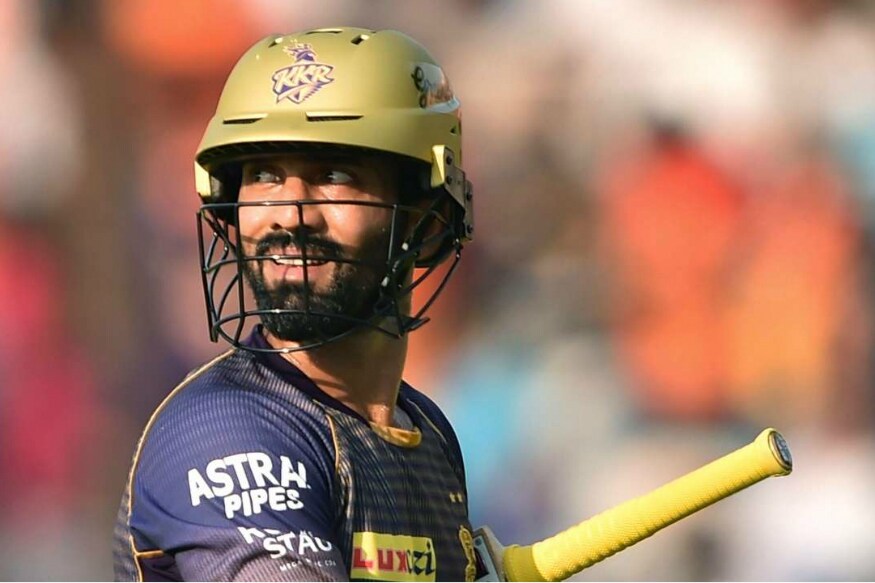 Only 117 runs from 10 matches. Five consecutive losses. Questions on his captaincy, with star player Andre Russell openly calling for a promotion in the batting order.
The team owner going public, urging the side to win at least for Russell's efforts. Reports that the owner even called him to Mumbai during a 'break'.
This is the backdrop in which Dinesh Karthik came into the game against Rajasthan Royals in Kolkata. KKR had a splendid start to the season, but were derailing rather quickly. They were a one-horse team, and badly needed a few more horses to help out.
The leader of the horses stepped up when it was needed the most, although it was eventually not enough to put the campaign back on track. Karthik slammed a 50-ball 97*, propelling KKR to 175 for 6 from a near dire situation. In the end, it wasn't enough as Rajasthan chased it down in the last over.
Rajasthan Royals opted to field on a green track and made use of the conditions to perfection in the initial phase. Varun Aaron made the ball talk, swinging it at will and at pace. Chris Lynn made the mistake of playing across, while Shubman Gill got a beauty of a banana-swinging slower ball that hit the stumps. Aaron's first spell read 3-1-10-2, and KKR were struggling at 32 for 2 in the Power Play.
It became 42 for 3 in the ninth over when Nitish Rana slashed Shreyas Gopal to point. Still no signs of Russell; it was all down to Karthik.
And Karthik stood up to the task. KKR were just 49 for 3 in 10 overs and going nowhere, when Karthik decided to give direction. The turnaround began when Karthik slammed Gopal for three fours and a six in a 25-run 11th over. Royals sensed danger, and immediately brought in Jofra Archer for the next over. Karthik welcomed him with a flick that sailed over deep square leg.
A similar fate awaited Aaron in his last over, with Karthik slamming a four and a six. KKR were suddenly in a better position at 100 for 4 in 15, with a set Karthik and the ever-dangerous Russell in the middle.
The big-hitting Russell and Carlos Brathwaite didn't provide the big finish, but Karthik did. From 50 off 35, Karthik slammed sixes at will to score 47 off his last 15. Even Archer was slammed for two sixes in the 19th over. Karthik was in such a zone that he even denied a single in the last over, and justified it slamming a six next ball. KKR scored 75 runs in the last five overs, with Brathwaite and Russell contributing a combined 19.
But the start was anything but easy. The ball was nipping around off the grass, and Karthik scored just 3 off his first 10 balls. There was the characteristic Karthik nervousness on display too; he tried to reverse-sweep Gopal first ball and was nearly lbw as well. The panicky running was also on display, and cost Sunil Narine his wicket to a run out as they went for a quick double.
It was a similar panicky second run that cost Karthik his wicket in the previous game too, against Sunrisers Hyderabad. In fact, in that game, he could have been run out two other times in the five balls he faced!
This time around, Karthik managed to overcome all that and get to a stage where he could utilise his own platform.
Karthik has been all over the batting order this season. He began at No. 4, and then pushed himself down and up to get into the finisher's role according to the situation. Success was hard to come by though, and Karthik struggled to find the balance between taking responsibility up the order and playing the finisher at the bottom. That ultimately left only Russell doing all the work.
Karthik finally found that balance this time around, going up at No. 4 when the team was in trouble. He bailed them out as much as he could, but it just wasn't to be. The knock should, however, at least make him feel confident about his batting ahead of the World Cup.