IPL 2019, SRH vs MI Match in Hyderabad Highlights - As It Happened
Mumbai Indians vs Sunrisers Hyderabad (T20)
CONCLUDED
SRH vs MI Cricket Scorecard (T20)
Match 19 T20, Rajiv Gandhi International Stadium, Hyderabad, 06 April, 2019
HIGHLIGHTS
WICKET! That's the end of the game, Alzarri Joseph is the superstar and he ends with figures of 6/12, best wickets in an IPL game! Beats the record of 6/14 held by Sohail Tanvir. Kaul nicks one through to the keeper, Hyderabad are dismissed for 96 and Mumbai Indians register their third victory here.

WICKET! Joseph completes a five-for here! On debut here for Mumbai Indian and he sents Bhuvneshwar's middle-stump for a cartwheel to picks his fifth. 5/7 in 3.1 overs! This is simply superb bowling from the West Indian and Sunrisers Hyderabad are 95/0

WICKET! Another slog, another wicket. End seems really near for Hyderabad here, Bumrah generating some serious pace yet again. Nabi gets a top edge there and its a simple catch for Rohit Sharma at mid off. That's the last recognised batsman gone, Hyderabad are 90/8!

WICKET! Alzarri Joseph will be on a hat-trick here, he picks his fourth wicket here! Rashid departs first ball as he looks to go for the pull but is beaten by pace and bounce there, Joseph takes a simple return catch. Hyderabad are 89/7 and are falling like nine pins

WICKET! Alzarri Joseph gets yet another wicket here, Deepak Hooda looks to hit towards the leg-side but completely misses the ball. Sees his stumps rattled and Hyderabad seem to be sinking here. They are 88/6 after 15/4 overs/

WICKET! Yusuf Pathan departs on the fourth ball! Chahar strikes again, Pathan looks to play the sweep but manages to just get a top edge there. Its skied and Ishan Kishan completes a simple catch in the deep. Hyderabad lose five, they are 62/5

WICKET! Behrendorff has struck here and that's the end of Manish Pandey. Looked like a plan there, Behrendorff bowls short and Pandey looks to pull there but its hit straight to Rohit at short mid-wicket. Pandey departs for 16 and Hyderabad are 61/4

WICKET! Alzarri Joseph gets another one here, bounces Vijay Shankar out. That one climbed on the batsman and as he looked to pull, he got a big top edge and this time Hardik Pandya takes a simple catch. Rohit Sharma is delighted here and SRH are now 42/3

WICKET! Alzarri Joseph has turned the game completely here, gets a breakthrough immediately and its the other big one. David Warner has to walk back now as he gets an inside edge which rattles into his stumps. Warner departs for 15 and Hyderabad are 33/2

WICKET! That's the one Mumbai needed early and they have got it, Chahar with a brave delivery as he gives that one bit of air. Bairstow looks to heave it towards the leg-side but gets a top edge and Bumrah takes a simple catch. Bairstow departs for 16 and Sunrisers are 33/1

FOUR! Pollard cameo has really lifted Mumbai Indians here, last ball flies for a boundary as it bounces straight in front of Hooda before going for the boundary. Mumbai Indians end their innings at 136/7! Pollard ends unbeaten on 46 and certainly gives his team some hope

WICKET! Rahul Chahar's stay at the crease comes to an end, he got a couple of boundaries down to third man but then looks to go for the big heave. He gets an outside edge and it carries straight through to Bairstow. Chahar departs for 10 and Mumbai are now 97/7

WICKET! Hardik Pandya departs, he hit Rashid Khan for a six and looks to sweep one. Makes solid connection on that one but not the height he would have liked, Vijay Shankar takes a good catch as that ball was really travelling. Pandya departs for run a ball 14 here
23:27 (IST)
What have we just witnessed, Alzarri Joseph registers career best figures of 6/12 on debut, take a bow!
23:25 (IST)
WICKET! That's the end of the game, Alzarri Joseph is the superstar and he ends with figures of 6/12, best wickets in an IPL game! Beats the record of 6/14 held by Sohail Tanvir. Kaul nicks one through to the keeper, Hyderabad are dismissed for 96 and Mumbai Indians register their third victory here.
23:22 (IST)
WICKET! Joseph completes a five-for here! On debut here for Mumbai Indian and he sents Bhuvneshwar's middle-stump for a cartwheel to picks his fifth. 5/7 in 3.1 overs! This is simply superb bowling from the West Indian and Sunrisers Hyderabad are 95/0
23:18 (IST)
WICKET! Another slog, another wicket. End seems really near for Hyderabad here, Bumrah generating some serious pace yet again. Nabi gets a top edge there and its a simple catch for Rohit Sharma at mid off. That's the last recognised batsman gone, Hyderabad are 90/8!
23:14 (IST)
WICKET! Alzarri Joseph will be on a hat-trick here, he picks his fourth wicket here! Rashid departs first ball as he looks to go for the pull but is beaten by pace and bounce there, Joseph takes a simple return catch. Hyderabad are 89/7 and are falling like nine pins
23:10 (IST)
WICKET! Alzarri Joseph gets yet another wicket here, Deepak Hooda looks to hit towards the leg-side but completely misses the ball. Sees his stumps rattled and Hyderabad seem to be sinking here. They are 88/6 after 15/4 overs/
23:06 (IST)
SIX! That's a maximum and much needed for Sunrisers Hyderabad, Nabi hits Bumrah over the long off fielder for a maximum. Fantastic shot that, Hyderabad pick 8 runs from the overs and SRH are 84/5. 53 needed from final 5 overs
23:00 (IST)
Nabi and Deepak Hooda are out in the middle here for Sunrisers Hyderabad, they have a really big task on their hands. Hyderabad need a partnership immediately here. The required run rate also touching 10.
22:53 (IST)
Hyderabad middle-order hasn't been tested yet, thanks to the brilliance of Warner-Bairstow but come game time, they are really faltering here!
22:51 (IST)
WICKET! Yusuf Pathan departs on the fourth ball! Chahar strikes again, Pathan looks to play the sweep but manages to just get a top edge there. Its skied and Ishan Kishan completes a simple catch in the deep. Hyderabad lose five, they are 62/5
22:46 (IST)
WICKET! Behrendorff has struck here and that's the end of Manish Pandey. Looked like a plan there, Behrendorff bowls short and Pandey looks to pull there but its hit straight to Rohit at short mid-wicket. Pandey departs for 16 and Hyderabad are 61/4
22:39 (IST)
Deepak Hooda has come out to join Manish Pandey in the middle here, the required rate is still pretty much in control for Sunrisers Hyderabad. The key will be can they play with patience, Pandey you feel is the crucial wicket here and has to stay till the end!
22:30 (IST)
WICKET! Alzarri Joseph gets another one here, bounces Vijay Shankar out. That one climbed on the batsman and as he looked to pull, he got a big top edge and this time Hardik Pandya takes a simple catch. Rohit Sharma is delighted here and SRH are now 42/3
22:29 (IST)
Sunrisers seem to be playing in panic here, another run out chance there and had Suryakumar Yadav hit, that would have been the end of Vijay Shankar. Instead, he just misses. Important that the two batsmen communicate here!
22:24 (IST)
DROPPED! Kieron Pollard has dropped an absolute sitter here, Manish Pandey takes the aerial route there but that's just hit high. Easy catch for Pollard on any other day, but this time he gets his hands there and the ball hits the palm and drops out. Big reprieve for Pandey
22:21 (IST)
We have a game on now, the Sunrisers middle-order hasn't been tested yet and I believe with these early wickets, this game could go right to the wire!
22:18 (IST)
WICKET! Alzarri Joseph has turned the game completely here, gets a breakthrough immediately and its the other big one. David Warner has to walk back now as he gets an inside edge which rattles into his stumps. Warner departs for 15 and Hyderabad are 33/2
22:14 (IST)
WICKET! That's the one Mumbai needed early and they have got it, Chahar with a brave delivery as he gives that one bit of air. Bairstow looks to heave it towards the leg-side but gets a top edge and Bumrah takes a simple catch. Bairstow departs for 16 and Sunrisers are 33/1
22:09 (IST)
Bumrah comes into the attack here, he starts by conceding six runs in his first over. Will be interesting to see how Rohit Sharma uses him here. He tends to hold him back for the death overs there. Sunrisers are 14/0 after 2 overs
22:02 (IST)
FOUR! Bairstow is off in his usual method there, gets one right from the middle and the ball goes for a four through the off-side. That's a great start here for Sunrisers Hyderabad, they are 8/0 after the 1st over
21:45 (IST)
Some sloppy fielding from Sunrisers Hyderabad in the end gives Mumbai Indians a respectable total in the end.
21:42 (IST)
FOUR! Pollard cameo has really lifted Mumbai Indians here, last ball flies for a boundary as it bounces straight in front of Hooda before going for the boundary. Mumbai Indians end their innings at 136/7! Pollard ends unbeaten on 46 and certainly gives his team some hope
21:41 (IST)
DROPPED AND SIX! That's gonna hurt, a low full toss which Pollard picked well but it was hit straight to Nabi, the pace was such that the ball hits his hands and goes for a six.
21:38 (IST)
Huge over that for Mumbai Indians as Pollard gets two right from the middle and deposits them into the stands, three sixes in the over and Mumbai pick 20 runs from that over. Mumbai are now 118/7
21:34 (IST)
SIX! Mumbai Indians need plenty of those here, Pollard picks the slower ball and dispatches it into the stands over long off. He will be looking to provide some late fireworks here for his team
21:32 (IST)
WICKET! Rahul Chahar's stay at the crease comes to an end, he got a couple of boundaries down to third man but then looks to go for the big heave. He gets an outside edge and it carries straight through to Bairstow. Chahar departs for 10 and Mumbai are now 97/7
21:28 (IST)
Though Mumbai Indians lost a wicket there,still a great over for them. They pick up 12 runs from that one, Rahul Chahar gets a boundary against Rashid as he guides one past slip for a four! How many can Mumbai make in the final three here?
21:25 (IST)
WICKET! Hardik Pandya departs, he hit Rashid Khan for a six and looks to sweep one. Makes solid connection on that one but not the height he would have liked, Vijay Shankar takes a good catch as that ball was really travelling. Pandya departs for run a ball 14 here
21:22 (IST)
Sandeep Sharma using the slower ball to great effect here, all the deliveries he has bowled in the over have been slower balls. Mumbai Indians really need a big finish here to even post a challenging total. They are 80/5 after 16 overs here!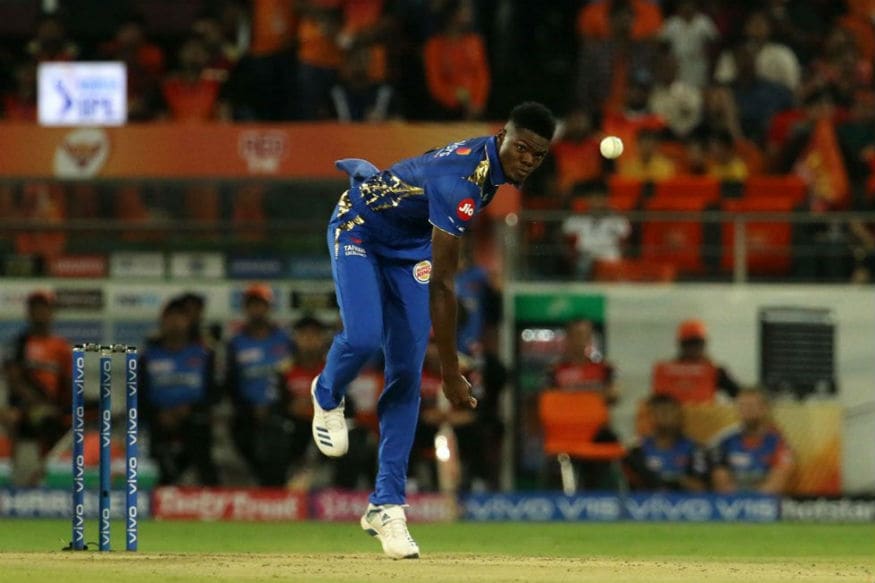 Follow all the live cricket score and latest updates from the IPL 2019 game as Sunrisers Hyderabad take on Mumbai Indians: WICKET! That's the end of the game, Alzarri Joseph is the superstar and he ends with figures of 6/12, best wickets in an IPL game! Beats the record of 6/14 held by Sohail Tanvir. Kaul nicks one through to the keeper, Hyderabad are dismissed for 96 and Mumbai Indians register their third victory here.
SRH vs MI in IPL 2019 will be broadcast on Saturday (April 6) from 08:00 PM onwards. SRH vs MI live streaming will be available on Hotstar and Jio TV. You can follow all the ball-by-ball updates and live commentary with analysis on our live blog.
PREVIEW: Sunrisers Hyderabad and Mumbai Indians have won both their matches in the lead up to their crucial encounter at the Rajiv Gandhi International Stadium in Hyderabad on Saturday, April 6th. With Sunrisers sitting pretty at the top of the table and Mumbai aiming to bridge the gap, the stage is set for a cracking encounter.
Mumbai have the ability to topple any team on their day, and doing a number on in-form SRH is not beyond the realm of possibility. To counter SRH's batting firepower, Mumbai have the experienced Jasprit Bumrah in their ranks. The Pandya brothers, Hardik and Krunal are capable of turning on their double act when the going gets tough in the middle. Even Jason Behrendorff, playing in his first IPL match of the season came up with a match-winning performance against CSK. On the other hand, Mumbai are stocked with the firepower that Rohit Sharma, Yuvraj Singh and Kieron Pollard provide at different positions in the batting lineup.
However, Sunrisers have proven over the last few seasons that consistency is their biggest forte. Bhuvneshwar Kumar, who was named stand-in captain for their last match against Delhi Capitals is back in form – a much-needed boost for the franchise. The Afghan duo of Rashid Khan and Mohammad Nabi have also proven that on the Hyderabad pitch, they are extremely hard to contend with. A win for Sunrisers Hyderabad will further take them up the top of the table, while a loss would keep things tight at the top of the table in this still-evolving season of the IPL.
Players to watch out for
Jason Behrendorff: Fresh off the boat from the ODI series against Pakistan, Jason Behrendroff is already looking like an inspired addition to the Mumbai Indians bowling attack. His figures of four overs, no maidens, 22 runs and two wickets were instrumental in restricting Chennai Super Kings to just 133/8 in 20 overs. In the absence of Lasith Malinga who is in Sri Lanka for club cricket, Behrendorff will look to trouble the SRH batsmen – specially compatriot David Warner.
Rashid Khan: Well, Rashid Khan is a threat in every game he plays. But at the risk of sounding like stating the obvious, the young leg-spinner has just been handed the reigns of the Afghanistan national team in the T20 format. Captaining one's national team is a huge honour, and Rashid just might have that extra spring in his step as he looks to trouble the MI batsmen. Who knows how much more he is capable of?
TEAM NEWS/AVAILABILITY UPDATES
Mumbai Indians: Mumbai will be without the services of veteran fast bowler Lasith Malinga, who flew back to Sri Lanka immediately after putting in an impressive performance in their win against Delhi Capitals, realizing that the domestic Sri Lankan competition was crucial to improving his chances of making the World Cup squad.
Sunrisers Hyderabad: Sunrisers Hyderabad are expected to be able to choose from a full squad.
Probable XI
Mumbai Indians: Quinton de Kock, Rohit Sharma ©, Suryakumar Yadav, Yuvraj Singh, Krunal Pandya, Hardik Pandya, Kieron Pollard, Rahul Chahar, Jasprit Bumrah, Rasikh Salam/Mitchell McClenaghan, Jason Behrendorff
Sunrisers Hyderabad: David Warner, Jonny Bairstow, Vijay Shankar, Manish Pandey, Deepak Hooda, Yusuf Pathan, Mohammad Nabi, Rashid Khan, Bhuvneshwar Kumar, Sandeep Sharma, Siddarth Kaul
Full Squads
Mumbai Indians: Yuvraj Singh, Lasith Malinga, Rohit Sharma (c), Kieron Pollard, Jason Behrendorff, Suryakumar Yadav, Quinton de Kock (wk), Jasprit Bumrah, Hardik Pandya, Krunal Pandya, Rahul Chahar, Aditya Tare, Mitchell McClenaghan, Ben Cutting, Jayant Yadav, Evin Lewis, Barinder Sran, Siddhesh Lad, Pankaj Jaiswal, Ishan Kishan, Anmolpreet Singh, Alzarri Joseph, Anukul Roy, Mayank Markande, Rasikh Salam
Sunrisers Hyderabad: Jonny Bairstow (wk), David Warner, Vijay Shankar, Manish Pandey, Yusuf Pathan, Deepak Hooda, Rashid Khan, Mohammad Nabi, Bhuvneshwar Kumar (c), Sandeep Sharma, Siddarth Kaul, Kane Williamson, Ricky Bhui, Shreevats Goswami, Wriddhiman Saha, Martin Guptill, Shahbaz Nadeem, Shakib Al Hasan, Abhishek Sharma, Basil Thampi, Billy Stanlake, K. Khaleel Ahmed, T. Natarajan