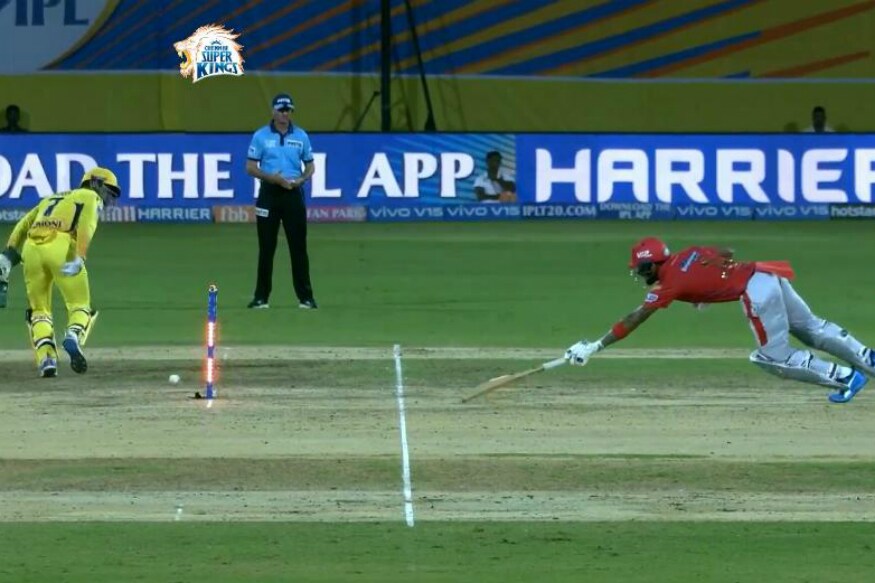 CSK captain MS Dhoni is well known for his inexplicable ability to break the stumps and effect a dismissal even when he has his back towards the batsmen and the wickets, with just the flick of a wrist.

He attempted a similar dismissal against the KXIP batsman KL Rahul in the 13th over of the innings, and for once the woodwork was not in sync with his plans.

Rahul had played the ball onto the leg side and was looking for a quick run, when Dhoni fielded the ball and in a flash had thrown it back onto the stumps and even connected with it, but fortunately for the batsman, the bails did not come off and he was given another life.

Dhoni was left sporting a wry smile after the third umpire ruled it not out, while bowler Ravindra Jadeja was absolutely flabbergasted. Rahul went onto complete his half-century two overs later before eventually being dismissed for 55 in the 18th over.

Umpiring Error?

While CSK are bound to feel terribly unlucky about the manner in which Rahul survived the incident, the case for yet another umpiring error cannot be ignored.

The square-leg umpire took this decision to the TV umpire as the CSK side appealed for a run-out.

It can be argued that the umpire did not notice the bails not coming off and just to be on the safe side referred the decision to the third umpire.




That KL Rahul non run out

1. Why did square leg umpire call for third ump when bails didn't fall?
2. Even if he didn't spot that, how did he allow strike to be changed when ball becomes dead as soon as third ump is called, and KL-Sarfraz took the run 'after' that?


— Karthik Lakshmanan (@lk_karthik) April 6, 2019



Interestingly or rather surprisingly though the umpire allowed the KXIP batsmen to run a single from the resulting overthrow, even though the ball had been rendered dead as the TV umpire was scrutinising the situation on hand.

Initially, Rahul had to scamper back into his crease to save his wicket, which means he and Sarfaraz did not crossover and Rahul should have been facing the next delivery. That though didn't happen and Sarfaraz faced the next ball (fifth ball of the over).

First Published: April 6, 2019, 7:55 PM IST