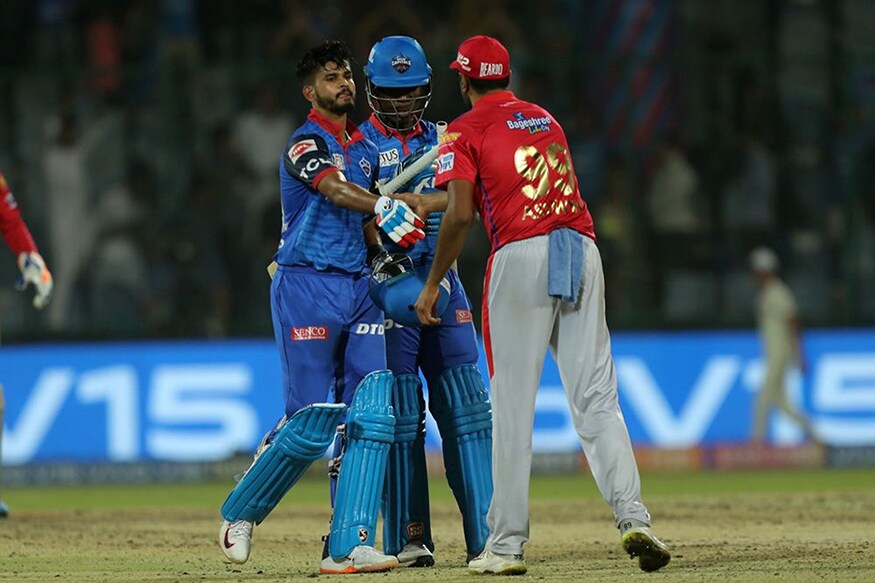 Shreyas Iyer and Shikhar Dhawan's half-centuries ensured that Delhi Capitals returned to winning ways at home after they registered a five-wicket victory at Feroz Shah Kotla on Saturday.
Delhi emerging as v dangerous side. Have mercurial batsmen and bowlers who can transform a match as seen tonite. Now beginning to win at home too. Well done!

— Cricketwallah (@cricketwallah) April 20, 2019
That is the first win for @DelhiCapitals in a regulation home match this season. They had previously lost three and won one on a Super Over. #IPL #DCvKXIP @lionsdenkxip — The CricViz Analyst (@cricvizanalyst) April 20, 2019
Look on Ashwin's face says it all. Punjab did well here with the ball, lost to the conditions.

— KASHISH (@crickashish217) April 20, 2019
Batting first, KL Rahul and Mayank Agarwal struggled to get going. But KXIP still dominated the first half of their innings courtesy of Chris Gayle and his big hitting. But after his dismissal, the visitors suffered a stumble in the middle overs but recovered well at the end to post 163.
.@KagisoRabada25 too good throughout! Overall should be satisfying for @DelhiCapitals because @henrygayle was looking terrific at the top!#DCvKXIP — R P Singh रुद्र प्रताप सिंह (@rpsingh) April 20, 2019
A fantastic piece of fielding from Colin Ingram right on the boundary rope removes a rampant Chris Gayle for 69 off 37. How I wanted to see a Gayle hundred today though. #IPL2019 #DCvKXIP #DCvsKXIP

— ThePoppingCrease (@PoppingCreaseSA) April 20, 2019
Yet another masterclass from Chris Gayle comes to an end, wonderful catch to dismiss him. But overall a Storm I wanted from him!! ❤️ — Mufaddal Vohra (@mufaddal_vohra) April 20, 2019
Curran playing, Ingram playing, 160+ total, Delhi chasing. So much to remind me of Delhi's collapse against Punjab in the first game

— Shubh AggarWall (@shubh_chintak) April 20, 2019
During the first 10 overs (when @henrygayle was smashing them), @lionsdenkxip were on top of the world. In the latter half, they were hamstrung by Axar, Rabada and co. Will this be a match-winning score?#MakeStatsGreatAgain #DCvKXIP #VIVOIPL #IPL2019 #Gayle #Rabada pic.twitter.com/psdszwA0C4 — Victor Tarapore (@VictorTarapore) April 20, 2019
Think #KXiP have enough on the board here. Unless Pant goes bonkers. #DCvKXIP #IPL2019

— Salman (@Salman_2911) April 20, 2019
Axar Patel and Colin Ingram's combined effort to remove Gayle garnered plenty of praise
Who gets the @Vivo_India phone for catch of the match Ingram or Axar ? — Carlos Brathwaite (@TridentSportsX) April 20, 2019
Wowzers!!! What a brilliant double play. Love these fielding innovations that have come into the game. Super stuff Ingram! #DCvKXIP

— Gaurav Kapur (@gauravkapur) April 20, 2019
Chris Gayle caught by Axar Patel What about Colin Ingram who did all the hard work?#DCvKXIP #IPL2019#IPL — Mohandas Menon (@mohanstatsman) April 20, 2019
Despite the early wicket Prithvi Shaw, Shikhar Dhawan did not shy away from playing his natural game. Shreyas Iyer also played his strokes and the duo stitched together a massive stand.
Wonderful batting from Dhawan and Shreyas. On this wicket, this is quite the perfect approach from the two most accomplished batsmen in the team.

— Harsha Bhogle (@bhogleharsha) April 20, 2019
Shreyas batting versus spin? I'll buy tickets to watch. — Prem Panicker (@prempanicker) April 20, 2019
Murugan Ashwin, who has rarely erred in line this IPL struggling. Shows the effect of dew

— Adharsh Bharadwaj (@cricadharsh) April 20, 2019
There was drama also in the middle, with Dhawan mocking Ashwin at the non-striker's end.
Epic troll by #Dhawan to 'Mankad' #Ashwin.. ROFL #DCvKXIP — Kaushik LM (@LMKMovieManiac) April 20, 2019
Epic troll by Gabbar! #DCvKXIP

— Amit Banerjee (@akb287) April 20, 2019
Alpha Ashwin trying to instill fear in the non-striker. Lord Dhawan unfazed.#DCvKXIP — Manya (@CSKian716) April 20, 2019
Rishabh Pant did not do himself any favours with a poor shot to get dismissed in a crunch situation.
Rishabh Pant is talented. That's it.

— Hardik Worah (@HardikWorah) April 20, 2019
#IPL2019 #DCvKXIP What was that? Feel sad that Pant had thrown away every single opportunity to finish games. #Talent But..hasnt fired..needs to finish games.. 36 off 30 balls.. Not the shot one would expect. — Bagawati Prasad (@Baggs0404) April 20, 2019
Apparently, Rishabh Pant has no idea whether Raj and Simran got together.

Why?

As usual, he didn't stay till the end.

— Ramesh Srivats (@rameshsrivats) April 20, 2019
But captain Shreyas Iyer ensured that Delhi crossed the line with two balls to spare.
Top innings from Shreyas Iyer. The kind a top-order player should play in a run-chase. — Harsha Bhogle (@bhogleharsha) April 20, 2019
#DC fans are already an endangered species. Don't keep testing our hearts like this. Anyway, Thanks for the win boys

— Saurabh Malhotra (@MalhotraSaurabh) April 20, 2019
Shikhar Dhawan ~ Experience knock Shreyas Iyer ~ Responsible knock Colin Ingram ~ Impressive cameo Rishabh Pant ~ Disappoints again#DCvKXIP — DEVENDRA SAINI (@DevendersainiS) April 20, 2019
Another top innings from Captain Shreyas Iyer. What a form he's in. If he continues playing like this he might get a ticket for Team India very soon. Congrats Delhi Capitals #KXIPvDC #DCvKXIP pic.twitter.com/FC3v3iDKU6

— Sir Jadeja fan (@SirJadeja) April 20, 2019