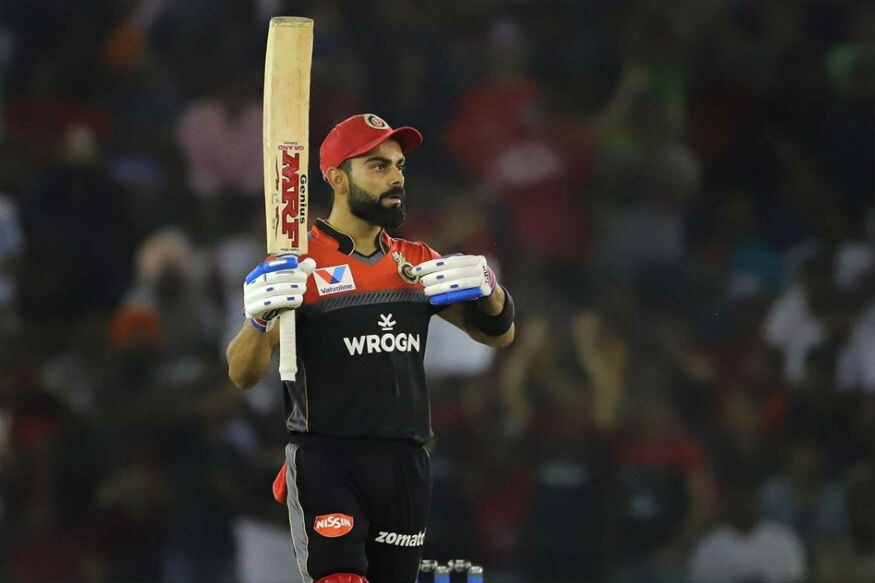 Virat Kohli and run chases. The love affair reunited partially on Saturday (April 13) as the Royal Challengers Bangalore captain helped his side win their first match of the tournament with a 53-ball 67, beating Kings XI Punjab comfortably by eight wickets in Mohali.
There have been plenty of reasons for RCB's poor show this season, each one analysed thread bare. Almost every factor - middle order batting, death bowling - have been in RCB's control. One factor, though, has been beyond their control. The toss.
Coming into the game, Kohli had lost four of the six tosses, which meant he couldn't do what he loves to: chase. RCB got to chase only in two matches - they lost a last-ball thriller against Mumbai Indians, and were whacked big time by Sunrisers Hyderabad.
In other words, Kohli was not able to play to his strength. Against Mumbai in Bangalore, Kohli set himself nicely with a 32-ball 46 in chase of 188 before unsuccessfully targeting Jasprit Bumrah in the 14th over. Bangalore, as always heavily dependent on himself and AB de Villiers, lost their way from there despite the latter remaining unbeaten on 70.
Kohli later conceded that it was a mistake to have gone after Bumrah, the best bowler in the opposition.
Against Hyderabad, the game was perhaps gone before Kohli came into the crease. Hyderabad had plundered 231, and Bangalore were down and out. Kohli managed just three.
Thus Kohli got the chance to chase again against KXIP, and seemed determined to ensure he would leave a mark this time. That he badly wanted to do it was visible from the way he pointed to the RCB logo in his jersey after completing what in essence was a regulation half-century for the great batsman.
Bangalore were chasing 174 - a competitive but not big target. Kohli paced it to near perfection, although he didn't quite do what he does so often: finish the game.
Patterns from Punjab's innings showed that Bangalore had to go big in the Power Play. Punjab scored 60 without loss in the period. Bangalore bettered it, scoring 63 although they lost Parthiv Patel. Kohli was on song, racing to 34 off his first 20.
The other pointer from Punjab's innings was that scoring became difficult after the initial phase. Punjab smashed 90 in the first ten, but scored only 83 in the second half. It's not often that Chris Gayle fails to get a 100 after playing 64 balls; he missed the mark by one run. Gayle had scored 48 off his first 23, which came down to just 18 off his next 23 before he accelerated again in the death.
Gayle wasn't able to accelerate in the middle overs for two reasons - Punjab lost key wickets, and were not able to target spinners Yuzvendra Chahal and Moeen Ali.
Kohli, and AB de Villiers, learnt that quickly. They scored only 33 runs between overs 8 and 12 as Punjab's two Ashwins operated. Both batsmen were happy to knock them around; runs could always be scored off pacers.
M Ashwin went for only 24 runs in four overs despite going wicketless. R Ashwin conceded 30 from his quota for one wicket. Both bowlers could have had better figures if not for some sloppy fielding.
Kohli reached his half-century off 37 balls, while de Villiers was at one stage 28 off 21. The asking rate was always under control, but things nearly went haywire after Kohli fell to Mohammed Shami in the 16th over.
The equation then was 46 off 27, which became 38 off 18. Kohli's exit could have once again been the turning point - like in the Mumbai game - but this time, de Villiers and Marcus Stoinis closed it out. They were aided by some poor catching, and average bowling.
Kohli and Bangalore will be happy to get off the mark - finally. He showed in the post-match presentation that his sense of humour is intact, joking he was happy to speak as the winning captain for a change. The game was the near ideal scenario for Kohli, and by extension Bangalore. It would have been completely ideal had he finished it off, instead of leaving it to the wobbly middle order once again.