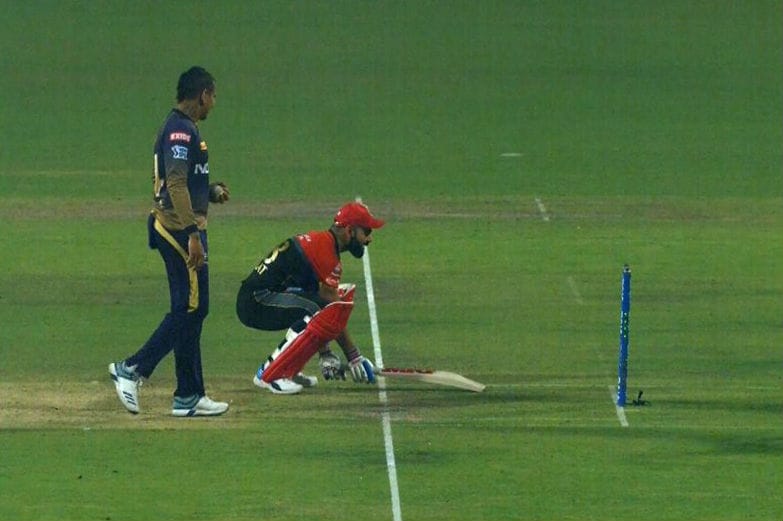 Royal Challengers Bangalore skipper Virat Kohli was in some punishing mood against Kolkata Knight Riders on Friday (April 19). The batting maestro slammed his fifth IPL century, studded with some brilliant shots, and a tinge of cheekiness and fun.
Kohli shared a cheeky moment with Kolkata's premier spinner Sunil Narine in the 18th over when the offspinner stopped in his run-up while bowling his final delivery and the right-handed batsman who was at the non-striker's end, play-acted like he was out of the crease, teasing the bowler to go for mankading.
WATCH: Mankading me? NO, says Virat ⚡️⚡️

Full video here 📽️https://t.co/Wuymbz3Tke #KKRvRCB pic.twitter.com/5j1DDvmyTJ

— IndianPremierLeague (@IPL) April 19, 2019
It was all in good fun and Kohli even managed to put a smile on Narine's face who is not known for reacting much even if he takes a wicket.
Mankading once again became a hot topic for debate when Kings XI Punjab captain R Ashwin mankaded Rajasthan Royals' Jos Buttler to cause a storm in the cricketing world.
Talking about fun, it was Kohli and Moeen Ali who entertained the Kolkata crowd with some unbelievable shots. While Moeen hit 66 runs in 28 balls, Kohli managed to touch the triple-figure mark before getting dismissed in the final ball of the innings.
The skipper smacked nine fours and four maximums and added 90 runs with Moeen. Bangalore accumulated 91 runs in the last five overs to finish with the score of 213 for 4.