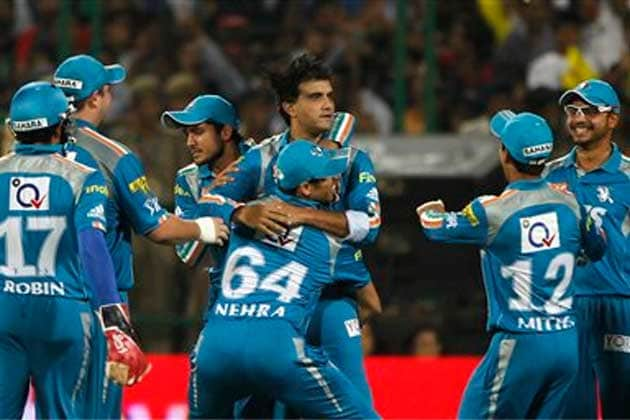 Delhi Daredevils Innings
20th over: Delhi 172 for 7. All over! Ganguly's Pune Warriors India have beaten Sehwag's Delhi Daredevils by 20 runs.
19th over: Delhi 167 for 6: Naman Ojha hits a straight six off Nehra. Too late to be significant, though. 26 needed off the last over.
18th over: Delhi 152 for 6. Taylor walks back, and with him Delhi's last hope. Alfonso Thomas comes back into the attack and the experienced T20 pro has the New Zealand captain caught at long-on.
Ross Taylor c Smith b Thomas 12 (13)
17th over: Delhi 142 for 5. Boundaries have dried up big time for Delhi, only two have come off the last 32 balls. And Taylor is finding it hard to find the middle of his bat.
16th over: Delhi 139 for 5. Ganguly ends his superb allround show with a four-over spell of 2 for 27. That after hitting a quickfire 41. A win will be the icing on the cake. But Taylor, who hit Ganguly for a four over short-fine leg to end his spell, may have other ideas.
15th over: Delhi 131 for 5. Amid this procession of wickets, Ross Taylor has stood in the middle as a spectator. Incidentally, he is Delhi's only hope now. 62 needed from the last five overs now.
14th over: Delhi 125 for 5. From 87 for 1, Pawan Negi's run-out is the latest wicket in Delhi's continuous slide. Uphill battle now this for Delhi.
Pawan Negi run out 8 (8)
13th over: Delhi 120 for 4. Kartik gets the big one, removes Sehwag. The left-armer's celebration tells it all. He was clearly hurt after Sehwag tore him apart in his first over. This is redemption for him. Pune on top.
Virender Sehwag c & b Kartik 57 (32)
12th over: Delhi 114 for 3. Ganguly strikes again, removes Pathan. After being hit for a six by Pathan off the first ball of this over, Ganguly completes his revenge off the last, getting Pathan caught at deep mid-wicket.
Irfan Pathan c Ryder b Ganguly 15 (11)
11th over: Delhi 104 for 2. Irfan Pathan has come in ahead of Ross Taylor. Delhi have no choice than to keep going at this rate; that explains Pathan's promotion. Twelve runs off this over, courtesy another four from Sehwag, this time through the third-man boundary.
10th over: Delhi 92 for 2. Dadagiri at the Kotla! Ganguly castles Pietersen! First ball after the time-out, Ganguly bowls KP and takes off in celebration. What scenes at the here! The clock has moved back! Amid all this, Sehwag completes a whirlwind half-century, off mere 27 balls.
Kevin Pietersen b Ganguly 32 (23)
9th over: Delhi 87 for 1. Pune would have never enjoyed any strategic time-out more than this one. A timely breather as KP and Sehwag run amok. In 41 balls, they have adeed 85 runs.
8th over: Delhi 74 for 1. Pune's hero with the bat, Jesse Ryder, is into the attack now. And he is welcomed by Sehwag with a 4, 1, 0 , 1, 6, 6 to make it 18 runs off the over. How can Viru stay behind!
7th over: Delhi 56 for 1. Rahul Sharma halts the run-feast a little bit with a seven-run over.
6th over: Delhi 49 for 1. Pietersen shows how you hit a delivery on the up for a six into the second tier of the Kotla, follow it up with another maximum off a fullish delivery over long-off and then submit Mathews into the top tier over long on for third consecutive six. "The chase is on," says Pietersen.
5th over: Delhi 29 for 1. Sehwag tears into Murali Kartik. Runs down the wicket on three consecutive deliveries. First one deposited for a six over Kartik's head, second one spanked through point for a four, while sanity prevailed with a dot off the third.
4th over: Delhi 16 for 1. Good over that by Nehra. Nice variation that kept Sehwag guessing. This is not the start Delhi had hoped for their run-chase. Steve Smith almost pulled out a stunning run-out off the last ball. Pune have the momentum right now.
3rd over: Delhi 14 for 1. Thomas knocks over Jayawardene. It was a soft dismissal. Thomas bowls it wide, Jayawardene reaches for it and hits it straight to the cover fielder. Early jolt to Delhi's run-chase, and a big one.
Mahela Jayawardene c Smith b Thomas 7 (7)
2nd over: Delhi 12 for 0. Jayawardene gets off the mark, with a boundary as well.
1st over: Delhi 5 for 0. Typical Sehwag start! Alfonso Thomas gives the Delhi skipper some room, who flashes it hard over point to open his team's account with a boundary. Other than that, a good opening over by Thomas.
Pune Warriors India Innings
20th over: Pune 192 for 3. Morkel gets his man but a bit too late in the script as Ryder's 86 and Steve Smith's 34 in 13 balls have propelled Pune to this mammoth total that will test the might of Delhi's batting.
Morkel once again shines for Delhi, albeit a bit expensive in the process, as he takes all the three wickets to fall in a spell of 3 for 50.
Jesse Ryder b Morkel 86 (58)
19th over: Pune 180 for 2. Delhi are in for a tough chase here as Ryder deposits Yadav deep into the stands for his fourth six of the innings.
18th over: Pune 171 for 2. Steve Smith joins the party and takes Nadeem to the cleaners. First a four over the bowler's head, followed by a slapped six over the mid-wicket, then a reverse pull for a four, ending the over with another six behind the bowler. Twenty-three runs off the over. Mammoth!
17th over: Pune 148 for 2. Yadav starts the over well by bowling yorkers but Ryder gets the runs in the end by spanking the Delhi bowler for a six off the fourth ball, followed by a four off the last. At 75, this is Ryder's highest T20 score.
16th over: Pune 136 for 2. Strategic time-out. Delhi are up against it in the last four overs as Pune are within touching distance of a total of around 180. That should set up an interesting battle against Delhi's powerful batting line-up.
15th over: Pune 125 for 2. Ganguly falls after a well-made 41 and a 93-run stand with Ryder. The Pune skipper hits Morkel off the middle but it didn't have the distance to beat long-on who was in place to take a neat catch. Steve Smith follows up the wicket with a pull, announcing his arrival with a boundary.
Sourav Ganguly c Yadav b Morkel 41 (35)
14th over: Pune 118 for 1. Irfan Pathan comes back to bowl his third over but remains wicketless. Pune innings now nicely set up for a big flourish. Fasten your seatbelts.
13th over: Pune 112 for 1. Fifty for Jesse Ryder! And another boundary over for Pune. Ganguly at it again, this time pulling Yogesh Nagar to the deep square-leg region for a four.
12th over: Pune 104 for 1. Hundred comes up for Pune and safe to say Ganguly is finding the middle of his bat now. Two fours coming off Dada's bat, which has taken him to 35 off 28 balls.
11th over: Pune 91 for 1. Umesh Yadav follows up Nadeem's good over with six more miserly deliveries, conceding just three runs. But Delhi need some wickets here.
10th over: Pune 88 for 1. Sehwag brings back Shahbaz Nadeem, who restores some parity after the strategic time-out. Six runs coming off this over.
9th over: Pune 82 for 1. Sehwag's Plan A is not working here for Delhi. Another big over for Pune, with Pietersen conceding 17 runs. After Ryder's inside-out four off the first ball, Ganguly just about manages to clear long-off for a six. To make it worse, the over included three wides as well.
8th over: Pune 65 for 1. Ryder starts the over with a four and Ganguly ends it with a four, both off sweep shots. In total, nine runs off the over.
7th over: Pune 56 for 1. If anything exciting was left, it just happened in this over. Ganguly sweeps Pietersen and the ball hits umpire Asad Rauf flush on the hand. Wake-up call! But a good over by KP, just four runs off it.
6th over: Pune 52 for 1. It's all happening at the Kotla. Dada gets a boundary, Pietersen drops a catch, no-ball, free hit, 18 runs off the over. In short, exciting Twenty20 cricket.
5th over: Pune 34 for 1. What's it between Jesse Ryder and sixes behind the wicket! Another edge from his bat, this time off Umesh Yadav, hits the sightscreen behind the wicketkeeper.
4th over: Pune 27 for 1. What an over! A six, a four and then a wicket. Uthappa has been dismissed by Morkel. First Ryder welcomes Morkel with a six and a four off his first two deliveries. But none of those convincing shots. The six went over the third-man boundary while the four came off an inside edge. The over, though, ends on a happy note for the South African as he has Uthappa caught behind.
Robin Uthappa c Ojha b Morkel 10 (13)
3rd over: Pune 14 for 0. Finally some runs for Pune, and 12 of them of this Irfan over, including two boundaries. First Uthappa finds the boundary over the extra-cover region and then an edge off his bat beats the third-man.
2nd over: Pune 3 for 0. KP, talking on the microphone, says Shahbaz Nadeem is turning out to be a champion when some said Delhi don't have a quality spinner. How true! And bowling the innings' second over, Nadeem has once again started on a bright note, giving away just three runs.
1st over: Pune 0 for 0. Good, tight start by Irfan Pathan. A maiden! Bowling in the channel and has Uthappa scratching around for most part.
7:35 p.m. Delhi Daredevils win the toss and are bowling.
One change each in both the teams. The South African fast bowler Alfonso Thomas has replaced Marlon Samuels for PWI. And for Delhi, left-arm spinner Pawan Negi will play in place of Ajit Agarkar.
Delhi Daredevils: Virender Sehwag (capt), Naman Ojha (wk), Kevin Pietersen, Mahela Jayawardene, Ross Taylor, Irfan Pathan, Yogesh Nagar, Morne Morkel, Pawan Negi, Shahbaz Nadeem, Umesh Yadav
Pune Warriors India: Jesse Ryder, Robin Uthappa (wk), Sourav Ganguly (capt), Angelo Mathews, Steve Smith, Manish Pandey, Alfonso Thomas, Bhuvneshwar Kumar, Murali Kartik, Rahul Sharma, Ashish Nehra
7:15 p.m. Aloha! We're here in the Capital of India, home of the Delhi Daredevils who are all in readiness to host Dada's army, Pune Warriors India.
Delhi, the IPL 5 table-toppers, wear an intimidating look, especially after that dismissive century by Kevin Pietersen against Deccan Chargers the other night. But Pune have India's most successful captain at the helm with a bagful of tricks up his arms to outwit Virender Sehwag's men.
Toss up next in about 10 minutes' time. Until then, dig in to our preview of the game.