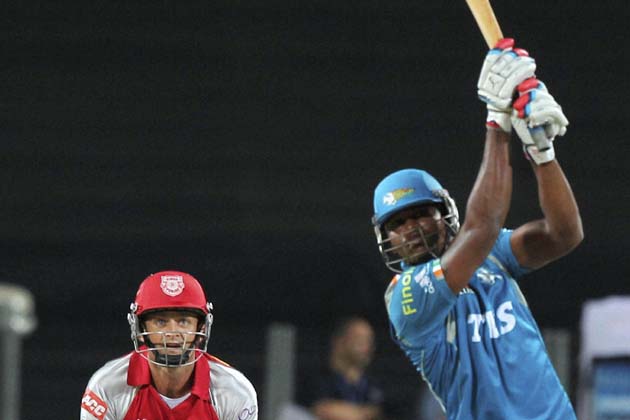 In front of a large home crowd at last – there were no matches played in Pune last season – a Sourav Ganguly-led Pune Warriors India inaugurated a spanking new Sahara Stadium with a convincing 22-run win over Kings XI Punjab. Pune's innings lacked direction until Marlon Samuels (46) and Robin Uthappa (40) added 81 for the third wicket, and after their dismissals it threatened to end with a whimper. But for the second match running Steven Smith came to his team's rescue, this time scoring a 12-ball 25 including three sixes in four balls. A 27-run penultimate over, which started with Uthappa's wicket but went downhill from there after Harmeet Singh was barred from bowling, turned out to be crucial in Pune's match-winning 166 for 6.
Having opted to bat, Sourav Ganguly gave the home fans a glimpse of his old self when he hit three fours in his first six deliveries faced. That was as good as it got for him, however, as he was done in by a slower ball from Dimitri Mascarenhas – an odd replacement for Shaun Marsh – that mid-off had no hassles holding on to. Praveen Kumar delivered the second wicket, collecting the ball off his own bowling and nailing the stumps to catch Jesse Ryder short of the crease.
Pune managed just 38 off the Powerplay overs. Samuels upped the ante by lofting Bipul Sharma to long-off where David Hussey – a fielder who has taken some outstanding boundary catches in the IPL and international cricket – got his fingertips on the ball but could not prevent a six. Samuels enjoyed a second life a few deliveries later, when he drove hard to short cover who spilled a tough chance. There was nothing indecisive about the second six of Pune's innings, however; sizing up Sharma, Uthappa skipped out and dumped the ball over long-off. Piyush Chawla was the next to feel the heat when Samuels charged out and struck a huge six over long-off, and after 11 overs the run rate had improved to 7.27.
Samuels and Uthappa ensured it didn't fall below seven an over, dabbing the ball for singles and putting away the poor balls. Samuels relied on soft hands to nudge into the arc between point and short third man, while Uthappa preferred to walk across the stumps and play into the leg side. When it seemed Samuels would produce a late surge, Harmeet Singh returned to put the skids on the scoring. First Samuels was bowled for 46 by a clever slower ball, looking to launch the ball over midwicket, and then Harmeet held a caught-and-bowled in his next over off Callum Ferguson, leaving Pune 121 for 4.
The penultimate over, bowled by Harmeet, started off well but ended up terribly for Punjab. The second ball was another slower ball that bowled Uthappa for 40, but then Harmeet sent down two high full tosses to Manish Pandey – one went for four, the other brilliantly taken by Abhishek Nayar in the deep - which meant he was barred from bowling any further. Harmeet's error hurt his team, because his replacement for three balls, Sharma, conceded three sixes – two to Smith and one to Manish Pandey. Smith swung the first ball of the final over for six over deep square leg, but James Faulker castled him off the fourth and finished the over with two more dot balls. The damage had been done.
The run-outs of Adam Gilchrist and Paul Valtathy in successive overs meant Punjab's start was a terrible one. From 9 for 2, the innings stumbled along. There were just two boundaries in the Powerplay – which yielded just 19 runs, the lowest of IPL 5 – and only Mandeep Singh (24 off 23 balls) and Nayar (24 off 28) managed to get decent scores. Whenever a batsman got a start, he would fall to leave Punjab behind the eight ball. The asking rate was out of reach by the half-way mark of the chase, and Punjab never threatened to get close. Four of six bowlers used picked up at least one wicket, with Rahul Sharma (2 for 34) the most successful. For the second match in arow, Punjab's batsmen disappointed majorly, leaving them looking like one of the whipping boys of the tournament.
Full scorecard