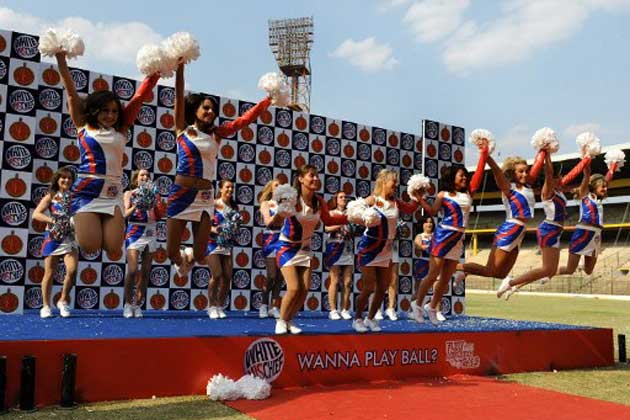 It's that time of year. When colored pajamas, DLF Maximums and Citi Moments of Success, strategic time-outs, cheerleaders, Bollywood, entertainment, razzmatazz and Navjot Singh Sidhu collectively assault the Indian public's conscious and living rooms. When Twenty20 cricket becomes a reason for fans to get together, in front of television sets or doing the Mexican wave in the stands; for housewives and vegetable vendors alike to talk about the previous evening's game; for industrialist and investment banker to hotelier to talk cricket instead of just work; and for newspapers and news channels to use Twenty20 cricket to try and distract the nation from more depressing and disturbing news.
Or so the Indian Premier League organizers would like to have happen. After four seasons of the lucrative Twenty20 league, this season could be the one that really tests the Indian audience and the floorboards of the IPL. The Indian fan and media's memory is generally fickle, but considering the disastrous year that Indian cricket has endured since April 2, 2011 when the World Cup was lifted on a starry Mumbai night, there is much riding on the success of the IPL and its ability to put the fan in front of the action.
Season four of the IPL produced the lowest TV ratings of any, which according to reports was 29% down from season three. The 2011 final in Chennai, between Chennai Super Kings and Royal Challengers Bangalore and boasting players such as India's captain MS Dhoni, the tournament's blockbuster package Chris Gayle, Suresh Raina, Virat Kohli and AB de Villiers, was watched by less than half the amount that viewed the 2010 final. The disconnect evident between the on-field action and the fans was a telling statement in 2011, and the volume of matches of matches was undoubtedly a factor in this.
The disbanding of the Kochi franchise was also bad news for the tournament, as was the spat between the Sahara group, sponsors of the Indian team and owners of the Pune team. Pune Warriors India will participate in the IPL, after withdrawing from the auction in Bangalore earlier this year, and how Pune fares will be crucial to the franchise's brand value. On top of all this, there were allegations from former IPL supremo Lalit Modi that the 2009 auction had been rigged by CSK to accommodate former England allrounder Andrew Flintoff. Sufficed to say, the IPL had drawn plenty of controversy and criticism between seasons four and five, and for it to flourish the cricket will have to put bums on seats.
So here are the basics, just to refresh the memory - the fifth season of the IPL will comprise nine teams and 76 matches, will start and concluded in Chennai, and each team will play each other home and away during a league phase consisting of 72 matches at 12 venues. Seventy-six matches is 20 less than in 2010, and two more than in 2011, but is it too much? Time well tell.
On the field, there is plenty to look for, plenty of tasty subplots. Will Gayle be able to produce a season as stunning as last year's, when he smashed his way to the highest number of runs while almost single-handedly taking Bangalore to the final? Now that he has relinquished the Mumbai Indians' captaincy, will Sachin Tendulkar bat freely and enthrall fans? Can Kolkata Knight Riders actually get it together this season? Do Delhi Daredevils finally have a match-winning team? Will Yusuf Pathan regain his form? Can anyone stop Chennai? Will the absence of Yuvraj Singh and Graeme Smith severely hurt Pune, and exactly is Michael Clarke going to bring to the table? These are just a few cricketing aspects of IPL 5 that the fans can look forward to.
Indian cricket needs a lift following eight successive Test defeats and the failure of the ODI team to qualify for consecutive multi-team finals. Once again the club versus country debate has cropped up, and there will be plenty of eyes on the likes of Virender Sehwag, Suresh Raina and Ravindra Jadeja, whose performances for India of late has been decidedly poor, most glaringly that of the Daredevils' captain. A strong tournament for Raina and Jadeja – bought for a staggering $2 million by CSK – could be just what is needed to bring out their best in limited-overs cricket, and to watch their progress will be interesting. As for Dhoni, whose reputation as captain has taken a hit, finding his leadership mojo in CSK yellow could also be the anecdote he desperately needs.
There will also be reputations at stake, and after Rahul Sharma's dramatic elevation to India's limited-overs teams there will be other bowlers out there who will believe that a strong IPL can give them a shot at national selection.
And so, from April 4, 2012 the IPL circus will kick off. Hate it or love it, it's a brand of cricket you cannot ignore. Let the games begin.