IPL 8: Dhoni is an expert at handling things under pressure, says Jason Holder
"Dhoni is a very influential leader. I have loved rubbing shoulders with him and playing under him," said Holder.
Updated: May 21, 2015, 5:16 PM IST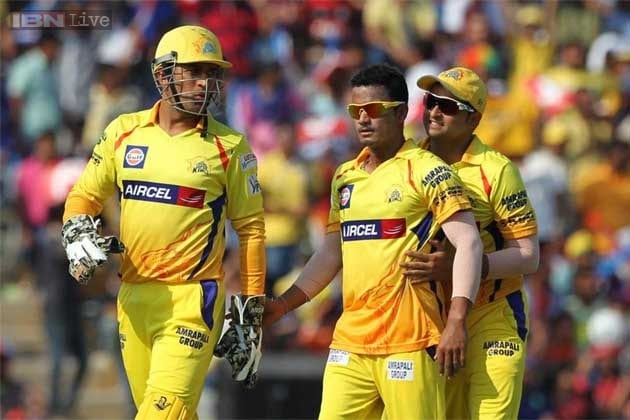 On December 20, 2014, the Clive Lloyd-led West Indies selection panel made the surprise decision to hand over the One-Day International reins to Jason Holder with the 2015 World Cup a couple months away. Holder replaced Dwayne Bravo as the West Indies captain.
It's hard to tell if the move was instigated by the board's distaste for Bravo's stance against the West Indies Players Association or with an eye on the future (the official statement said so).
Irrespective, Holder, 23, had played just 21 ODIs at the point and by admission to Wisden India earlier in 2014, "was just grateful to share the dressing room with some of the best players in world cricket."
Out of the blue, the wide-eyed paceman was in charge of that bunch. The decision didn't sit too well with many from outside the circle.
"There were some problems with the side when things kicked off but we were able to look past them," said Holder on Wednesday. "I realised early on that it was about assessing certain individuals in certain circumstances. At that time we were still figuring out our squad combinations and so on so the first two tours were all about assessing the players work. It was an interesting phase. We have come a long way since."
In the circle that mattered, however, things were beginning to show signs of a revival that eventually led to them making it to the quarter-finals of the 2015 World Cup.
Probably because few expected them to make it that far or because, for a change, they looked focussed, their loss to New Zealand, the eventual finalists, in the World Cup was forgotten just as quickly as their 4-1 loss to South Africa in the series that preceded it.
A lot of that credit goes to Holder and the way he has calmly managed to handle his troops. Did he pick this up from MS Dhoni during his stint with the Chennai Super Kings in 2013? "Definitely," acknowledged Holder when asked if he took a few notes out of Dhoni's captaincy manual. "He is a very influential leader. I have loved rubbing shoulders with him and playing under him. I have learnt a lot from him as a captain and a cricketer. Just the way he goes about his cricket is special. His planning and his execution is great and to do that successfully over the years under pressure is very difficult but he has managed it very well.
"He is an expert at handling things under pressure. He is also someone who has achieved so much with so many different people and under so many different circumstances. It's quite amazing. He is an exceptional leader."
It has been exactly six months since Holder took up the new role and West Indies have a come a long way since. Their rise was made more notable after their Test performance against England, in which Holder scored a match-saving century in the course of a 1-1 scoreline.
"I have always had the self-belief that I belong and I can compete at the highest level. I have always believed in that," said Holder. "I am just glad that I was able to do that (score a maiden Test century). I was quite pleased with myself. But it's not just about the hundred it's also the fact that we were able to draw the game and eventually the series."
West Indies celebrated their performance with gusto but they haven't had time to extend the party. They are already back to the drawing board, plotting their game plan for the two-Test series against Australia.
"We are very focussed on the series against Australia. We are working with more concrete plans and with Phil (Simmons, the new head coach) things are coming along very well."
Once through with that, the members of the Test side have the chance to cool their heels by donning the colours of their respective islands in the Caribbean Premier League, starting on June 20.
"The CPL has great atmosphere and I think it does wonders for cricket in the West Indies," said Holder when asked if the CPL is reviving cricket in the nation. "People love it when people like Bravo and (Darren) Sammy dance and things like that. People like that bring a lot of energy and bring something different to while ensuring that the quality of cricket they play is still top notch."
---
---
Team Rankings
Rank
Team
Points
Rating
1
Australia
3028
116
2
New Zealand
2406
115
3
India
3085
114
4
England
3882
105
5
Sri Lanka
2454
91
FULL Ranking
Rank
Team
Points
Rating
1
England
5405
123
2
India
5819
119
3
New Zealand
3716
116
4
Australia
3941
109
5
South Africa
3345
108
FULL Ranking
Rank
Team
Points
Rating
1
Australia
6047
275
2
England
5959
271
3
India
9319
266
4
Pakistan
6009
261
5
South Africa
4380
258
FULL Ranking
Upcoming Matches