IPL 8: Mumbai have the license to be fearless, says Rohit Sharma
"I feel we have played good games till now but the playoffs will be a different ball game," said MI skipper Rohit Sharma.
Updated: May 18, 2015, 12:18 PM IST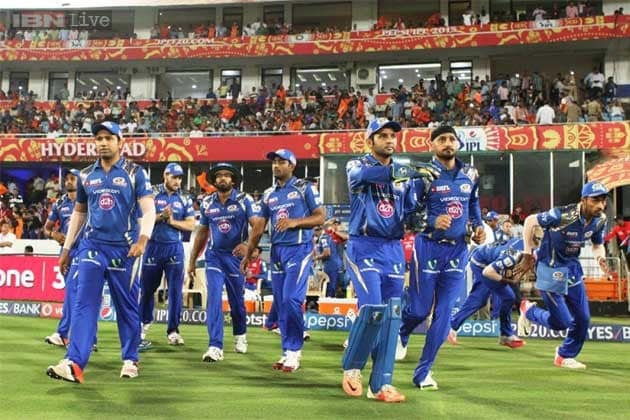 After an amazing turnaround, Mumbai Indians' skipper Rohit Sharma has every reason to smile and celebrate as his team pulled off a heist in the Indian Premier League by qualifying for the playoffs from a scenario where ouster looked inevitable.
"We are quite used to such situations," Mumbai Indians coach Ricky Ponting said on the eve of his team's match against the Sunrisers Hyderabad and it seems his never-say-die attitude has rubbed onto the team as well.
While speaking to iplt20.com after the victory, Rohit expressed his happiness and promised some 'fearless cricket' in the business end of the tournament.
"It feels great. But this just shows the character of the Mumbai Indians. We have created an atmosphere inside the dressing room and around Mumbai Indians that no matter what situations we are in, we never have to put our head down. When we started off losing four games in a row, nobody believed we could qualify. It is not about proving anyone wrong but we just wanted to prove to ourselves that we are much better than the results. We did exactly that and look at us now, in top two on the table at the end of the league stage. This shows the character of the team," said the Mumbai Indians skipper.
Mumbai lost four games in a row and Rohit remembers every bit of the struggle. "When we were losing at the start of the tournament, we were not playing to our potential. We always knew we had a lot of talent and ability in the dressing room and it was all about getting that game to the fore. The support staff has helped a lot in holding the team together.
"Sometimes when you lose, the guys in the team tend to drift away a little bit but the support staff did a fabulous job of holding everyone together. We have got individuals who are willing to take up the challenge at any given point and turn things in our favour. I am lucky to have guys like those who are willing to change the course of the game at any given point of time, whether with the bat or ball. I am really happy with the way we stand right now but nothing is over yet. For us, we have finished one tournament and entered into a fresh tournament now. If we play to our potential, this is what we can do," said Team India's limited-overs opener.
Talking about his role as a captain when the chips were down, Rohit added, "As a captain, as a leader it is very important for me to remain positive no matter what happens on the field. For me it is important to keep talking to a lot of players and ensure they stay in the present. The message was clear - whatever had happened had happened and you couldn't change it, and the best way to come out of it was to prepare for the following games.
"I wanted to lead from the front. As a captain, my role was simple because I had to manage the team efficiently on the field. There were a lot of new guys in the team while we started the season and we wanted to tell everyone what Mumbai Indians is all about. I am glad our ways have worked and all I can say is I am a happy captain right now," Rohit added.
Speaking about the atmosphere in the dressing room before getting into a crunch game against Sunrisers Hyderabad, Rohit revealed, "Ponting and I spoke about this game as being a final for us. Had we lost this game, we would have gone home. Now, we've got to do what we have been doing over the last five games. We have done a lot of good things on the field but there is always a lot of scope for improvement. Every time you go into the game and come out of it, you've got to think how you can improve at least by 10 percent. We need a little more effort going into the next game."
Now that Mumbai Indians are second in the points table, they get two shots at the cherry. Emphasising on how important it is to finish in the top two of the points table, Rohit said, "Finishing in the top two obviously gives us a chance to play fearlessly. I feel we have played good games till now but the playoffs will be a different ball game.
"You can't afford to make too many mistakes but knowing you have a second chance it gives us the license to play fearless cricket. We have been in this situation before in 2013 where we played against the same opposition, qualified in the top two and we had another chance. We want to go out there and play without thinking about the result. We won't think about who we are playing, we will be focusing on our strengths.
"Momentum plays a huge role in this format and it is very important to carry that winning habit into the next game every time you play. We do enter the playoffs with a lot of confidence and we know it won't be easy, as has been the case with Mumbai Indians throughout the league stages. We are prepared for it and we will perform to our best. It is just a matter of being in the present and not thinking about what we have done in the league stages. We can take positives from it. We know the conditions there and I am sure we can put up a great show."
---
---
Team Rankings
Rank
Team
Points
Rating
1
Australia
3028
116
2
New Zealand
2406
115
3
India
3085
114
4
England
3882
105
5
Sri Lanka
2454
91
FULL Ranking
Rank
Team
Points
Rating
1
England
5405
123
2
India
5819
119
3
New Zealand
3716
116
4
Australia
3941
109
5
South Africa
3345
108
FULL Ranking
Rank
Team
Points
Rating
1
Australia
6047
275
2
England
5959
271
3
India
9319
266
4
Pakistan
6009
261
5
South Africa
4380
258
FULL Ranking