IPL 8: Sunrisers Hyderabad let down by lack of Indian batting options
The lack of Indian batting talent triggered massive ramifications. SRH had to go out of its way to accommodate both Morgan and Bopara in the middle order.
Updated: May 19, 2015, 6:08 PM IST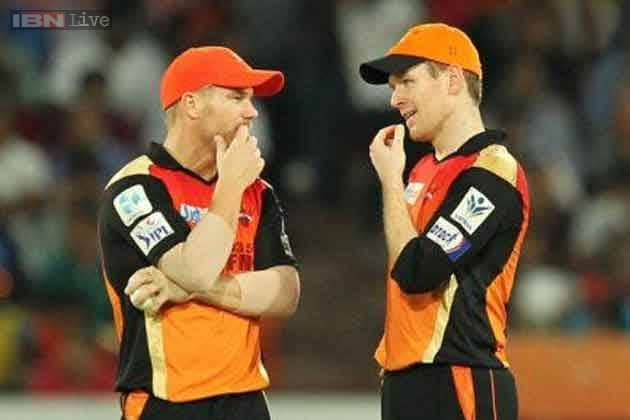 There were many things that went right for Sunrisers Hyderabad this season. Several gambles paid off, a few of the problems from last season were addressed, and for the most part, a place in the Pepsi IPL 2015 playoffs looked all but certain. Yet, here we are once again, looking back at how a promising campaign ran out of fuel shortly before the chequered flag.
Those keen on drawing parallels will dwell on David Warner and his 'dropped' catch against Royal Challengers Bangalore in Hyderabad on Friday (May 15). Warner, usually so alert and efficient in the field, did well to hold on to a Virat Kohli skier, but unaware of his surroundings, he let momentum carry him backwards and over the boundary rope. He even committed the cardinal sin of celebrating before finishing the catch, drawing ire and derisory laughter from all corners. Hyderabad lost two valuable points, and their subsequent submission to Mumbai Indians in the final game - a nine-wicket loss - formalised their elimination.
Balance, the lack of it rather, has been at the root of Hyderabad's problems this season. On paper, they had a strong outfit, but they lacked a capable Indian batsman in the middle order, someone perhaps in the mould of Yusuf Pathan who was both a steadying influence and an attacking force for Kolkata Knight Riders. Naman Ojha has shown before that he is capable of filling that role, but he was off form throughout. KL Rahul, despite his best efforts, isn't the sort of batsman who can muscle the bowling around; he is someone who needs time to settle in. His ideal slot would have been at No. 3, but the management opted to use him as low down at No.5, where he struggled to accelerate the scoring. Hyderabad's other options were the young duo of Bipul Sharma and Ashish Reddy.
The lack of Indian batting talent triggered massive ramifications. The team management had to go out of its way to accommodate both Eoin Morgan and Ravi Bopara in the middle order - Kane Williamson was limited to just two appearances, and Kevin Pietersen was unavailable for the entire tournament - and it meant the deadly Steyn-Boult combination was restricted to just one outing, against Mumbai Indians in late April. At times, Hyderabad even had to go without both their prime pacemen.
All things considered, there was certainly potential in this team. The punt on handing the captaincy to Warner - someone with limited experience in the role - paid dividends. Unlike Shikhar Dhawan last year, who struggled with extra responsibilities, Warner was inspired by the leadership job. With the bat, he was as good as ever, and with 562 runs in 14 matches, he was the top-scorer across teams at the end of the group stages. Dhawan was in commendable form as well, and on many occasions, the two set the platform for Hyderabad's tall totals.
Providing support or taking charge, as the occasion demanded, was Moises Henriques. The Australian allrounder was bought for his base price of Rs 2 core in 2014, but played just four matches, totalling nine runs in two innings. This year, he has been a different animal. In just nine matches, he made 287 runs at 41 and a more-than-acceptable strike rate of over 136. Add to that 11 wickets at 14.36 and his value is evident.
Though Steyn and Boult were not entirely utilised, Bhuvneshwar Kumar continued to hold his own. He was once again their go-to bowler, the only constant in a pace attack that was otherwise continuously rotated. He was particularly valuable at the death, and he ended with 18 fine wickets in 14 matches at 22.61.
Unlike last year, Hyderabad's batting and bowling fired in tandem, till it all went horribly wrong against Mumbai. The management would be satisfied with the how the campaign went overall. This was a Hyderabad side that was more consistent, more of a threat than in previous years - had it not been such a slugfest in the middle of the table, they might even have made it to the playoffs. If they can address concerns over Indian batting options ahead of the next edition, they could have a truly memorable tournament.
---
---
Team Rankings
Rank
Team
Points
Rating
1
Australia
3028
116
2
New Zealand
2406
115
3
India
3085
114
4
England
3882
105
5
Sri Lanka
2454
91
FULL Ranking
Rank
Team
Points
Rating
1
England
5405
123
2
India
5819
119
3
New Zealand
3716
116
4
Australia
3941
109
5
South Africa
3345
108
FULL Ranking
Rank
Team
Points
Rating
1
Australia
6047
275
2
England
5959
271
3
India
9319
266
4
Pakistan
6009
261
5
South Africa
4380
258
FULL Ranking