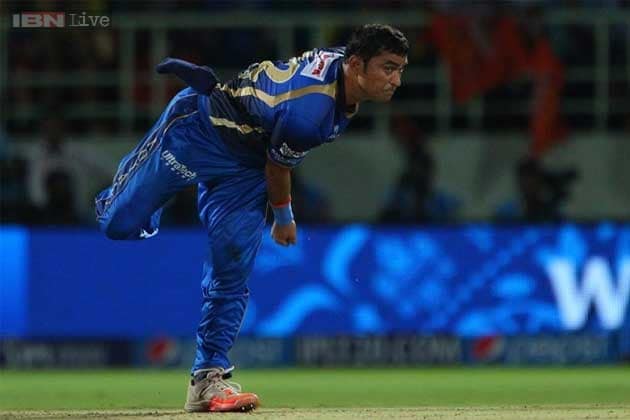 The curator at the ACA-VDCA Stadium in Visakhapatnam was certain that the pitch was going to be 'a belter of a batting pitch with some assistance to seamers early on due to previous night's rain'.
The assessment of Steven Smith, the Rajasthan Royals skipper, was much the same. He chose to bowl first but from the get go, it was clear that the pacers had little or nothing to work with. By the looks of it, the harsh afternoon sun on Thursday (April 16) had dried the surface up all too well. Dhawal Kulkarni managed to pick a couple of wickets up front, while Tim Southee and Chris Morris were restrictive but not dangerous.
It was evident then that Pravin Tambe, the legspinner, was going to be a handful on this pitch. That became all the more clear when his first delivery pitched on legstump, beat Naman Ojha's outside edge and thudded into Sanju Samson's gloves outside offstump. It was the 13th over of the innings and Sunrisers Hyderabad were stuttering at 75 for 3.
Tambe continued to beat and trouble the batsmen before finally scalping Ojha with a brute of a delivery which pitched on legstump and turned just enough to beat the batsman before crashing into the stumps. He followed it up with a flipper that caught Eoin Morgan, attempting a reverse sweep, in front of the stumps.
His quota of wickets for the day was done for but his returns of 4-0-21-2 were crucial in Rajasthan keeping Hyderabad to 127 for 5, before chasing down the target off the very last ball.
"(He is) Fantastic," said VVS Laxman, the Hyderabad team mentor, during the post-match press conference. "I've said this in the past and I have told him as well that he is an inspiration. He goes to show that age is just a number. His body language is fantastic and he read the pitch really well. The trajectory at which he was bowling was ideal for this pitch. Also, he isn't slow on the field that shows that he has worked hard on his fitness and maintaining that fitness at that age is really something."
Ajinkya Rahane, who bagged the Man of the Match award for his 56-ball 62, also lauded Tambe for his game-changing spell. "Tambe has been phenomenal for us. A 43-year-old guy putting himself out there a 100 percent. He is someone that everyone should and can learn from."
Tambe and the rest of Rajasthan's restrictive bowling aside, Laxman cited a 'poor Twenty20 pitch' as the reason behind Hyderabad's low total.
"We were 10 to 15 runs short but having said that I think the pitch was a tough one to bat on. The toss became crucial. I don't think it was an ideal T20 surface," said the former Indian batsman.
"It was a little damp underneath and we didn't expect that. There was some moisture on the pitch but we were hoping that it would be a dry one. The pitch was dry on the surface but the ball was gripping and it wasn't coming on to the bat as you would expect in a T20."
The one other factor that put continuous pressure on Hyderabad during their innings was Rajasthan's fielding. Rajasthan's fielder gave away nothing and once Rahane had gotten rid of David Warner, run out thanks a stunning piece of work at point, it seemed like Hyderabad had lost their spirit.
"I don't think it was a turning point but I think it was a big loss. Warner was batting, even on this pitch, like he had against RCB. He was timing the ball really well. It was unfortunate to have him get out in that fashion," said Laxman.
Rahane, however, downplayed the crucial run out, saying: "I always give my 100 percent when I am on the field. Sometimes it works and most times it doesn't."
Pretty much everything Rajasthan and Rahane did worked well on Thursday but for the way they went about overhauling the total. At one stage it looked like they would wrap things up with at least an over to spare but three quick dismissals and Rahane's wicket with 10 runs needed from eight deliveries put the pressure on them. It needed the calm of James Faulkner and Stuart Binny to see them through when one run was needed off the final delivery.
"I was disappointed (at getting out) but I knew Stuart and Jimmy were there to finish it off," said Rahane. "It wasn't easy to bat on. Once the batsman got set it was easier but the new batsmen at the crease had it rough. Still I knew that Jimmy and Stuart could get it done."
While their second loss in three games was a concern, Laxman insisted that Hyderabad, who face Delhi Daredevils at the same venue on Saturday, were not worried about Ishant Sharma. The seamer, who gave away 46 runs from 3 overs and bowled four no-balls against Chennai Super Kings, was left out of Hyderabad's clash against Royal Challengers Bangalore and Rajasthan. He was, however, spotted bowling very gingerly at the nets before the start of Hyderabad's first home game of the season.
"His fitness is fine. No-balls were an issue and he has been working really hard on getting over that. His bowling is brilliant and even in Chennai he bowled really well except for those no-balls," said Laxman. "In T20 cricket when a bowler bowls so many no-balls he loses his rhythm and confidence so he is working hard in the nets to get over the problem."