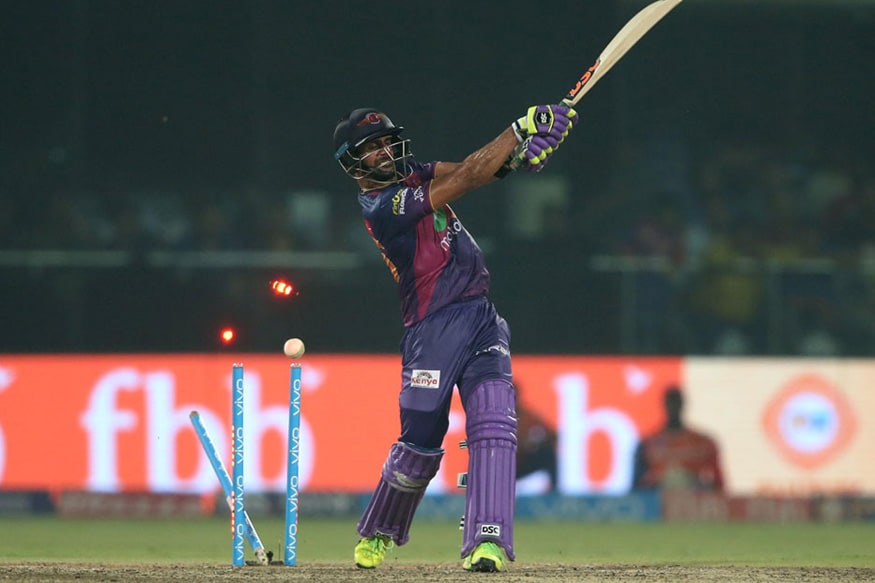 Sixty players were sold in the IPL Auction on Tuesday (December 18), with franchises picking players depending on availability among other factors.
When it comes to international players, all eyes were on Shimron Hetmyer and how big teams would go in for him. And it didn't turn out to be a surprise when he went for a high price of Rs. 4.2 Cr. After he was bought by Royal Challengers Bangalore, the big-hitting West Indian took to Twitter and said "Can't wait to join you guys (RCB)."
Thanks a lot to the guys at @RCBTweets for picking me up in the @IPL auction for 2019... Can't wait to join u guys #PlayBold

— Shimron Hetmyer (@SHetmyer) December 18, 2018
He then later pushed out a video.
Happy beyond measure to @RCBTweets for my first @IPL pick. #PlayBold pic.twitter.com/Jq1HBmPET5 — Shimron Hetmyer (@SHetmyer) December 19, 2018
England all-rounder Sam Curran, however, eclipsed Hetmyer to become the highest paid overseas player in this auction, getting picked by Kings XI Punjab for Rs. 7.2 Cr.
What a year! Couldn't be more excited to join the @lionsdenkxip at the @IPL in 2019. Thanks for the continued support from everyone @surreycricket and @footprint_se pic.twitter.com/2y1ZGAP5Bq

— Sam Curran (@CurranSM) December 18, 2018
A lot of uproar from fans was seen on social media when Yuvraj Singh was not picked by any side in the first round. Once the highest paid player in the IPL, the southpaw's form has declined in the last two years. Finally, he name was called back in the accelerated round and he was snapped by Mumbai Indians for Rs. 1 Cr. 'Ab maza ayega' said Yuvraj in a Twitter clip, which loosely translates to 'Let the fun begin'.
I am glad to be part of the @mipaltan family, looking forward for the season to begin. See u soon @ImRo45 👊 — yuvraj singh (@YUVSTRONG12) December 18, 2018
Paltan, ab aayega mazaa 🔥🔥👊🏻👊🏻#CricketMeriJaan @YUVSTRONG12 pic.twitter.com/7fSWYnUTRQ

— Mumbai Indians (@mipaltan) December 19, 2018
Another capped Indian player, Mohit Sharma also raised a bidding war. And it was a Chennai Super Kings who picked up the Indian seamer, a return after a stint with Kings XI Punjab. "I cannot explain words what it feels like going back to Chennai," said Mohit to Cricketnext. "To be very honest, I feel like I am going back home now. Everything that I have received in my life is from Chennai. I have played all my cricket from Chennai."
The IPL Auction always brings unearthed talent into the spotlight, and it was no different on Tuesday. Among the many who were sold, Prabhsimran Kaur and Varun Chakravarthy stole the headlines. Here's how they reacted to their sale in the auction, speaking exclusively to Cricketnext.
Varun Chakravarthy: "I was following the auction and just saying 'kadavule, kadavule' (god, god) as the bidding went on. I thought the price was a bit too much, I didn't expect it," he says, minutes after being picked for the huge sum. "I was thinking they'll take me for my base price (Rs. 20 lakh). I swear I was expecting only to be taken at the base price!"
Prabhsimran Kaur: "I was watching the auction with my parents at home in Patiala and when the bidding for me finally ended they had tears in their eyes. I never even dreamt that I would be picked by such a huge bid from Kings XI. Now I want to prove their faith in me."
Among the many happy faces, there were a few players who were also disappointed at not getting picked in the auction. Indian batsman Manoj Tiwary was left wondering why he was not picked in the auction despite having done well in the tournament. 
Wondering wat went wrong on my part after getting Man of a match award wen I scored a hundred 4 my country and got dropped for the next 14 games on a trot ?? Looking at d awards which I received during 2017 IPL season, wondering wat went wrong ??? pic.twitter.com/GNInUe0K3l — MANOJ TIWARY (@tiwarymanoj) December 18, 2018
Unmukt Chand also took to Twitter after the disappointment.
Life is always teaching us something. One just has to keep the senses open&take it all in.Small success&failures dnt stand anywhr in d bigger picture.Everything is temporary.Real fun lies in persisting hard enuf&moving 4ward&seeing life as it unfolds wd its own magical ups&downs

— Unmukt Chand (@UnmuktChand9) December 19, 2018
Here are some of the other cricketers' reactions:
I have heard a lot of really positive things about the @KKRiders family and I am honoured and excited to now be a part of their successful franchise in the @IPL @StarSportsIndia #KorboLorboJeetbo#VIVOIPL — Carlos Brathwaite (@TridentSportsX) December 19, 2018
Really excited to be a part of the @RCBTweets family ! looking forward for an amazing season #playbold

— Gurkeerat Mann (@gurkeeratmann22) December 19, 2018
Wow, thrilled to be a @kkriders player for the 2019 iplt20. Love India! Thanks for all the messages of support. https://t.co/uBnTvmtIxr — Harry Gurney (@gurneyhf) December 18, 2018
What an exciting moment to go throught the @IPL auction again. Awesome to be joining @DelhiCapitals and cant wait to be part of the buzz and excitement of cricket in India again. #IPL2019 #DontDieWondering — Colin Ingram (@CAIngram41) December 18, 2018