Spot-fixing probe deals a blow to tainted players
Rajasthan Royals suspended Sreesanth, Chandila and Chavan on Monday even as police detained an ex-Ranji player in connection with the case.
Updated: May 20, 2013, 9:38 PM IST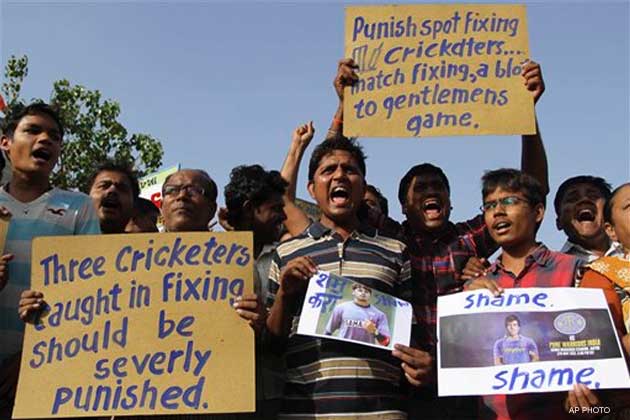 New Delhi: Rajasthan Royals on Monday suspended the tainted trio of Sreesanth, Ajit Chandila and Ankeet Chavan in the wake of the spot-fixing scandal on a day when investigations moved with a breakneck speed and resulted in the detention of one more cricketer, Baburao Yadav, a former Ranji Trophy player.
Rajasthan Royals cricketers Sreesanth, Ajit Chandila and Ankeet Chavan were arrested on May 16 on charges that they spot-fixed certain matches in IPL 6. All three players, along with several bookies and fixers, have been arrested in the case and their interrogations are on.
Sources said The Board of Control for Cricket in India (BCCI) has backed the need for a tough anti-fixing legislation and will write to the government demanding the same.
The Delhi Police claimed to have made a breakthrough in the IPL spot-fixing probe and recovered Rs 20 lakh from a relative of arrested cricketer Ajit Chandila in Faridabad even as a petitioner moved the Supreme Court seeking a stay on the semifinal and final matches of the ongoing season of IPL.
Chandila accompanied the police team during the raid and told them the money was hidden in his cricket kit. S Sreesanth, Ankeet Chavan, Chandila and the bookies, who have been arrested, were earlier taken out of their cells to get their voice samples recorded for forensic analysis that could help investigations.
Meanwhile the chief of BCCI's anti-corruption unit, Ravi Sawani, met Delhi Police officials on Monday. Sawani, who has been appointed by the BCCI as commissioner of inquiry to probe spot-fixing allegations, said the Cricket Board has assured the Delhi police of providing all possible assistance in their investigation. "I had a fruitful meeting with Delhi Police Commissioner Neeraj Kumar and other top officials. The BCCI has assured Delhi police of all its co-operation," Sawani told reporters after the meeting.
Sawani said the Delhi Police has also been apprised of Rajasthan Royals' intention to file a criminal complaint against its three cricketers arrested for spot-fixing. "We have also told them about the intention of the BCCI to request the Rajasthan Royals franchise to file a FIR with the Delhi police because the three players who have violated the code are also guilty under the criminal code and that the affected party is Rajasthan Royals. They would be filing a complaint with the Delhi police," he said.
Asked about whether the Delhi police investigation is going on beyond the three arrested cricketers, Sawani chose not to react. "I am not at liberty to discuss anything more with you at this stage," he said.
Sawani said the BCCI has initiated an internal inquiry to probe into the allegations of spot-fixing but refused to set any deadline for the submission of his report. "We will hold out a separate disciplinary inquiry and once I submit my report to the disciplinary committee, the BCCI will take appropriate action based on my report. I can't give you a definite timeframe. It will take some time to collect all the evidences in this matter," he said.
Sawani also refused to share any further information with the media as it "could affect my inquiry". "Any information that I have, I cannot share it with the media because it could affect my inquiry," he said.
The meeting between ACSU chief Sawani and Delhi police officials lasted for 15 minutes. The IPL was dealt a massive blow when a special cell of the Delhi Police arrested India pacer Sreesanth and his Rajasthan Royals teammates - Chandila and Chavan - last week for indulging in spot-fixing in at least three IPL matches as per arrangements with bookies who have underworld connections abroad.
Meanwhile, the petition filed in the Supreme Court by a Lucknow resident has also sought an Special Investigation Team (SIT) probe into the spot-fixing scandal that has rocked the T-20 cricket tournament. The petition has made all IPL franchises and BCCI party in the case along with the Centre.
"There are many irregularities in the IPL beginning from auction of players. Black money and money from anti-social elements are involved in the IPL which needs to be probed," advocate Vishnu Jain, who filed the petition, said.
As investigations into the case continued, more murky details tumbled out. Mumbai Police sources said information on Sreesanth's laptop and notebook points to interactions with a Bollywood casting director, who sent him pictures of models.
The casting director was questioned by the Mumbai Police on Monday evening. The casting director did not meet Sreesanth and interacted with the cricketer through email and Facebook, sources said. His interaction with Sreesanth was revealed through data in Sreesanth's laptop.
Police said the casting director is associated with a Hyderabad-based company called S36. He has claimed that Rajasthan Royals player S Sreesanth is also a partner of this company.
Some emails - possibly Sreesanth's exchange with Jiju and a bookie Jupiter have been deleted and the cyber cell will be asked to retrieve all the mails. Police sources have also found a photograph of Sreesanth and Jupiter saved in the laptop.
Police have also retrieved a list of contact numbers saved in a folder in the laptop, which were all saved under code names.
A separate complaint has been filed with Chennai Police Commissioner by a cricket fan who has demanded action against the trio for criminal breach of trust and cheating. The complaint also says that the BCCI President N Srinivasan must resign on moral grounds.
(With Additional Inputs From PTI)
---
---
Team Rankings
Rank
Team
Points
Rating
1
Australia
3028
116
2
New Zealand
2406
115
3
India
3085
114
4
England
4326
106
5
Sri Lanka
2454
91
FULL Ranking
Rank
Team
Points
Rating
1
England
5405
123
2
India
5819
119
3
New Zealand
3716
116
4
Australia
3941
109
5
South Africa
3345
108
FULL Ranking
Rank
Team
Points
Rating
1
Australia
6047
275
2
England
5959
271
3
India
9319
266
4
Pakistan
6009
261
5
South Africa
4380
258
FULL Ranking