IPL wrongdoings reflect the society we live in: Jamie Alter
Cricketnext editor Jamie Alter joined IBNLive readers for an interaction on the IPL play-offs and the shadow of spot-fixing.
Updated: May 20, 2013, 5:23 PM IST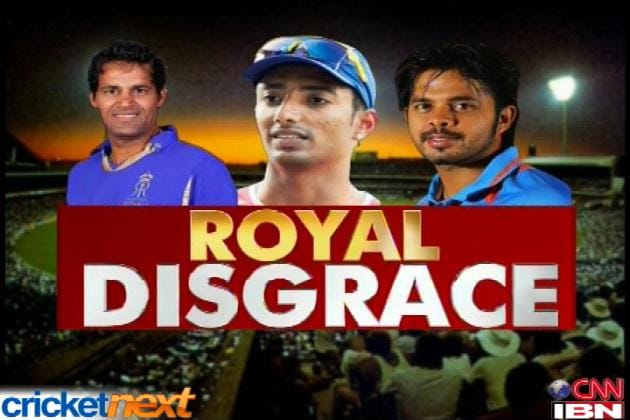 Cricketnext editor Jamie Alter joined IBNLive readers for an interaction on the IPL play-offs and the shadow of spot-fixing.
Q. Hi Jamie,Let it be regulated under Govt of India. Your views. Asked by: Samuel
A. Hi Samuel, I'm no legal expert by any standard but I will say that I believe the IPL should come under the RTI Act. According to section 2(h) of this, even a non-government organisation comes under the ambit of the transparency law if it is substantially financed, 'directly or indirectly' by funds provided by the appropriate government. This is what Ajay Maken had been pushing for when he was Sports Minister because... and here I quote: 'The BCCI gets substantial indirect funding from the government in the form of revenue forgo like concessions in income tax, customs duty, etc and land at concessional rates for stadiums." I concur.
Q. Hi Jamie, it was heartening to see the Sunrisers Hyderabad make it to the play-offs that too at the expense of RCB. While we agree that SRH can boast of a superior bowling lineup, yet do you suppose a particular yesteryear swinging sultan, Waqar Younis, has anything to do in the achievement of SRH this far? Asked by: Mansoor
A. Good question, Mansoor. When the tournament began I looked very skeptically at Hyderabad because of their batting but the bowling has performed excellently to help the team into the play-offs. Surely Waqar had something to do with that, considering his pedigree. There's probably little he could have told a champion like Steyn but that the team got a decent amount of success out of a perennial struggler like Ishant Sharma and a military medium-pacer like Thisara Perera was in the wickets shows that there was a degree of authority at the top.
Q. When India Tour abroad we see manager role is Imp..Players need to report everytime to them..IPL team also have Managers, Should their role in spot fixing also be question by police and BCCI? Asked by: Amit Bhilwade
A. I don't think any team needs a manager. As for any police investigation into spot-fixing, all any team official should be questioned. Its compliance.
Q. Do you think Mumbai Indians have it in them this time to lift the trophy? Asked by: Rohit
A. I don't think any team needs a manager. As for any police investigation into spot-fixing, all any team official should be questioned. Its compliance.
Q. These three fixers should be given life term...then only there will be fear in the heart of the players of doing it..only banning them from cricket is not enough. Asked by: Rakka
A. Rakka, the strongest punishment would be imprisonment.
Q. Is there any solution to spot fixing? Asked by: Rohit
A. No. It comes down to greed and there is no limit or solution to greed.
Q. Do you think Mumbai Indians have it in them this time to lift the trophy? Asked by: Rohit
A. Well, they have a superb team standing in their way on Tuesday. Considering that Mumbai have beaten CSK twice this season, there is every reason to believe they can do so in New Delhi. But should CSK lose and then manage to make it to the finals by virtue of the Qualifier, I don't know if Mumbai will have it in them to beat CSK twice in six days. CSK, as we know, are tigers in the knockouts.
Q. Role of the team owners should also be investigated..what you say? Asked by: Rajesh
A. The role of any person associated with the team in a managerial role should be investigated.
Q. What is the minimum punishment they should be given according to you..what punishment they deserve..is banning them is good enough for their crime..they are criminal. Asked by: Ramesh
A. Well Ramesh, I do not see an end. But what is needed are severe punishments, severe vigilance and proper education. Ensuring player agents are accredited is hardly a big action from the BCCI. The BCCI has practically shielded players from any punishment.
Q. MI, CSK, SRH and RR..who amongst them is favourite to you to win the IPL 6 cup> Asked by: Gama
A. Gama, my money is on CSK because unlike the last couple seasons they have not had to scrape into the knockout stage. And their abilities in the final four stage is well know. A player like Raina ups his game in the play-offs (he averages 51 here) and then there's a certain MS Dhoni.
Q. Will this spot fixing saga affect RR game and their prospect to go to final. Asked by: Lallu
A. Rajasthan are shook up, it seems. Their batting in the last match was poor. I'm sure they have their focus on the cricket and are doing their best to get the best 11 on the field.
Q. Ban IPL and all major t20 leagues..make stern hard laws for fixing..sentence the guilty with harshest of punishment..take away with them all the wealth earned by cricket..what you say. Asked by: Guru
A. Guru, the IPL will not be scrapped. Yes, stern rules are needed and the sternest punishments. To curb illegal activities you need to have strict vigilance which no T20 league has right now.
Q. This fixing saga is going for decades now..people have been punished like the Pak cricketers but still it does not seems to stop..is there any end to this. Asked by: Raveesh
A. Not that I see. But it can be curbed.
Q. Do you think that the 4 teams which has qualified for this year playoff are the best and deserves to be there. Asked by: Chintan
A. I think RCB were better than where they ended up, despite having an average bowling attack.
Q. Voices are on to BAN IPL..is banning IPL solution to the spot fixing..we saw how in BPL spot fixing was found but was covered up by Bangladesh board..only IPL is not there..spot fixing is happening in club level also..how to tackle this. Asked by: Manas
A. As I said earlier - stricter vigilance, stricter punishments.
Q. Does SRH have enough fire power to lift IPL 6..they may be having good bowling line up but there batting is not great..they have only made scores in the Rane 130-140 and that also they have managed somehow. Asked by: Lila
A. They have surprised a few teams, I think, by reaching this far. For them to make the final and then win the title the batting will need to be better, especially Cameron White and Hanuma Vihari. Dhawan and Patel are looking good, but that won't be enough. Perera down the order has to be excellent from here.
Q. Was RCB a better team to be in top 4 than Sunrisers. Asked by: Manak
A. Overall, yes. Gayle, Kohli, de Villiers are the best top order around.
Q. Is the current format of the playoff good or do you believe that having 2 semi finals is better. Asked by: Rajiv
A. I think two semi-finals is the simplest. No gimmicks.
Q. Its very hard to believe that only 3 players from only 1 out of 9 team is involved in the spot fixing..I think there is more broader range of players involved. Asked by: Jat
A. Could be.
Q. Do you support the voice of banning IPL? Asked by: Mahajan
A. You cannot ban it. That's unreasonable to expect. But it should have been temporarily suspended.
Q. What is one thing you want to change in IPL. Asked by: Abhishek Thusu
A. Reduce the number of matches and have it spread in two parts each year.
Q. Do you think that even some of the regular indian cricket team players could be involved in all this? I mean this just cant be restricted to 3 players only. Asked by: gaurav manglani
A. I would hope not.
Q. Do you believe that only 3 bowlers are part of the spot fixing. It is not so easy to agree on a number of runs per over, as the batsman has to play a shot and the fielder has to be not able to reach it or play out a hard try and miss the ball? Couple of runs in the overs in question where edged ones? Isn't there more that what meets eye? Asked by: Narayan
A. The police say there are more. Considering how they have gone about this investigation, there do seem to be more involved.
Q. Which is your personnel favourite among the top 4 to win the league season 6. Asked by: duggu
A. I don't support any IPL team but CSK look the strongest.
Q. Do you think that the playoff matches should be in neutral grounds like in Indore of cuttack. Asked by: Eshu
A. Delhi is also a neutral ground this time.
Q. Why cricket is more Vulnerable to fixing..is this happening in other sports as well? Because in a single players sports its much easier to fix than in a team sport. Asked by: Disha
A. Its a reflection of the different cultures that comes together in cricket. Unfortunately, this seems to stem from south Asia. Cricket has so many variables that the fixers can latch on to. The smaller the variable, the greater the gain.
Q. Do you think that following the spot fixing scandal RR had lost its fan base and are least favourite to win. Asked by: Fansy
A. No, I don't think so.
Q. It is very obvious that some umpires are also involved in fixing, do you agree? Asked by: satish
A. No.
Q. Is the credibility of IPL lost in terms of foreign fans. Asked by: Zeba
A. The credibility has been severely hit whatever way you look at it.
Q. How does the spot fixing affects the quality of game? Asked by: Anirudh
A. It ridicules and lessens it. To spot-fix you have to manipulate your game in a manner which hurts your figures and performance and therefore as the power to manipulate a match result.
Q. Hi Jamie. Who wins u more matches in this format of cricket, T20 - the specialists or the all rounders. Asked by: satyendra
A. All rounders, if they are specialists.
Q. Mumbai Indians haven't been that good whenever they have played outside Mumbai and play-offs will also be played outside mum. Do you think Mumbai have it them to cross the lines this time? Asked by: satyendra
A. They have looked good overall. If Tendulkar and Smith are fit and play together, the team will be lifted. I can see them reaching the final.
Q. Why player's like Sreesanth are not satisfied with Money? Asked by: Dalvi
A. You'd have to ask the individual.
Q. How is it just possible to have so many super over matches in IPL....two teams scoring equal amount of runs, that happens very rarely in international cricket....but has happened quite a lot in IPL....should we start doubting those matches also? Asked by: gaurav manglani
A. Well if you look for odd happenings then from season one you will find oddities. The fan will surely look at anything even remotely unfortunate or sloppy as a sign of fixing. Its sad.
Q. Do you think that all the close finish matches should come under scanner..like last ball no ball by RP..dismissal of Yusuf Pathan by obstruction etc. Asked by: Mahan
A. The RP Singh no-ball was odd. Maybe it is being investigated. I do not know.
Q. Every time it will be pleasing to watch any team which entered as underdogs and played some outstanding cricket. Do you think SRH has the potential to lift the trophy? Asked by: Anirudh
A. The bowlers will need to be superb and the batting will have to punch way above its weight. It would be a proper underdog story if they win, wouldn't it?
Q. Just look at the credibility of the the owners of IPL teams. One not paying salary to its employees; one accused by SEBI; another questioned by ED. We can make the inference about the credibility of IPL. Asked by: pc
A. There are a lot of grey areas, yes.
Q. On one of your earlier "Chat with Jamie Alter" you had mentioned that you don't see Sunrisers at the playoffs. Yet here they are. As an editor and analyst I am sure you have had your share of surprises. On the same lines....what are the chances of RR lifting the trophy this time? Asked by: Vikas
A. Yes, from the start I was skeptical about Hyderabad. I am glad to have been proven wrong. For Rajasthan to win the IPL it will need two superb all-round performances from Shane Watson, a good opening stand from Dravid and Rahane, extremely tidy bowling and fielding and the same fight-to-the-last-ball mentality the team had displayed this season.
Q. Azharuddin is probably the King of Fixing in India..what we see now is that he is an MP from the ruling party..what msg BCCI has given to the players..if this is the case then why should any one fear from fixing..if Azharuddin would have jailed then I could have seen a change.. Asked by: Manoj
A. The message given is that you are shielded.
Q. Are you predicting increased teams and a fresh auction next year? If yes, shall there be a retention rule again like last time? Asked by: Pushkar
A. There will be a new auction and I do see the player retention rule. Can't see CSK and MI and RCB letting go of a few players.
Q. IS CSK becoming like MU of EPL. Asked by: Madan
A. I loathe such comparisons. How do you compare a football establishment that has been in existence since 1878 and has 52 total titles to a T20 franchise created in 2008?
Q. Do you think, ICC 2011 World Cup was also fixed? Asked by: Manish
A. Lets stick to the IPL.
Q. Do you think Amchi Mumbai Indians will beat CSK tomorrow? Asked by: Dalvi
A. I think CSK will win.
Q. When they have players, they should win. As simple as that #RCB They played as a team and no luck has played a major role in their wins #SRH But still you say RCB deserves to be in top 4..why? Asked by: Anirudh
A. RCB were a better team than where they finished.
Q. Should CSK play Nannes or Ben Hilfenaus during the playoffs considering their experience? Asked by: Karthik
A. Hilfenhaus is in Australia. Nannes does not have enough match experience considering he has not played since April 28.
Q. 5 minutes delay in live telecast and legalise betting may solve spot fixing in IPL? Asked by: Kumar
A. Not at all. People can find out whats happened at the toss without live telecasts.
Q. Hi Jamie, I have played club cricket and been following the game for the last 45 years and honestly, I did feel funny while watching certain matches(below 60 score by a top team, a series of dropped catches, half foot no ball in this season and many more in the previous ones). I hear many esteemed ex-cricketers, commentators trying to convince us the public to believe that nothing sinister is happening. In fact a great ex-captain of India attributes these incidents to the great 'uncertainities of the game of Cricket'. Is it that I am negative minded that I am able to feel these negative things? Asked by: Ramana NA
A. Well, there probably are enough incidents on your TV to lead you to raise suspicions about several matches, Ramana. You don't have to be a negative person to get negative vibes from much of the cricket on TV these days.
Q. Will you blame the players only or even the govt has bungled up grossly on this by not controlling the Bookies in spite of knowing that they are openly operating in the country? Asked by: gopal
A. The entire system and society we live in is flawed, Gopal. What happens between players and fixers is a direct reflection of the society we live in and the environment in which cricket is run.
---
---
Team Rankings
Rank
Team
Points
Rating
1
Australia
3028
116
2
New Zealand
2406
115
3
India
3085
114
4
England
4326
106
5
Sri Lanka
2454
91
FULL Ranking
Rank
Team
Points
Rating
1
England
5405
123
2
India
5819
119
3
New Zealand
3716
116
4
Australia
3941
109
5
South Africa
3345
108
FULL Ranking
Rank
Team
Points
Rating
1
Australia
6047
275
2
England
5959
271
3
India
9319
266
4
Pakistan
6009
261
5
South Africa
4380
258
FULL Ranking