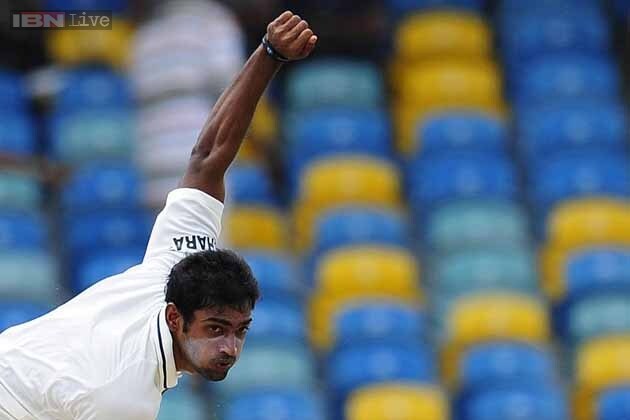 Bangalore: "Yes, definitely," said R Vinay Kumar, Karnataka's captain, with a smirk on his face during the post-match press conference on Friday (March 20), on being asked whether he was bored of answering the same set of questions over and over again.
Karnataka became only the second state team after Mumbai to defend the Irani Cup, after they secured a massive 246-run win over Rest of India on the fourth day at the M Chinnaswamy Stadium in Bangalore. They extended their title tally over the last two seasons to six, while their unbeaten streak in first-class games went to 29, a streak that is in place since November 2012.
"Keeping things very simple has been our formula. When we started for Vijay Hazare (this season), it was all about winning one game at a time without thinking about trophies," said Vinay, explaining the secret behind their success "Everyone, even the debutants, contributed in each department and all are capable of making it big. Out of the 11 players, if five or six perform then the consistency will be there."
The day started with a brilliant unbeaten 123 from Manish Pandey, as Karnataka set RoI a target of 403 runs in a little over five seasons. After that, Karnataka took just 43.3 overs to wrap things up, bowling out RoI for 156.
The key moment of the day arrived within the first four overs of RoI's chase, as Abhimanyu Mithun picked up three wickets to reduce them to 8 for 3. Mithun, one of the vital cogs in Karnataka's journey, finished the season with 47 scalps.
Vinay has been Mithun's new-ball partner for many years now, and he was impressed with the way the right-arm seamer had progressed.
"He has grown as a bowler. He is attacking. Today, he was very eager to perform," said Vinay. "The pitch had cracks, and the pace at which he is bowling, it is very difficult for the batsmen.
"On the KSCA pitch we need to bowl wicket-to-wicket. The plan was to come in short spells and bowl in the right areas."
After Mithun's heroics in the morning session, Shreyas Gopal returned career-best figures of 4 for 39 in six overs to bring a hurried end to the proceedings.
Shreyas, who had taken a hat-trick in last year's Irani win, finished this season with 40 wickets. Vinay said Shreyas has grown to become a "breakthrough bowler", and will be more potent with more consistency.
Mithun, Shreyas, Vinay, HS Sharath and S Arvind produced a consistent stretch of dot balls that left RoI searching for scoring options. Manoj Tiwary, RoI's captain, felt that was a decisive factor in the way the game panned out.
"In days' matches, if you bowl a lot of maiden overs, the pressure will build on the batsman. But, we were not able to bowl too many maidens," said Tiwary, even while expressing his dissatisfaction with a few umpiring errors. "We were a little inconsistent as far as our length and line is concerned. They capitalised on the loose balls, which were provided by us.
"We bowled too many overs outside the off stump and few of the bowlers were not getting into the rhythm."
Tiwary himself had an ordinary outing, managing just 14 and 24 in two innings.
"Something is obviously missing in my batting, maybe it's the mindset or a loss of concentration, or maybe it's a technique thing. It's just about going back to the basics now, watch lot of videos to see where things are going wrong," he said, reflecting on his current form. "But, I think very soon I will be amongst runs. I know this game was crucial for me, but I can't help it. Now I just have to look forward."
With respect to looking forward, he could have spoken for all the other RoI players barring Kedar Jadhav, who hit two fifties, Varun Aaron, who recorded his career-best bowling figures, and Shardul Thakur, who took yet another five-wicket haul and finished the season with 54 wickets.