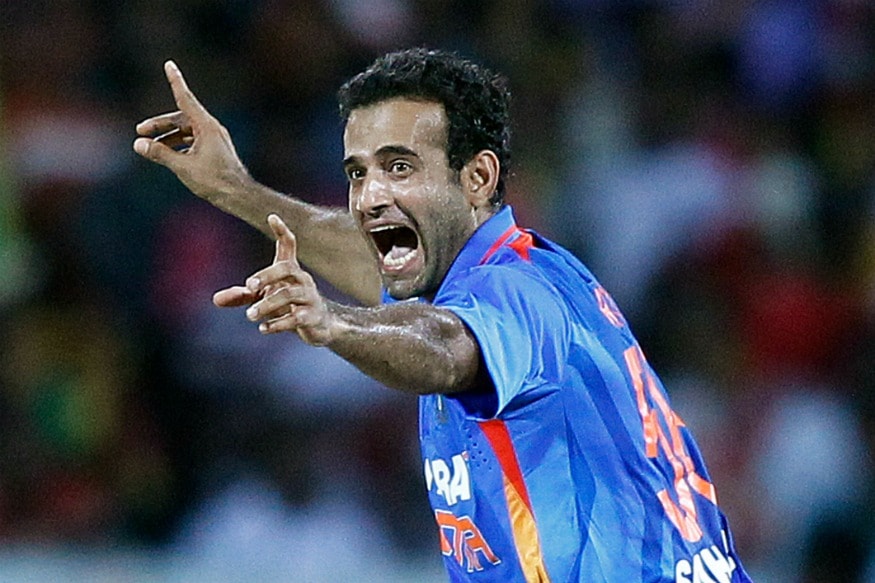 New Delhi: Irfan Pathan was once hailed as the all-rounder that the Indian cricket had been looking for since the time Kapil Dev quit international cricket. The Baroda lad performed for the country on numerous occasions with the ball, as well as the bat. But a sudden dip in form, and a string of recurring injuries saw him out of the Indian setup in 2012, when he was 28.
Now nearing 33, Pathan, still harbours hopes of donning National colours. Since then, a lot has changed in the team setup, and the team has already found it's all-rounder in Hardik Pandya, but Pathan is not ready to give up hopes of playing for India again. His fans too, want to see him in action after a long hiatus.
"Even if I want to forget (the glittering moments), you know, my fans won't let me forget, which is good, which is great," he told ESPNCricinfo in a candid conversation. "That keeps me going as well."
The one and only way to return to national fold is perform well in the domestic cricket, and the southpaw is ready for the challenge. Having said that, the Ranji season hasn't begun on a very bright not for the Baroda captain and his team.
"I started early this season and I'm doing everything that I could to hopefully achieve my dream in the future," he says. This season is going to be very, very crucial. I know that I'm – you know, I'm standing on thin ice."
Ever since his ouster from the team, Pathan hasn't given enough reasons for the selectors to consider his name too. The situation has gone from bad to worse as he just featured in one IPL match this season for Gujarat Lions, and didn't perform well there too. But he feels that the main culprit is the injuries he suffered over the years, and how they took a toll on him.
"I was playing a Champions League game, the semi-final," he remembers. "We lost the game. The same night we took a flight [back to India]. A couple of days in between and I played a three-day game against England. Third day, the last day, I took a flight to Baroda. From the next day onwards, I played a Ranji Trophy game against Karnataka. I scored a hundred in that game, bowled more than 20 overs in an innings, so I played about nine days continuously."
"My knee flared up and I got a fracture. So, in ten days I took an international flight, played a T20 game, came to India, I was still jet-lagged, played a three-day game, scored 45 against England, bowled more than 20-25 overs [19 overs], took a flight on the third day, played the Ranji Trophy whole game, and on the last day I got injured. Who plays that? No one plays seven days of continuous first-class cricket. So that was my commitment and eventually I got injured."
"That experience made me a person who sees the larger picture, and, you know, made me who I am. So there is no regret, but looking back in terms of, you know, when you said there [has not been much] first-class cricket – because of so many other reasons as well. It's easy for someone to write that he played less first-class cricket."
"I haven't talked about this but this is what happened before I got injured. So, if not me, even the fittest guy would get like, you know – in terms of energy, people used to call me powerhouse because I can go on the whole day and energy was never an issue, but managing workload sometimes was an issue with me. Sometimes I used to overwork, so that was a main issue and this was happening exactly that way. I needed help as well, and I asked for help and I didn't get help."
"I was regular member of [the side in] one-day cricket," he says. "I was Man of the Match in my last match before I got injured. I wanted to make a comeback to Test cricket, so what I was doing? What I did was, came back, took a flight, in nine days I played a three-day game, I played a four-day game. I asked the question to someone that, you know, these are so many days – you know, in this little span of time, [am I going to have to play] so much cricket? I got an answer, 'If you're going to play, if you're going to make a comeback to Test cricket, you play.'"
"Then I played. I wish I was smart enough not to play, but I didn't know that I was going to get injured. I think people just sometimes want to say things, they just want to talk without having the real facts," he concluded.