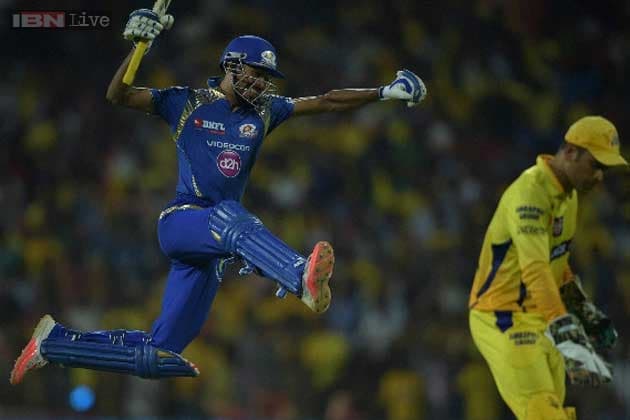 "He is definitely the one to watch out for," Ricky Ponting. "He has been very impressive," Sachin Tendulkar. This is how two of the modern day cricket's greatest batsmen described a 21-year-old Baroda all-rounder during the course of the Indian Premier League season eight.
When Mumbai Indians won the IPL crown on 24th May, 2015, a young Hardik Pandya also grabbed a sizeable share of that success. Pandya hogged the limelight with his power-packed performances and time and again proved his worth for the Mumbai Indians.
Pandya first hit the limelight in the game against Chennai Super Kings. Mumbai needed 30 from 12 balls and Pandya smashed three lusty sixes in four balls to leave the visitors needing only five from the last over and turned the match in Mumbai's favour.
The youngster next carried Mumbai Indians on his shoulders against the Kolkata Knight Riders. Coming in to bat with the scoreboard reading 79 for 4 in 12 overs, Pandya propelled Mumbai's score to 171 with a fiery 61 off 31 balls. It was not just the runs he scored but the way he scored those runs made the heads turn. During his knock, he hit Umesh Yadav for four boundaries on the trot, smacked Sunil Narine for a huge six over long on, and ransacked 17 runs off Andre Russell.
While many would have been caught speechless with Hardik's energy and belligerence, Kiran More, the former India wicket-keeper, under whom Pandya started his cricket journey at the age of 5, is not surprised.
"Hardik, along with his brother, came to my academy (KiranMore Cricket Academy in Vadodara) at the age of 5 and 7 respectively. Both the brothers are very talented and focussed. I have never doubted Hardik's capabilities. He is an important part of the Baroda team. There's a lot of talent in him right from his childhood.
"I have seen him grow and progress as a cricketer. Getting picked by Mumbai Indians is not easy and to go and perform at such a big platform is even harder. He has shown that he has the temperament of performing under pressure. Performing against some of the best in the world is certainly not easy but he has done that in whatever limited opportunities he has got," More told Cricketnext.
Hailing from a modest background, Pandya has certainly carved a niche for himself. However, More reckons the road ahead is arduous and he has to work hard.
"There's a still a long way to go for him. He has to work hard. It's early days in his career and he has to stay focussed and put to use whatever he has learnt during his time with the Mumbai Indians, which is a great team. They have legends like Ponting, Tendulkar, (Anil) Kumble in their team as mentors. Rubbing shoulders with such people is fantastic."
More, who always stresses on domestic cricket rather than IPL, feels this year's Ranji Trophy will be an important assignment for Pandya.
"I have always said that IPL can be a benchmark for national selection but this year's Ranji Trophy will be very important for him. He has to score. If he can get 600-700 runs for Baroda, it will be fantastic for him. I have always believed that a cricketer has to perform well in the domestic tournaments like the Ranji, Duleep (Trophy) and the Irani (Cup)."
The dearth of a genuine fast bowling all-rounder in the Indian team is an open secret now. Since the departure of Kapil Dev, India have always felt the need for a No. 7 who can bowl seam-up. More feels Pandya can be the answer. However, the former national selector reveals Pandya was not always a fast bowling all-rounder.
"He was always a regular right arm leg-spinner and a batsman. His fast bowling happened all of a sudden. In a local academy match, we were short of a fast bowler. So, we asked who is willing to bowl fast and Hardik said yes. And he bowled very well. He scalped 7 wickets in that match. From the last two-three years, he has been a fast bowling allrounder and has been doing pretty well. His performances have proved that he can be a genuine fast bowling all-rounder for India in the coming years," More said.
Another quality which makes Pandya stand out is that he hardly gets nervous and wears a confident look on his face. And More too agreed but had a word of caution for the youngster. "Talking about handling pressure, Hardik has always been capable of it. It is not that he has been suddenly picked up by Mumbai Indians. Hardik has been consistent in the past. To get into the playing XI is not easy and he has showed his talent. He has taken nicely to the pressure of performing at the big stage," he said.
"We are always there to help him stay focussed. I already had a word with him. He is a mature kid and knows his thing. This is a testing time for him and he has to be very careful. There's still a long way to go for him and he has the urge in him to last the distance. And as I have said earlier, we are there to help him in every possible way," More concluded.