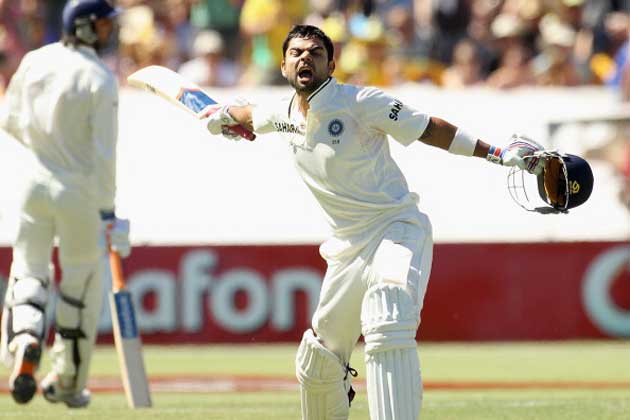 That Indian cricket is in a period of transmission is evident. Rahul Dravid's exit, the impending retirements of Sachin Tendulkar and VVS Laxman, Zaheer Khan's fitness and the lack of quality spinners are the key issues for the future of the Test team. But the matter of replacements is not so straightforward. Here's a look at four areas that the Test team faces.
The No. 3 vacancy
Dravid's retirement has left India with a massive void to fill. The one-down position is generally reserved for the team's most dependable batsman, one around whom the innings can be built. The names doing the rounds for this spot are Virat Kohli, Cheteshwar Pujara, Rohit Sharma, Ajinkya Rahane and S Badrinath, on the basis of their achievements in international and first-class cricket.
Aakash Chopra, the former India opener, believes the best candidate is Kohli considering his form in ODI cricket and how he has grown in stature after the tour of Australia. "Kohli has proven himself in ODI cricket, where he's been able to construct innings and convert them into centuries. He's been doing that consistently and he's made the No. 3 spot in ODIs his own. In first-class cricket too he's proved that he can bat long periods," he says. "In Tests he has batted at No. 6, but to me he seems a batsman who can flourish at one-down.
"The only doubt is over his technique. He's susceptible to quality pace bowling on bouncy tracks, but then many players have overcome such shortcomings to become formidable Test players. Even Dravid, when he started out, was not the most technically accomplished player. On the basis of what we've seen, Kohli looks like a batsman always looking to improve and thus he's the best candidate for the No. 3 slot in Tests."
Pujara, 24, was being seen as Dravid's successor, and boosted his reputation with a classy 72 on Test debut against Australia in 2010. However, an injury sustained during the IPL 4 ruled Pujara out for four months and since making a return to domestic cricket his returns have been average. In four Ranji Trophy matches for Saurashtra he scored 200 runs with two half-centuries, and in the Duleep Trophy he scored 55 and 2.
According to Chopra, punting on Pujara may not be a bad idea should the selectors prefer keeping Kohli in the middle order. "Pujara has been scoring runs consistently in first-class cricket and has being tipped as a replacement for Dravid a couple years ago," he says. "He has the right game for a one-down batsman, and showed what he's capable of against Australia. While his form since returning from an unfortunate injury hasn't been good, he is a batsman for the future and the selectors could take a punt with Pujara."
The middle order
The issue facing Indian cricket is not just of who the next No. 3 batsman will be. There are also spots to be filled in the not too distant future at No's 4 and 5 too, considering Tendulkar and Laxman may not be around for much longer. There are tough decisions for the selectors, and on the basis of the domestic performances the leading candidates are Rohit, Pujara and Badrinath.
Rohit, 24, would appear to be at the top of the list, given his presence in India's Test squad for Australia. He is a batsman with arguably more talent than any of the aforementioned names, but the problem is temperament. In 80 ODIs he has crossed 50 just 12 times and converted only two centuries. In those matches he has 16 single-digit dismissals, 11 scores in the 20s, and four scores in the 30s.
"There is no question about Rohit's talent," says Chopra. "He has all the shots in the book and importantly a lot of time to play them. With him, it's all about how he plays his game. It's about his temperament and attitude. He has too often got out after playing pretty 20s and 30s. He should have forced his way into the Test team by now. Nobody can help Rohit but himself."
Badrinath, 31, has played two Tests and seven ODIs, with his last international appearance coming in June 2011. With a first-class average of 60 he is one of the best domestic batsmen around, but there is a belief that time is running out for Badrinath. Chopra, though, believes the Tamil Nadu veteran deserves a chance in Tests.
"There's been talk of Badrinath being on the wrong side of 30, but then look at how consistent he's been," he says. "Its amazing how he scores runs every season, with that consistency. If you're not going to reward domestic performances, what's the point of having competitions? Badrinath has shown time and again that he can bat long periods, and he's also very fit. Fitter than several players in the Indian team today."
Chopra points out that even if India can get two or three seasons of international cricket out of Badrinath it would keep the team in good stead. "You can't even expect Kohli to play 15 seasons at this point, so planning on getting Badrinath to play a few Tests a year is not out of the question," he says. "The management needs not look ten years down the line, but instead a few years at a time. There needs to be some sort of plan, considering we are into this period of transition."
The last name is that of Rahane who over the last five years has been one of Mumbai's best batsmen at No. 3 and among the top five on the first-class scene. After four consistent seasons, during which he racked up a career batting average of over 67, Rahane, 23, made his limited-overs debut in England last year. He has yet to get a chance in Tests, but appears to be a prospect in the middle order too.
The pace spearhead
Zaheer, at 33, has to take a call on whether he can continue playing all three formats. He recently managed to complete his first full Test series in Australia (four matches) after playing two of four in 2003-04 and one of four in 2007-08. But an injury niggle ensured he missed four matches of the CB Series, and his being rested for the ongoing Asia Cup is ample indication that Zaheer needs to be monitored with regular rest between series.
Once Zaheer goes, one of the other fast bowlers will need to step up. Umesh Yadav was India's best bowler during the Tests in Australia, with 14 wickets in four Tests at 39.35, a number inflated largely by an economy rate of 4.66. He was quick and occasionally hostile but struggled for control, however, and too often sprayed the ball down the leg side. Though his strike-rate of 50.50 was decent, Yadav has much to work on if he intends to have a long Test career.
Ishant Sharma has been called one of the most unlucky bowlers by India's former bowling coach Eric Simons, but there is enough evidence to suggest it isn't so straightforward. Ishant has played 45 Tests, taking 133 wickets at an average of 37.87 and strike-rate of 66.40. That means Ishant bowls 11 overs to get one wicket; hardly the stuff of a strike bowler in Test cricket.
Praveen Kumar was outstanding in England last year but he already has a big workload in limited-overs cricket. Getting 15 overs a day out of him is expecting a lot and Praveen is also injury-prone. Varun Aaron impressed in his debut Test series, and is really an exciting prospect. However, he needs to prevent himself from injury. Vinay Kumar doesn't have the pace to trouble batsmen in Test cricket, Abhimanyu Mithun hasn't evoked enough faith in the selectors, Sreesanth has fallen by the way side and Ashok Dinda remains on the fringes. And even a superb Ranji Trophy season wasn't enough to earn Irfan Pathan a Test recall. That Vinay, Irfan and Dinda all bowl around the 130kmh mark doesn't make their Test cases any stronger.
The spin quotient
The future of India's spin bowling has been a matter of concern and debate for some time. In the post-Anil Kumble era, the leader of the pack has been Harbhajan Singh but his axing from the Test team last year showed that the selectors could not persist with an inconsistent performer.
When you get past R Ashwin and Pragyan Ojha, there's not much quality to choose from. Amit Mishra was shown up at Test level; Piyush Chawla was blooded too early and hasn't looked a potent package because of his reliance on the googly; Rahul Sharma isn't a big spinner of the ball and has too play a lot more first-class cricket before he's considered good enough for Tests.
After a splendid debut Test series – he took 22 wickets against West Indies – Ashwin struggled in Australia. In three Tests he managed just nine wickets at 62.77, a major factor being his over-reliance on his version of the carom ball and not even use of his stock delivery, the offbreak.
The former India left-arm spinner Maninder Singh, who took 88 wickets from 35 Tests, feels the likes of Ashwin are not getting the proper guidance. "Ashwin is a very talented bowler, but my concern is that he is not being handled correctly, especially in Test cricket," he says. "Does Ashwin have the backing of the captain and coach? In Australia, he said in a press conference that his job was to contain runs. I found that shocking. It was a negative comment and showed the way the management is thinking. That's not the way to guide a young and very talented spinner. Is Ashwin only content_cn to pick up wickets in Twenty20?"
Ojha was the back-up spinner in Australia and did not get a single Test to showcase his wares. Overlooked for the limited-overs leg of the same tour, he returned home and promptly began playing 50-over cricket. Ojha returned nine wickets at 32.44 from six matches for Hyderabad, with a best of 5 for 19.
Ojha, feels Maninder, is being treated like a support bowler. "He is a restrictive bowler, who operates purely on line and length. He is a containing bowler," says Maninder. "He's good in home conditions, but needs to be assessed overseas. I'm not so sure he can do the job consistently in foreign conditions."
There was a time when India - acknowledged as the home of finger spinners – was profuse with men fully skilled in the art of tweaking the ball and making it talk on all sorts of surfaces. That isn't the case today.