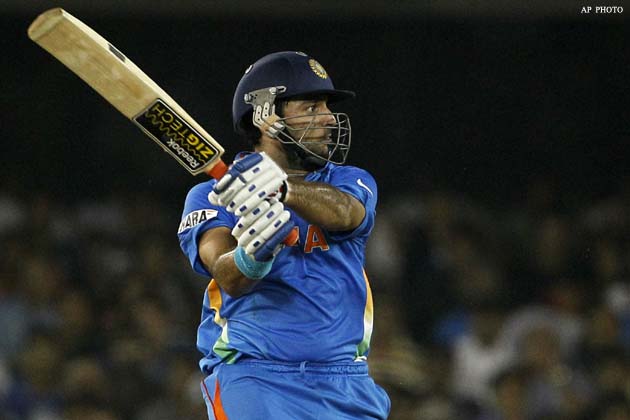 We often hear people liberally using the adage 'Form is temporary, Class is permanent'. Although it is hard to argue the cliched phrase, what happens when the form deserts you for so long that whether you have the class does not matter at all?
Yuvraj Singh and Gautam Gambhir, two inseparable cogs of the Indian team till sometime back, are trying desperately to attain the same form that made their class a very talked-about thing. There is hardly anyone who would doubt the abilities the two cricketers have, but both are facing the same problem at present - lack of form. And knowing the young talent India have at its disposal currently, will it now at all be possible for the two stroke-makers to make a comeback?
Both the players have been toiling hard in domestic cricket to make their way back into the Indian side this season, but both know that it's going to be extremely hard.
Here we are not talking about Yuvraj's comeback to the Test side, as the player never looked comfortable donning the whites. But his form in limited-overs cricket is worrisome. After representing India in 293 ODIs, scoring over 8000 runs, with 13 centuries and 51 half-centuries, Yuvraj pioneered the 50-over format. But his form has dipped so drastically that even the most ardent Yuvraj fan is running short of reasons to back him.
After a memorable 2011 ICC World Cup, in which his Man-of-the-Series performance helped India claim the title, Yuvraj was picked for five ODI series. Three ODIs against Pakistan in December 2012 (34 runs, avg: 11.33), five against England in January 2013 (runs: 126, avg: 25.20), six against Australia in October 2013 (runs: 19, avg: 4.75), three against West Indies in November 2013 (runs: 99, avg: 49.50) and two against South Africa in December 2013 (runs: 0, Avg: 0).
His form in the three Ranji Trophy matches this season (runs: 116, avg: 23.20) too is not encouraging. The aforementioned figures clearly illustrate the fact that Yuvraj is fighting the most difficult battle of his cricket career. There are some who say that his battle with life-threatening cancer has drained Yuvraj completely and that he has a very little motivation left to play cricket. But people who have seen him bat over the years would want the 32-year-old to contribute more to the Indian cricket, want him to play another defining role at the 2015 ICC World Cup.
Although short in stature, Gambhir has always presented himself as a fierce character both on and off the pitch. He is not the one who would shy away from giving it back to the opponents, who try to nudge him the wrong way. And the 32-year-old is fighting it out to get his place back in the Indian side.
Gambhir has led the Delhi side in the ongoing Ranji Trophy season, and despite his side failing to reach the knock-out stage, he has shown how serious he is to turn the tide. In nine first-class matches this season, Gambhir has 712 runs at 50.85, including two hundreds and three fifties.
With Shikhar Dhawan and Rohit Sharma scoring tons of runs in ODIs, it might take time for Gambhir to don the Indian blue jersey. But as MS Dhoni said before the South Africa series, they are keeping a close eye on Gambhir as far as the opening slot in Tests is concerned. But for that, he will have to score many more runs in whichever form he plays.
With age on their sides, the challenge for both Yuvraj and Gambhir will be to keep themselves physically fit and mentally tough. And knowing their past record, we should not be surprised if both make a positive comeback to the Indian team.