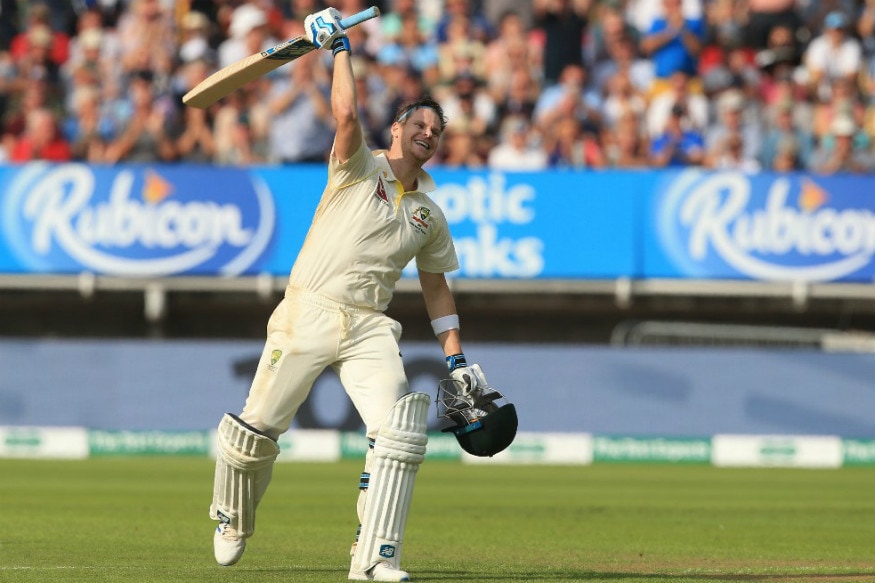 Leading media houses in India have done exhaustive surveys on "Who is the Greatest Indian after Mohandas Karamchand Gandhi?" Just like there is a huge gap between the contributions of Gandhi and anyone else in India's context, there is no one quite in the league of Don Bradman in cricket.
He was, by leaps and bounds, and more, the greatest batsman the game has ever produced.
Hence the question we attempt to answer is "Who is the greatest Test batsman after Bradman?"
For years this debate was binary – and the popular choices were Sachin Tendulkar or Brian Lara.
A closer analysis threw in other names like Greg Chappell, Rahul Dravid, AB de Villiers, Kumar Sangakkara, Inzamam-ul-Haq and AB de Villiers.
But with 774 runs in 7 innings scoring 35.5% of his team's runs in the 2019 Ashes, there seems to be a new contender.
And his name is Steven Smith!
6973 runs in 68 matches at an average of 64.56 including 26 hundreds and 27 fifties – those are Smith's staggering numbers in Test cricket.
We look at some unique numbers which make a case for Smith and will also compare him to the other 26 batsmen (excluding Bradman) who have played a minimum of 50 Tests and scored at least 5000 runs with a 50-plus average.
BEST TEST AVERAGE, RUNS PER INNINGS AND WIN CONTRIBUTION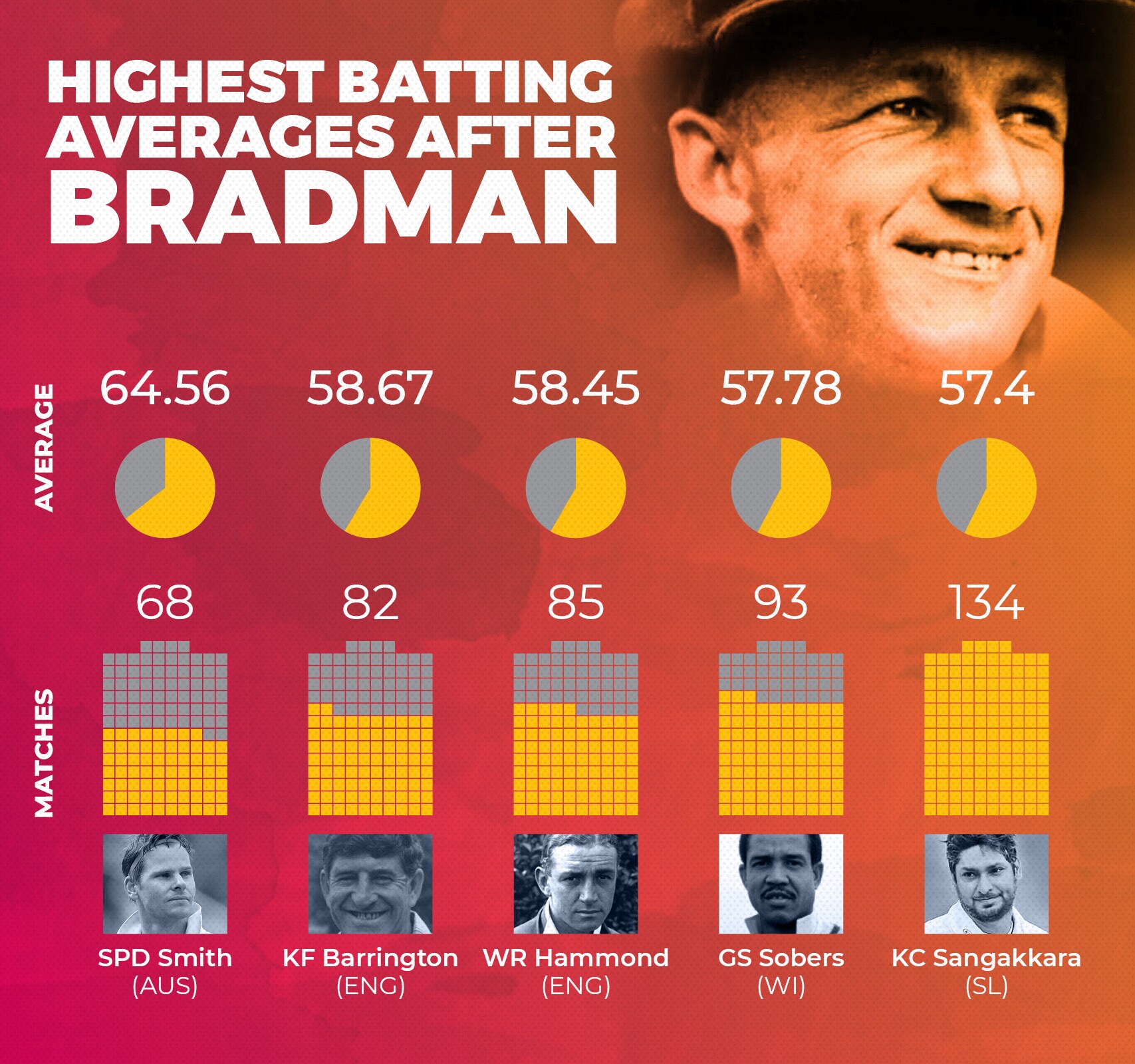 There is a big differential of almost 6 runs per dismissal between Smith and the batsman with the next best average on this list – Ken Barrington. From the Englishman onwards, everyone is clustered together.
Smith also has the highest runs scored per innings – 56.23. He is followed by Sangakkara (53.21), Jack Hobbs (53.03), Barrington (51.95) and Wally Hammond (51.78). Lara is at number 6 on this list at 51.52, Virat Kohli at 9 (49.99) and Tendulkar at 10 (48.39).
Smith's average in wins (87.52) is also the best after Bradman in Test cricket history. The next best on the list from the 50-plus averages club is Gary Sobers (77.42). The others who follow are Kane Williamson (77.45), Sangakkara (71.69), Chappell (70.49) and Hammond (69.83). Just for perspective, Rahul Dravid had a win average of 65.78, Tendulkar (61.93) and Lara (61.02).
Again, what stands out is the significant difference between Smith's contribution when compared with the others in victorious matches.
What is interesting is that Smith has been as effective in saving matches for Australia – his average in drawn/tied matches (min. 1000 runs) is the second-best in Test history too.
Standards and Norms have changed considerably over different eras of cricket. Thus, a more accurate measure for batting average would be its differential from the norm of the period.
We find that Smith's average is almost 27 points higher than the average norm of the top 6 batting positions during his career. This is the maximum difference for any batsman in the 50-plus club (barring Bradman, of course).
This tells you how ahead Smith is of the standard of his times, in absolute terms and relatively in comparison to the other batsmen in the 50-plus club.
Just for comparison, this average differential for Tendulkar is 15.28, Lara - 14.99, Gavaskar – 13.99 and Richards- 13.29.
Smith has a phenomenal record in the first innings of a match with an average of 93.64. The second on the list on this count is Lara, far behind at 70.17. This indicates how good Smith is in setting up matches for Australia and wresting the initiative from the start.
He also has a very impressive average (of 51.68) in the third innings of Test matches – an indication of the crucial knocks he has played – both, in terms of scoring runs and setting up a challenging chase and batting out deliveries in case playing for a draw.
His average places him at Number 7 amongst the 50-plus average club.
However, it is his performance in the 4th innings which is Smith's Achilles' heel, if any! He averages just 30.68 in the last innings of Test matches – the third-worst average amongst the 27 batsmen in the 50-plus club.
BIG RUNS AND BEST PROPORTION AND COMPETITION
Steven Smith has scored 26 hundreds in 68 Tests. It is the best frequency (every 2.61 matches) amongst all the 27 batsmen (50-plus average sans Bradman).
Again, just for perspective, Tendulkar scored a ton every 3.92 matches and Lara every 3.85 matches.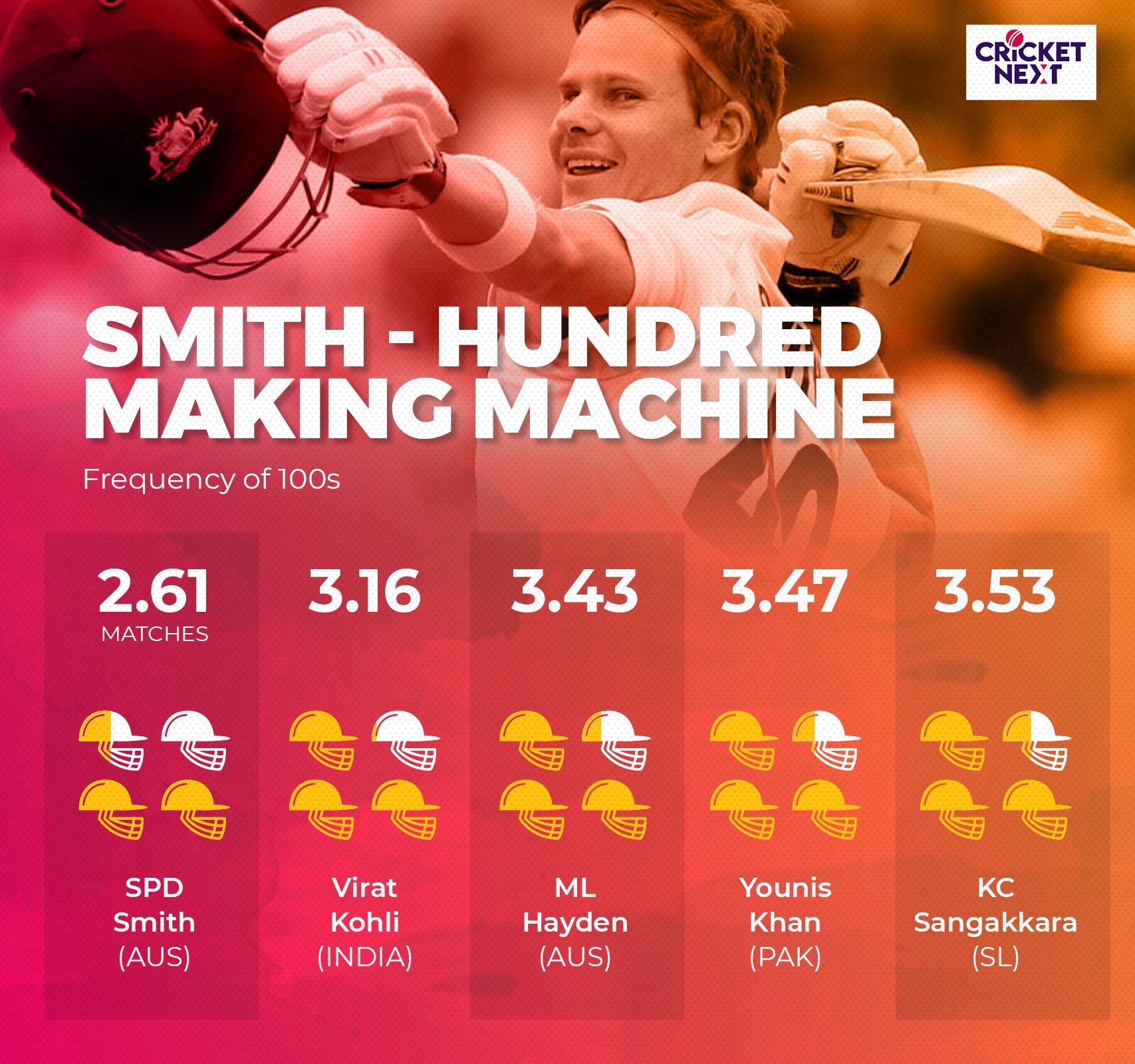 Only one batsman – Lara - has scored a higher proportion of runs for his team than Smith during his career. Lara was a great batsman in a weak team for the latter half of his career, thus his contribution to West Indies is not surprising.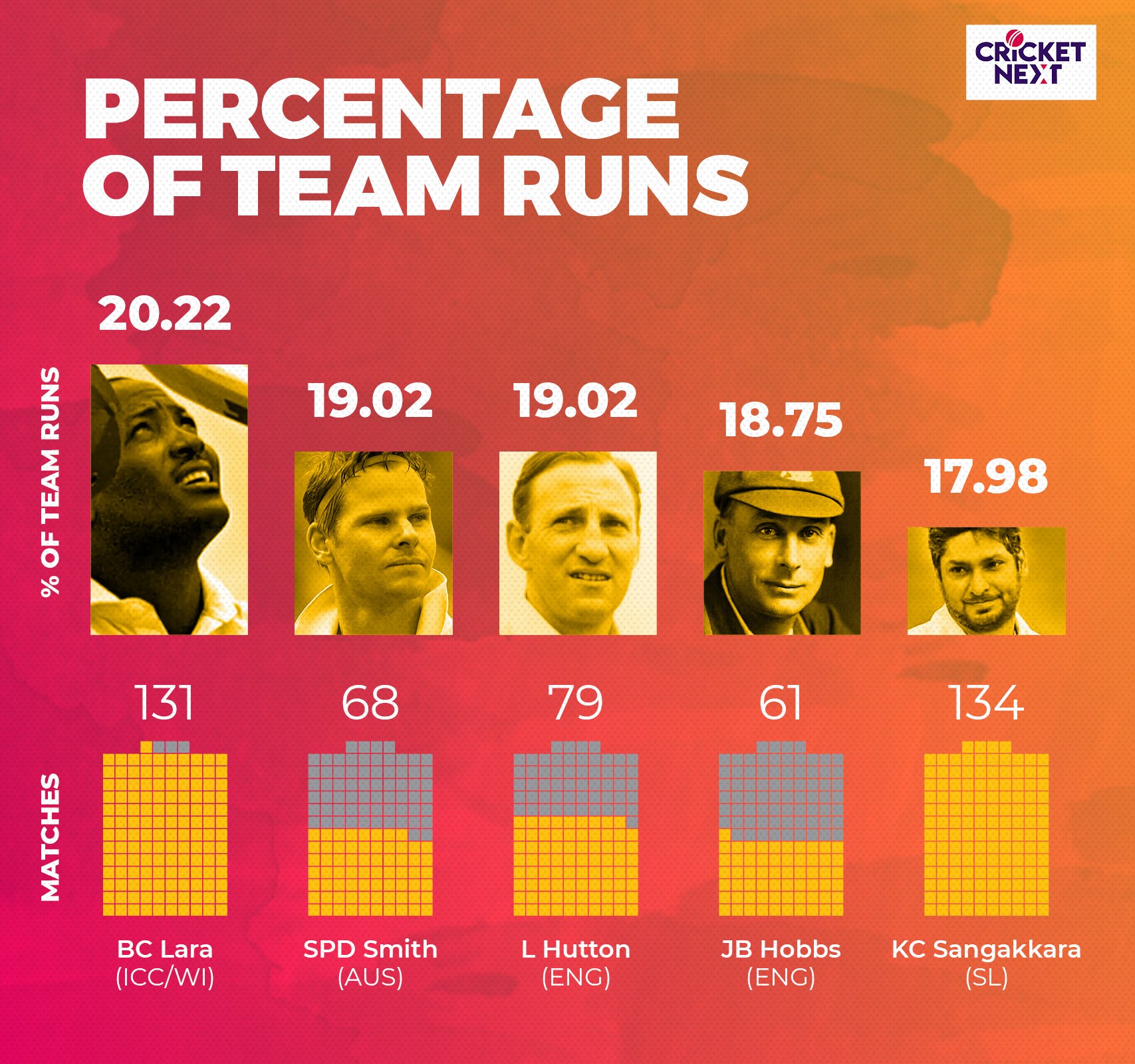 It is also interesting to compare batsmen with the best of their times. On this count too, it is Smith who comes out on top.
We look at the best batsman in terms of batting average during the career of each of the 27 batsmen in our analysis.
The results thrown some interesting numbers. Only Javed Miandad and Smith have the best averages during their respective careers from amongst this list.
Miandad had an average of 52.57 and was followed by Greg Chappell (51.61) during the Pakistani's career.
Smith has an average of 64.56 and is followed by Sangakkara (61.40).
Some other greats on the list like Sobers (Clyde Walcott), Tendulkar (Sangakkara) , Dravid (Kallis), AB de Villiers (Steven Smith), Kallis (Sangakkara), Sangakkara (Kallis), Chappell (Richards) and even Lara (Hussey) did not have the highest average during their careers (the batsman with the highest average is mentioned in the brackets).
PERFORMANCE AGAINST BEST TEAMS AND BOWLERS
Smith has a terrific record in the Ashes – the benchmark for evaluating any player from England and Australia.
He has aggregated above 500 runs in each of the last three Ashes series – 508 in 2015, 687 in 2017-18 and 774 in 2019. No other batsman has scored 500-plus runs in three consecutive Ashes – not even the Don!
Smith has scored 1604 runs in his last 15 Ashes innings – this translates to 106.94 runs per innings. His exploits include 7 hundreds and 5 fifties.
Just for perspective, Bradman had scored 1673 runs in 15 Ashes innings at 111.53 per innings from the MCG Test in 1937 till the MCG Test in 1947 – that was his most successful run in the Ashes. This streak saw him register 8 hundreds and 2 fifties.
Overall, Smith has scored 2800 runs in 27 Ashes Tests. His average of 65.11 is third only to Bradman and Herbert Sutcliffe. He has registered 11 Ashes hundreds. Only Bradman (19) and Jack Hobbs (12) have more.
Smith also has a great record in India – considered to be the toughest place to bat for batsmen from the SENA countries. Pitches aiding spin, tough weather conditions and hostile crowds has seen the best in the business crumble - Ponting with an average of 26.48 and Warner with 24.25 two prime examples.
Smith has the fifth-best average of 60 (min. 500 runs) for a batsman from SENA in India. He has scored 660 runs in 6 Tests including 3 hundreds in what Steven Waugh famously described as the final frontier.
He also has had good returns against some of the best bowlers during his career. He has an average of 77.5 against James Anderson and 61.33 against R Ashwin – amongst the leading pacemen and spinners of his era.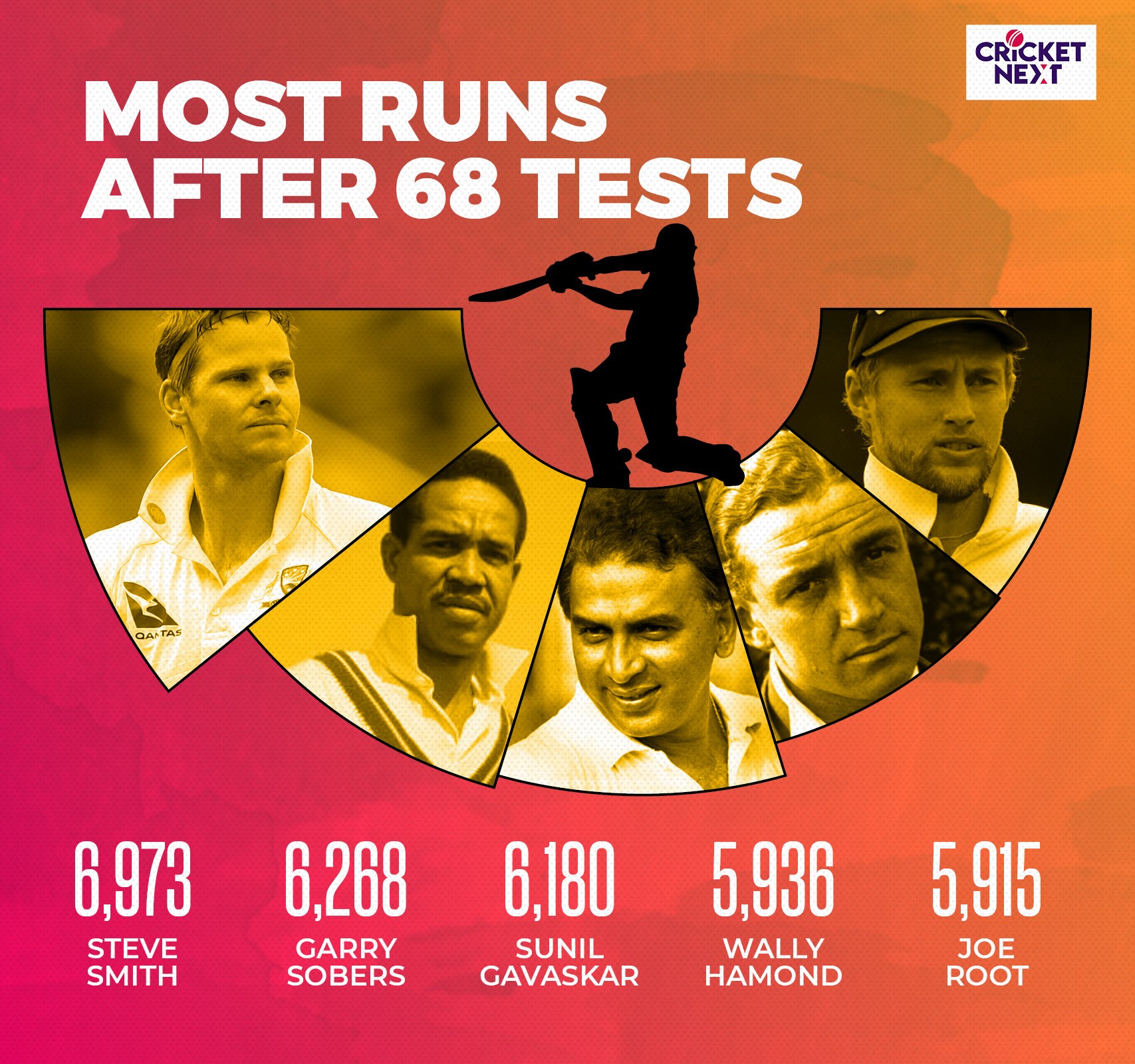 FASTEST TO 6000 RUNS AND BEST AVERAGE AFTER 68 TESTS
Smith was the joint-fastest (in terms of number of matches) to 6000 Test runs (after Bradman). He reached the milestone in 111 innings (same as Gary Sobers).
Just for perspective, Sangakkara took 116 innings, Tendulkar – 120, Kohli – 119, Lara – 126, Kallis – 134, Dravid – 125, Ponting – 125, Gavaskar – 117, Richards – 120 and AB – 137 to mention a few all-time greats.
Smith has also scored the maximum number of runs and boasts of the highest average after 68 Tests for any batsman in Test history.
PERIODS OF DOMINANCE
Smith's career transformed from his match-winning performance against India in Adelaide (December 2014). From that Test, till the last Ashes Test at The Oval in September, 2019, Smith has scored 5438 runs in 46 Tests at an average of 77.68 including 22 hundreds. Kane Williamson is a distant number two in this period with an average of 65.27.
Such domination has seldom been seen in the 139 years of Test cricket history!
Amongst modern day batsmen, AB de Villiers comes the closest. Between January, 2011 and February, 2015, AB scored 2904 runs in 33 Tests at an average of 60.5. His exploits included 9 hundreds and a number of series-defining (performances in matches which decided fate of a series) performances in this time-frame.
Tendulkar was the highest scorer in the world between June 1996 and December 1999 with 3358 runs in 35 Tests at an average of 61.05 including 14 hundreds but a certain Aravinda de Silva had a higher average.
Lara was in his prime between February, 1994 and November, 1996 with an average of 65.86 in 23 Tests. But Steve Waugh was scoring almost 11 runs more per dismissal.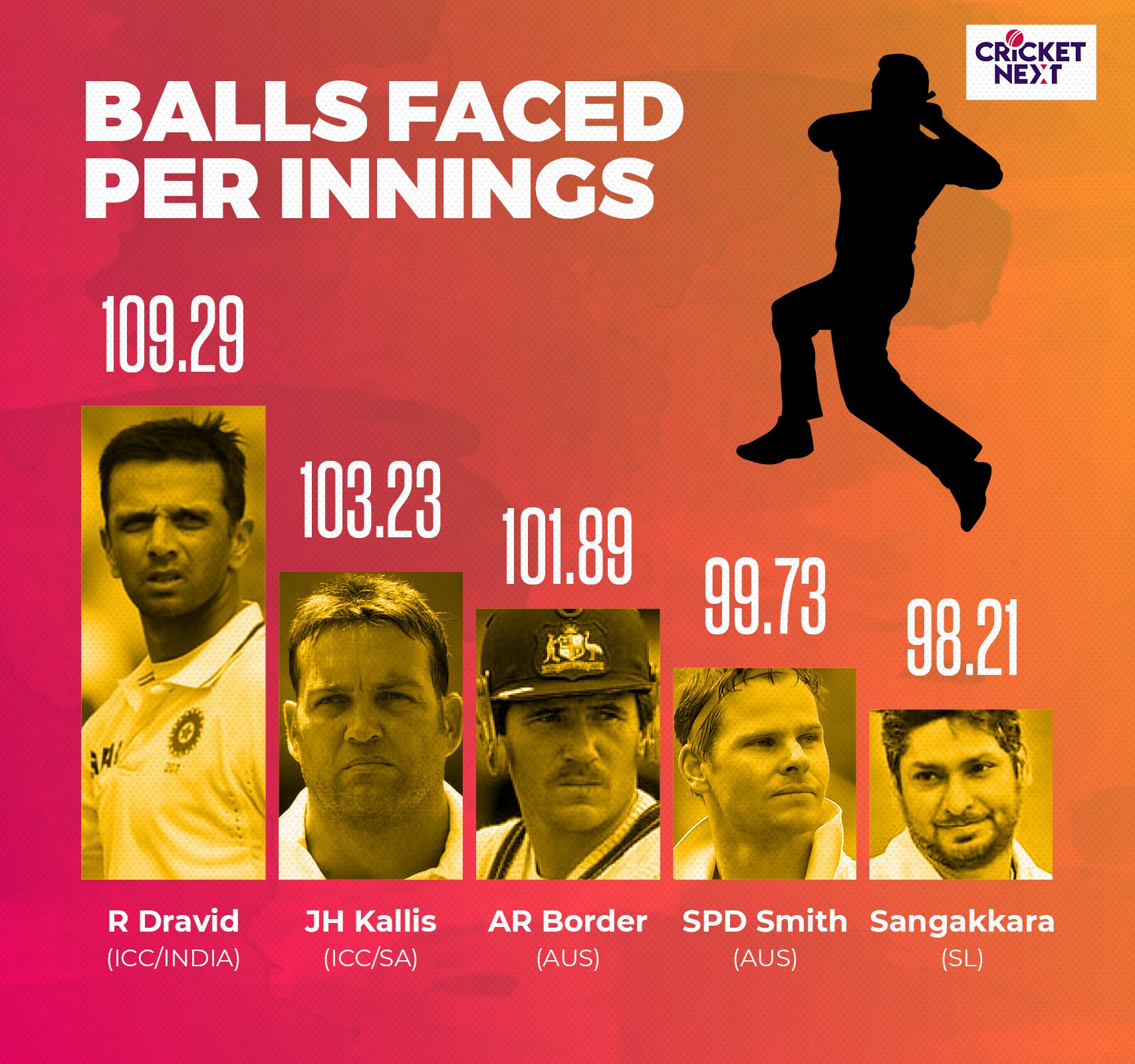 OCCUPYING THE CREASE AND FAILURE RATE
With the advent of T20 cricket and the mushrooming of leagues all over the world, technique and temperament and the will, determination and patience to bat out time and deliveries in Test cricket has gone down considerably.
Smith has faced approximately 100 balls every time he has gone out to bat – that is a staggering statistic for someone who made his debut in this decade – 2010s has been the best decade for bowlers (and consequently the worst for batsmen) as far as bowling strike rate (balls bowled per wicket) is concerned after 1910s.
Only three batsmen in the 50-plus average club – Dravid, Kallis and Border – have faced, on an average, more deliveries per innings than Smith in their Test careers.
Smith has been dismissed before facing 40 deliveries in 36 of the 124 innings he has batted in his career, ie a Ball Failure Rate (% of innings dismissed under 40 deliveries) of approximately 29% - again the lowest (and hence the best) amongst some all-time greats for whom accurate data is available.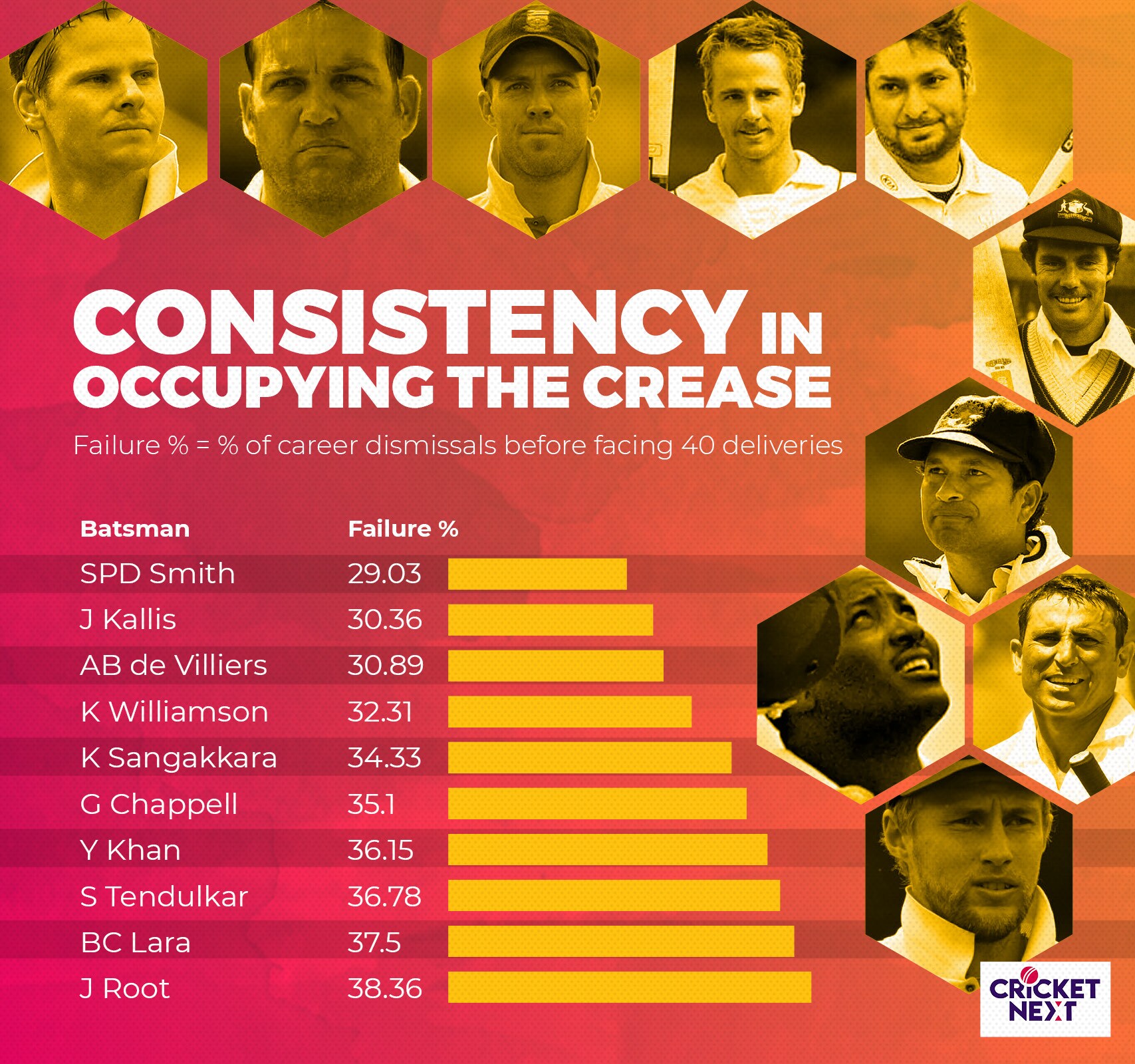 SERIES-DEFINING PERFORMANCES AND TOUGH RUNS
Smith has given 7 series-defining performances (SDs) in his career – this separates the men from the boys! A series-defining performance is a high impact performance/s resulting in either a win or a draw for the respective team in the series.
Smith's twin hundreds in the first innings in Perth and Sydney in the 2013-14 Ashes gave Australia the ascendancy and ultimately a win in both those matches – they swept the series 5-0. He scored 120 runs in the series-decider in Cape Town in 2014 and followed that up with 700-plus runs smashing 4 hundreds in as many Tests in a 2-0 series win over India at home in 2014-15.
Fine performances in Wellington and Christchurch gave Australia a 2-0 win over Trans-Tasman rivals New Zealand in 2016 before hundreds in Brisbane and Melbourne helped Australia sweep Pakistan 3-0 the following summer.
And last but not the least, his epic returns in the 2017-18 and 2019 Ashes are now the stuff of legend!
Just for comparison, Bradman produced 5 SDs in 52 Tests. This means that Smith (7 SDs in 68 Tests) has a better frequency of producing such a performance than even the great Don himself!
Smith has also scored a lot of 'tough runs'in his career. Tough runs are runs scored when the team has lost early wickets and there is pressure to occupy the crease and bat for a significant length of time.
The best example of this was during the 2019 Ashes. The average opening partnership for Australia in Ashes 2019 was a meagre 8.5 with a highest stand of 18. 17, 27, 60, 28, 16, 14 and 29 – this is the Australian score at the fall of the second wicket when Smith came out to bat in seven innings in this series. He rescued his side in each of the seven innings and went on to score big runs in six of them.
Smith, invariably, comes out on top on almost any parameter for batting greatness.
In the form of his life and as hungry for runs as ever, he may scale heights that no other batsman ever has or will in the future.
Hail the new run making machine.
Hail the New Don!