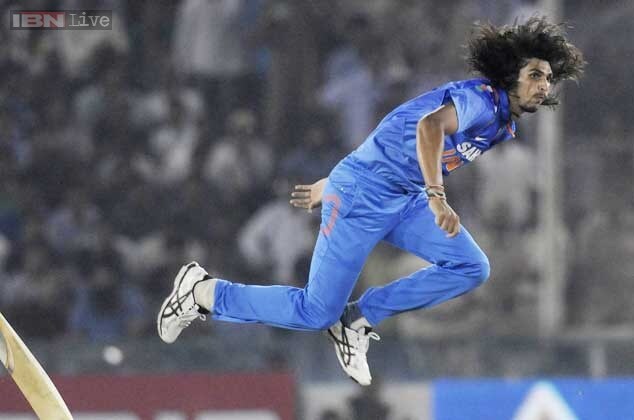 At an age when fast bowlers toil in the domestic circuit striving to break into the national squad, 25-year-old Ishant Sharma is already a veteran of 51 Tests. And with that wealth of experience, a bowler is expected to graduate into the leader of an attack. Instead, he is giving away as much as 30 runs an over in the 48th over of an ODI and costing India precious victories.
On Saturday, Ishant became India's most wanted man when his six balls led to India's defeat in a match that they almost had in their pocket. Australia needed 44 runs off the last 18 balls when Dhoni threw the ball to Ishant, and the fans had heads in their hands.
Their fear was not groundless as Ishant had given away over 7.5 runs in both the previous ODIs and was already walking on a thin rope ahead of the selection committee meeting on Sunday where the team for the last four ODIs will be picked. To the horror of those worried fans, Ishant gave away 30 runs in his six balls to cost India match - that too with an out-of-form Australian batsman and a tailender on the crease. And this is how the infamous over, which reminded of Javed Miandad's last-ball six off Chetan Sharma in 1986, unfolded:
47.1 Full and wide and Faulkner hit it for a four over extra cover.
47.2 SIX! Ishant bowls, which sits up nicely for Faulkner, who slaps it over the cow corner.
47.3 Another six! A length ball this time and Faulkner doesn't miss out. Right over the sight screen. 16 off the first three balls.
47.4 Some relief, two runs to deep square leg, but Faulkner remains on strike.
47.5 Another biggie, another six! Short again and this time Faulkner brings out a hook that sails over, behind square leg.
47.6 Six more! What have Ishant Sharma and Faulkner done to this game? Short, short, short. Ishant fails to learn and made to pay for it. That is Faulkner's 50 as well.
A few days back India was celebrating a record chase and a fastest ODI hundred by an Indian. Three days after that, it's a horror story unfolding in front of the home fans, with Ishant turning into a zombie.
But this inconsistency isn't anything new from the Delhi lad, who remains a riddle and a promising bowler even after playing over 50 Tests. In 67 ODIs before Sunday, his economy rate in the first 15 overs is 5.33 while in the last 10 it increases to 7.38. Some captains may still bargain that for wickets, but Ishant is yet to touch the figure of 100 ODI wickets and has not even a single five-wicket haul to his credit.
After the first ODI in Pune, Virat Kohli came out in Ishant's defence. "You can't just write off somebody like that," Kohli had said. It's not about writing off. If that was the case, Ishant would not have spent six years in international cricket.
And following Sunday's embarrassment, skipper MS Dhoni threw his weight behind the bowler, while maintaining that the bowlers can't be spoon-fed. "I will talk to selectors if it concerns selection [for the last four ODIs]. There are some batsmen who have not made runs, there are bowlers who have gone for runs. All of a sudden when you lose one or two matches, you want the playing eleven bowlers to be removed.
"They are part of the side because they are talented, and let's back them. The bowlers who are waiting in wings, they can wait a bit more. Once somebody goes out of the side, tendency is that they are forgotten; they keep talking about new bowler. I always feel that people who are in the side should be given the [long] rope, does not matter if he is a bowler or a batsman," said Dhoni.
However, it's highly unlikely that Ishant will retain his place after three terribly under-par games. And rightly so.